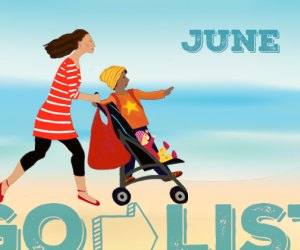 June GoList: Best Things To Do with NJ Kids This Month
Say goodbye to the school year and hello to the summer as June heats up with amazing, warm-weather events. Most of NJ's amusement and water parks are now open for the season, and Jersey Shore beaches are ready for summer revelers.
June also brings a fresh crop of fairs and festivals, along with strawberry picking, Father's Day fun, and the start of free summer movies. You can listen to local bands, celebrate fireflies and fairies, and travel back in time to the Italian Renaissance and the American Civil War.
Of course, you can always find more fun in our Event Calendar, and in our Summer Fun Guide for NJ Kids, including where to find the Best Water Playgrounds and Splash Pads in the state.
Read on for 15 of our favorite family events of the month. Enjoy the start of summer, and happy June!
Sign up for our FREE newsletters to get posts like this delivered to your inbox.

Head to Asbury Park for a Bonfire on the Beach every Friday. Photo courtesy of the City of Asbury Park
Asbury Park Bonfire on the Beach – Asbury Park
Every Friday, June 7, 14, 21, 28, 2019
Celebrate the start of the weekend with a festive beach bonfire. Takes place in various spots throughout the month. FREE
FREE (and practically free) Summer Movies – Various locations
Starting Saturday, June 1, 2019
Beginning this month, it's all about free movies—in theaters and under the stars. Free options include Downtown Wildwood's Family Free Movie Nights (June 25) and Jenkinson's Movies on the Beach (June 21, 28 ), where this month's screenings include Trolls and Ralph Breaks the Internet. Check our Event Calendar for more.
2nd Annual Under Cover Music Fest – South Orange
Saturday, June 1, 2019
Rock out to the music of six cover bands, with hits by popular artists such as Prince and Dave Matthews Band. Kids will keep busy with fun activities, while grown-ups can enjoy a beer garden. Admission is FREE.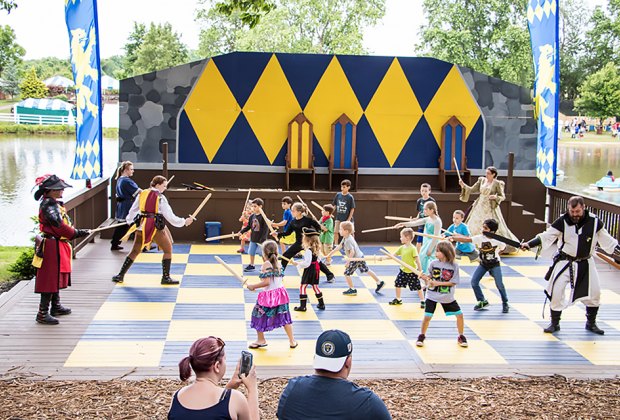 Pick up some sword fighting skills at the New Jersey Renaissance Faire in Bordentown. Photo by Jesse C. Photography
New Jersey Renaissance Faire – Bordentown
Saturday–Sunday, June 1-2, 2019
The 10th annual Faire wraps up this weekend, so get thee to Bordentown for maidens, minstrels, jousting, giant turkey legs, and more. Nearly 80 cast members will recreate the Italian Renaissance at Liberty Lake, where the entertainment will also include jugglers, aerialists, fire breathers, sword fighters, and glass blowers, as well as comedy, live music, food and a Merchant Village.
Maplewood–South Orange Book Festival – Maplewood
Friday–Saturday, June 7–8, 2019
Book lovers of all ages should put this annual festival on their must-do list. Meet authors of all genres, from children's books to young adult and adult, fiction and non-fiction, and check out exhibitors offering everything book-related. Children's activities include games, music, food, and face painting.
The New Jersey Fairy Fair – Riverdale
Sunday, June 9, 2019
The Fairy Queen and Fairy Godmothers greet visitors at this whimsical event, which features a May pole, music, a bounce house, and magic ball craft. Vendors include vegan and gluten-friendly treats, as well as oils and jewelry.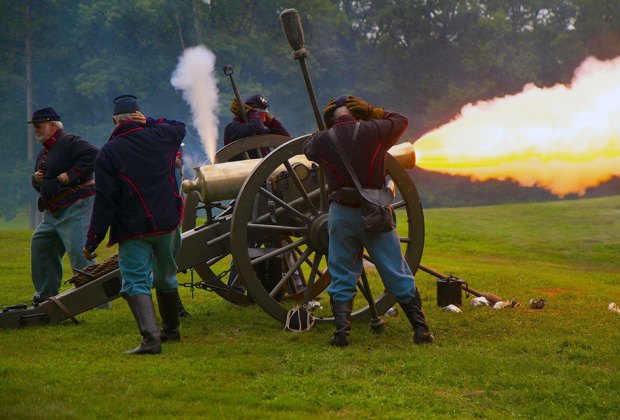 See cannon firings, skirmishes, cooking demonstrations, and more during Civil War Weekend. Photo courtesy of the event
Civil War Weekend – Morristown
Saturday–Sunday, June 8–9, 2019
The Civil War comes to life at Historic Speedwell, where re-enactors from the 2nd NJ Brigade will demonstrate musket and bayonet drills, cannon firings, skirmishes, and more. Get a taste of soldiers' daily lives at the camp, where you can see authentic cooking demonstrations, and visit the medical area to watch soldiers care for the "wounded."
St. Gregory the Great Family Carnival– Hamilton Square
Monday–Saturday, June 17–22, 2019
Over 25 rides, plus games and food are on tap at this 6-day extravaganza. Plus, spectacular fireworks take place Monday, Wednesday and Friday nights. Admission is FREE.
State Fair Meadowlands – East Rutherford
Thursday, June 20 – Sunday, July 7, 2019
More than 150 rides and attractions provide hours of nonstop fun for the whole family at this enormous fair. Try out classic carnival games, indulge in "fair food" (funnel cake, anyone?), and enjoy live circus shows daily. Don't miss Extreme Illusions & Escapes and Jurassic Kingdom.
North Wildwood Italian-American Festival – North Wildwood
Friday–Sunday, June 21–23, 2019
Stomp on grapes, race with meatballs, and load up on delicious fare at this annual festival at the shore. Children's activities and live entertainment round out the excitement.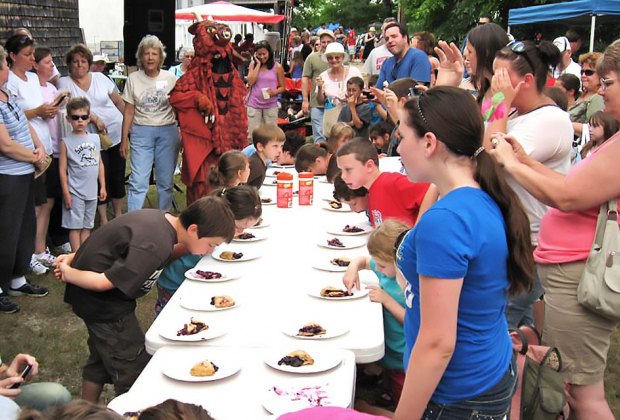 Pie-eating contests are part of the fun at the Whitesbog Blueberry Festival. Photo courtesy of the festival
Whitesbog Blueberry Festival – Browns Mills
Saturday–Sunday, June 22–23, 2019
Celebrate the delicious berries of summer at the 36th annual Blueberry Festival. Held on the beautiful grounds of Whitesbog, where the first commercial blueberries were cultivated, this festival includes blueberry picking, live music, kids' activities, historical presentations and tours, and lots of great food.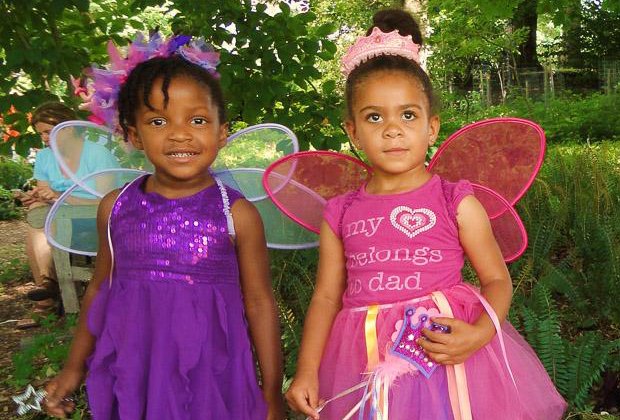 Wear your wings to Frelinghuysen Arboretum for Fairy Day. Photo courtesy of the arboretum
Fairy Day – Morris Township
Sunday, June 23, 2019
This sweet festival at Frelinghuysen Arboretum is for fairy lovers big and small. Participants can use natural materials like bark, moss, feathers, and leaves to build a fairy house, which will be on display at the arboretum through the end of July. Summon fairies with music and fairy snacks, and learn which plants and trees attract these tiny visitors.
Firefly Festival – Princeton
Sunday, June 23, 2019
Terhune Orchards stays open late for this special evening of outdoor fun, music, wagon rides, and firefly hunting. Rock out to the music of Grammy Award–winning Miss Amy and her Big Kids Band, snack on goodies from Pam's Firefly Tent, and watch students from Circus Place perform aerials, acrobatics, and juggling. Kids can make their own wings, bug boxes, and antennae. Admission to the festival is FREE; craft activities have a fee.
Kiddie Beach Show – Point Pleasant
Monday, June 24, 2019
This weekly summer series kicks off today on the beach in front of Jenkinson's Amusement Park. Entertainment includes cowboys, pirates, comedy, and magic. Takes place every Monday at 7pm. FREE
Red, White & Blueberry Festival – Hammonton
Sunday, June 30, 2019
The blueberry festivities continue in Hammonton, the town that proudly calls itself The Blueberry Capital of the World, at this 33rd annual event. Head over for fair food, kiddie rides, crafters, children's craft activities, entertainment throughout the day, blueberry pie–eating contests, and a classic car show.