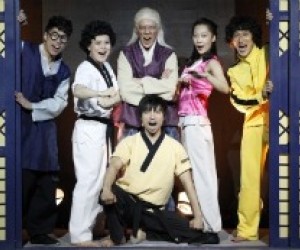 Jump: Martial Arts Meets the Three Stooges in This Kinectic Show
If your kids like comedy and kung fu, they'll get a big kick out of Jump at New World Stages. This martial arts show from Korea has been touring the world for the past few years (it previously played in NYC during the 2007-2008 season), and it follows in the tradition of Off Broadway offerings like Stomp: wordless spectacles that leap over age and language barriers.

I admit, my daughter and I are not huge martial arts fans. (Is it sexist of me to say it's a boy thing?) Even so, we were wowed by the fast, high-flying feats, and the kids in the audience particularly enjoyed all of the slapstick humor, which is choreographed with Jackie Chan-like precision.

If you want to see this show, you've got to move fast: We just found out that it's closing this Sunday, June 12!
Basically a collection of cool, stunt-filled scenes, the "plot" revolves around a wacky family: the strict grandfather, bickering mom and dad, dopey uncle (think Spicoli from Fast Times at Ridgemont High, only Asian with a six-pack), pretty daughter and her Jekyll and Hyde-like suitor, a nebbish who goes kung fu crazy whenever his glasses are removed.




For no particular reason (except that it's amusing), the family engages in nutty battles. They're never scary, just silly, with the often drunk uncle getting the brunt of the battering as he flies headfirst into the walls, the sofa and floor. Like most shows aimed at families these days, a few lucky (unlucky?) audience members are invited up on stage to be embarrassed for the sake of entertainment.

In the second half, two birdbrained burglars arrive and they bring a lot of laughs with them. These two are a hoot with their lame gangster poses, and soon enough they get their butts literally kicked by the family they meant to rob. As you can imagine, this elicits cheers from pretty much anyone who's ever been mugged or picked on.




Considering the physical demands of performing in Jump, it's no surprise that it features a rotating cast. The moves being used seem to be a mishmash of martial arts styles, but most of the amazingly athletic actors were trained in Tae Kwon Do and Hap Ki Do.




In addition to the main story, there are interstitial bits featuring a seemingly ancient old man. These, frankly, went on a bit too long. In one familiar gag, he very, very slowly made his way through our jam-packed aisle, displacing me, and then sitting next to my daughter. She loved it of course because he ended up giving her a lollipop.

The 90-minute show is a bit pricey at $48-$66.50 per ticket, especially if you're paying for a family of four. There are some good discounts floating around though. You can snag $39 tickets from BroadwayBox.com, and it's always good to check the TDF booth at Times Square.

Photos: Carol Rosegg