Indoor Pool Parties for Westchester Families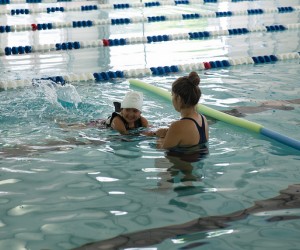 For those lucky children born between Labor Day and Memorial Day, a summer birthday pool party can often be a foregone conclusion. Kids and water-- what could be better? Fall, winter, and spring children need not despair! Just because summer is over there's no reason to put pool parties behind you. For a small splash of season all year long, consider one of these INDOOR alternatives. Many local fitness centers have for pool party packages that are guaranteed to please. Read on for details on where to throw an indoor pool party no matter the season.
New York Sports Club - Multiple Locations
At NYSC locations in Dobbs Ferry, Somers, White Plains and New Rochelle, anyone can reserve the club's indoor pool for birthday parties for children ages 4 and up (even non-members!). Party time can be spent on free play or organized games. A variety of swimming toys and flotation devices are available (noodles,kickboards, vests, etc) and parties last for 2 hours.
Premier Athletic Club - Montrose
2127 Albany Post Road
Premier Athletic Club's indoor pool is available for pool parties on Friday afternoons and Saturdays. Participants must be 8 years old or older and will be supervised by two party hosts provided by the club. Parents of all the guests will receive a coupon to work out for FREE for the duration of the party and there is the option of adding on lunch after the party at the club's in-house restaurant, Valerio's. There are 3 pricing levels depending upon whether the child is a member of the club, the parent is a member or the parent is a non-member.
Club Fit - Briarcliff Manor
584 North State Road
Club Fit Briarcliff offers two water-themed parties. Wet and Wild, for ages 3-12, promises an hour of wacky water games and fun aquatic races, in addition to half hour use of a designated party room and FREE gym guest passes for all of the visiting parents. Choose the Surf and Turf package and party guests ages 6-12 will enjoy 45 minutes in the pool, 45 minutes in the gym AND a half hour in the party room while the parents make use of their FREE guest passes.
Lifetime Fitness - Jefferson Valley
600 Bank Road
Club Fit Jefferson Valley offers the same two packages, with different age restriction. At Jefferson Valley, both packages are available for ages 7-12 only.
YWCA- White Plains
515 North Street
The YWCA in White Plains reserves times for pool parties on Saturday and Sunday afternoons from 4:30 to 6:30 PM. Two party packages are available--a half pool package for up to 25 swimmers or a full pool package for up to 40. Each package includes 1 hour in the pool and 1 hour in the party room, certified lifeguards and fun activities. Guests will have access to both the shallow and deep end of the pool; children who wish to swim in the deep end will be asked to complete a quick swim test at the beginning of the party. Guests who cannot touch the bottom of the 38 inch deep shallow end must accompanied in the water by a parent or caregiver.
JCC Midwestchester - Scarsdale
999 Wilmont Road
The JCC Midwestchester has set aside the 3:45 to 5:45 time slot on Saturday afternoons for pool parties in their year-round indoor pool. Parties accommodate up to 20 children ages 6 to 10 and include supervised aquatic activities and use of the party room.
Be sure to inquire at each club about exclusive package discounts for members!
Image credit: North Charleston