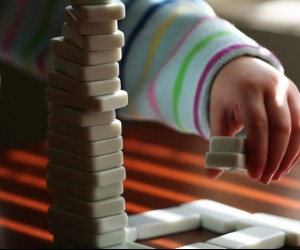 Indoor Play in Yonkers: 12 Places Westchester Kids Can Learn and Have Fun in Yonkers
Our month-long highlight of Yonkers continues. We've given you the scoop on the best things to do with kids in Yonkers and filled you in on the city's best parks and green spaces. Now we're taking a look at indoor play places for kids in Yonkers.
There's so much to see and do in this city, it was hard to narrow it down, but here it is! We've rounded up our top one dozen picks for family fun in Yonkers. Residents and visitors alike will find that Yonkers is a fantastic family destination. From extraterrestrial explorations and Lego-mania to uneven bars and feature films, Yonkers is simply out of this world.
Hudson River Museum
511 Warburton Avenue
We've already told you about the Hudson River Museum, however this Yonkers institution has recently undergone some dramatic changes. $1.5 million dollars worth of dramatic changes! The majority of improvements were focused on the Andrus Planetarium. Last upgraded in 1987, Westchester's only planetarium underwent a major rebuild of the dome itself. The museum also purchased high tech digital equipment which projects eye popping intergalactic scenes and special effects onto the revamped dome. Stop in to enjoy their weekly planetarium programs and to learn more about our unique valley. The Hudson River Museum Amphitheater also debuted last year and we can't wait to check out the FREE programming this summer!
Yonkers Public Libraries
Like most large cities, the Yonkers Public Library has an extremely active children's calendar spread across three separate locations around the city. The two largest libraries, Grinton I. Will and Riverfront, have large children's rooms with ongoing daytime, afternoon, evening and weekend programs that engage a wide ranges of interests, while Crestwood is a small intimate library. Middle schooler looking to catch a movie? Try Double Feature Sundays at the Riverfront Library. Gardening? That's what the Enviro-Earth Club is for. Babytime stories and finger plays? Head over to Grinton I. Will on Friday mornings. Traditional story hours? There's one happening on any given Monday, Tuesday, Wednesday or Thursday in at least one of the libraries.
Legoland Discovery Center
Westchester's Ridge Hill, 39 Fitzgerald Street
There is so much to do at Legoland Discovery Center, the indoor play space warranted its own 15 Things To Do post here on Mommy Poppins! For those who don't know, Legoland is located in the Ridge Hill Shopping Center at the northernmost end of Market Street. Since it opened in 2013, Legoland has been enthralling Lego enthusiasts with its life size Lego people, Lego Construction Site, Master Builder Academy, 4D Cinema and other brick-centric attractions. The Discovery Center has activities for the youngest (children outgrow the Construction Site play area at 36 inches) and oldest (the center hosts frequent adult builder nights!) Lego lovers in your family and, of course, for everyone in between. Children under 2 are FREE. Buy tickets online to save a few dollars and keep your eyes peeled for frequent deals on online discount and coupon sites.
Yonkers Tennis Center
493 Sprain Road
Yonkers Tennis Center provides Westchester youth (and adults) ages 3 and older the opportunity to learn, practice and compete at the premier tennis destination in Westchester County. Just across the street from the Ridge Hill Shopping Center, Yonkers Tennis Center is a family owned business that has been around since 1970. The center offers Junior Clinics in two separate groups for children ages 3 to 10 and age 11 and up that run throughout the school year, as well as introductory 12 week clinics for brand new players. Children can also take private lessons, participate in summer camp programs or "work" at the camp as a counselor in training. Not sure tennis is the right sport for your child? Try one of Yonkers Tennis Center's FREE monthly sessions and give it a try!
GymCats
1 Odell Plaza
Young children are natural born gymnasts. At GymCats, which we mentioned in our post on gymnastics classes in Westchester, they learn to tumble, climb, bounce and bumble safely in a fun and encouraging atmosphere with the guidance of trained instructors. Classes begin at 20 months and continuing through advanced training (both competitive and noncompetitive) for girls and boys. Children enrolled in GymCats classes are also invited to weekly "Open Gym" sessions. GymCats also offers summer camp programs and space for gymnastics themed birthday parties.
Edward J. Murray Memorial Skating Center
348 Tuckachoe Road
This ice skating center has been a Yonkers staples for over 50 years. The rink is covered to protect you from the elements, though its not a fully enclosed rink. Whether you ice skate occasionally or are working hard to master your figure skating or hockey game--you'll find it all right here. They even host birthday parties!
Science Barge
Downtown Yonkers, North of Yonkers Recreation Pier
The Science Barge is a floating greenhouse and environmental education center on the Hudson River. Acquired by Groundwork Hudson Valley in 2008, the Barge grows fresh produce including tomatoes, melons and greens and operates entirely "off the grid" by using solar panels, wind turbines and other clean and renewable sources to generate energy. The Barge hosts educational programs for schools and camps throughout the year and offer drop-in visits on the weekends during the summer with science and environmentally themed activities and events. Admission is FREE for kids 10 and under. For teens and adults, there is a suggested donation.
Mark Twain Pool
160 Woodlawn Avenue
Don't let a rainy day stop you from hitting the pool. The Mark Twain Pool offers family swim lessons and free swim sessions. They also offer kids classes, teen classes, swim clubs and more.
Alamo Drafthouse
2548 Central Park Avenue
In-theater dining! If that's not kid-friendly, I don't know what is. But there's more. Alamo Kids Camp offers FREE screenings of classic kid flicks! Alamo also frequently screens classic movies, not just new releases, so your kids can experience the magic of E.T., Indiana Jones, The Wizard of Oz and more on the big screen. Did I mention the in-theater dining?
Yonkers Philharmonic Orchestra
Sponsored by the Fine Arts Orchestral Society of Yonkers, the Yonkers Philharmonic Orchestra performs four FREE concerts each year at Saunders Technical and Trade High School--a great introduction to the symphony for young listeners. The orchestra has also performed outdoors at the Hudson River Museum and Cross County Shopping Center, to name a few.
Center for the Urban River at Beczak
35 Alexander Street
This can actually count as both indoor and outdoor family fun! The Center offers environmental education workshops, activities, exploration, cleanup and more for the entire community (all ages welcome). Indoor activities include a Kid's Corner, special exhibits, concerts and more. Head outdoors to explore the sandy shoreline, walk through a vegetable and herb garden or become a River Explorer in their FREE Saturday program series.
Philipse Manor Hall State Historic Site
29 Warburton Avenue
This stunning 18th century manor serves as a museum of history, art and architecture and hosts many family-friendly events including kid-friendly movie nights, cultural celebrations, educational programs for classes and more.
Creative Commons image credit: Sharon Mollerus