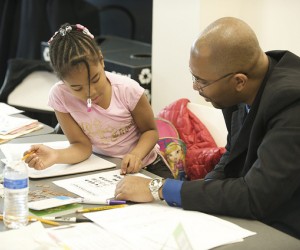 Holiday Volunteering for Westchester Families
The holiday season is a great time to give your time and talents to worthy causes, and there's no shortage of ways to help out around Westchester. So whether you volunteer regularly or are just looking into it for the first time, we've got more ideas for getting your family involved in volunteering. All opportunities listed here welcome kids and teens, and this might be just the time to start a new family tradition!
Volunteer New York! - Tarrytown
220 White Plains Road
(914) 948-4452
Volunteer New York! is a great place to start kids and teens on the path to life-long volunteerism. Each year it publishes a Youth Volunteer Guidebook that highlights family volunteer opportunities in the region. This is a great resource for helping youth find the right place to volunteer. Visit its youth page for more information. Also take a look at its dedicated page for volunteer opportunities this holiday season.
Food Bank of Westchester - Elmsford
200 Clearbrook Road
(914) 923-1100
Join the ongoing efforts of the Food Bank of Westchester. With regular Family Repacks every Saturday, there are lots of opportunities for you and your kids to get involved. Pre-registration is required and they cannot accommodate walk-ins, so be sure to sign up in advance. Check its website often for open slots and information on how to register. The Food Bank welcomes kids ages 8 to 16 with an adult to accompany them; 7 and younger may participate with advanced permission. Normal shifts are two to three hours; however, for younger kids, an hour is fine. They would never want a volunteer experience to be a negative experience for a young person.
Meals-on-Wheels - White Plains
311 North Street
(914) 946-6878
More than simply delivering a meal, Meal-on-Wheels volunteers offer companionship to its recipients and provide "safety checks" for concerned family members and loved ones. Volunteers work in teams: one person to drive his or her own car and a second person to deliver and serve the food. Teens and kids are welcome to deliver meals with their parents on Saturdays. Visit its website for more information and to sign up.
Open Door Family Medical Centers - Ossining
165 Main Street
(914) 941-1263
In addition to year-round volunteering opportunities for teens and adults ages 14 and up, Open Door is hosting its annual Toy Drive, with donations being accepted at several locations throughout Westchester. Looking to help even more? How about wrapping all those gifts! Gift-wrapping days will be held in Ossining and volunteers are welcome. Visit its website for more details.
Senior Centers and Nursing Homes are fantastic places to volunteer. Teens and parents with younger children can really brighten a senior's day during the holidays and year round with a board game, craft project, a game of cards or just sharing stories of past and present. Call or visit a local nursing home and inquire about volunteer opportunities for kids and teens.
This post was originally written in 2013 and has been updated for 2015.
Creative Commons Image Credit: U.S. Dept. of Education