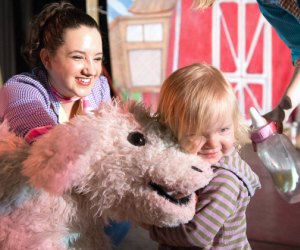 'Hatched' Brings a Theatrical Petting Zoo to the Stage
If you've been searching for the right show to introduce your tot to theater, you can't go wrong with Hatched. This sweet interactive children's puppet show from Treehouse Shakers has just returned its dancing baby-animal barnyard to the NYC stage.
Playing this week at BAM in Brooklyn and next week at Alvin Ailey in Manhattan, Hatched follows a day in the life of a "just-hatched" chick, from its literal hatching forth from the egg onstage to the sun setting over the farm at day's end.
We've recommended this show for first-time theatergoers in the past. But after catching it May 1 at BAM's Fisher Hillman Studio, we wanted to share this full review with our readers.
The show opens with daybreak on a farm. A farmhand is yawning and beginning her chores by sweeping the floor. Birds chitter back and forth while a slow electric guitar strummed by composer and musician Anthony Rizzo bedecked in a red handkerchief and farm wear, sets the mood. A rooster appears, along with another actor, and then the oversized egg at center stage begins to move and wiggle in its nest. The show's sole three actors lean in to listen, tap the egg and gesture to the audience.
When it opens, a fuzzy, yellow chick emerges, flapping erratically, maneuvered by one of the actors; the show is off. "What is it Mommy?" one young audience member piped up for us all to hear.
RELATED: Best Children's Theater in NYC This Spring

A young chick hatches from the egg and the story begins.
The bulk of the action in Hatched centers on the farm animal puppets, 12 in total, and the actors who dance them across the stage, as well as noises they make, their movements and the friendships they form. Kids watch as the chick meets a calf, an inchworm, a lamb and more. They play games familiar to the toddler and baby crowd, including peek-a-boo, and make preschool-appropriate jokes such as singing off-key and exaggerated dancing.
There is little dialogue, but plenty of animal noises—cheep, cheep—dancing, compelling but simple music and brief songs—"a wiggle, wiggle, a wiggle wiggle"—to keep young kids engaged. A young calf and its bell come clanging in as two actors push it across the stage with its tongue flicking back and forth, and half the kids stand to get a better look.
Kids are periodically invited to touch, pet and approach the animal puppets during the show, making it truly interactive. Each animal comes down the line, so every kid can have a turn. Kids can feed worms to baby chicks if they dare ("Is that a real worm," one preschooler asked), or a bottle to the lamb and even scratch behind the cow's ears. Additional time is set aside after the show for more petting and photo-ops, making this essentially a theatrical petting zoo. The soft, lifelike puppets were designed with nontoxic materials by Patti Gilstrap, who owns the Park Slope boutique Flirt.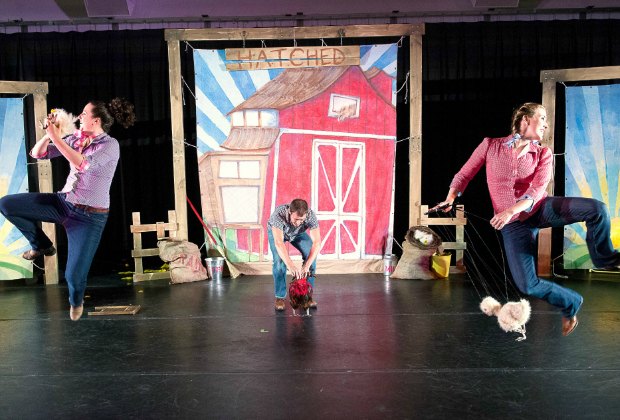 The actors dance the farm animal puppets across the stage with energy.
While the age recommendation for Hatched is 0-6, the attention to details such as the nontoxic puppets, floor seating (parents can sit with kids or grab a folding chair), and a short 45-minute run time (no intermission), make this show ideal for babies and toddlers. I saw babies crawling, snuggling with the chicks, screeching with delight and even taking a nursing break. Toddlers hopped up and down, danced and climbed over one another to get closer to the puppets.
When you have two kids under age 4 as I do, it can be hard to find worthwhile activities for both, but Hatched delivers. Older kids' interest might wane as they wait for the action to begin again after a petting session, but only momentarily. Use the time for a quick potty break or partake in the gratis coloring sheets and crayons.
Hatched, written and directed by Mara McEwin of NYC-based Treehouse Shakers, plays Tuesday, May 3 and Wednesday, May 4 at BAM in Brooklyn and at Alvin Ailey in Manhattan, Friday, May 10 and Saturday, May 11. It heads upstate to Lake Placid this summer, for those making summer vacation plans, and continues a U.S. tour throughout the 2016-2017 season, with a return to NYC likely. It premiered in Garden City, Long Island in 2012 as Treehouse Shakers' first show aimed squarely at the pacifier set.
If you see the show at BAM's Fisher Hillman Studio, you'll find an elevator and bathrooms with changing tables on the stage level, ideal for quick potty escapes. Stroller parking is on the lower level. The entrance is on the Ashland Place side of the building.
Top photo: Kids in the audience are invited to pet and interact with the show's puppets. All photos by Christopher Duggan/courtesy Treehouse Shakers.
Places featured in this article:
---
BAM Fisher (Hillman Studio)
---
The Ailey Studio Theater