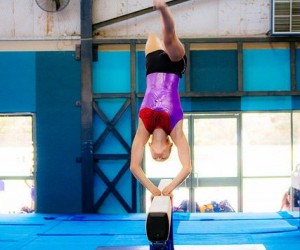 Gymnastics Classes in Lower Hudson Valley: Where Kids Can Tumble, Bounce and Cheer
Kids love to run, jump, hang, climb and flip—and most are just as likely to tackle the playground monkey bars as they are to use their bed as a trampoline. Channeling that energy and sense of adventure through a sport like gymnastics can be a great way to enhance motor skills and encourage safe play and exploration, making it an ideal first activity for many young children (honestly, who doesn't love a jumbo-sized trampoline or a massive foam pit?)
Whether you have an aspiring Gabby Douglas on your hands, or are jut looking to try out a new (and incredibly fun) activity, gymnastics classes may be just what you're looking for. We've explored gymnastics centers in Westchester; now we're taking a look at a few great options in the Lower Hudson Valley.
Kennett School of Gymnastics – Newburgh and Goshen
Kennett offers year-round classes at two locations for children as young as 12 months (BabyGym). Classes for babies and tots require parent participation; preschoolers can go it alone or with a parent. Kennett also offers cheer/tumbling classes and classes for children with special needs.
Orange County Sports Club – Florida
Classes start at 15 months here, and children who discover a passion for the sport may eventually be able to join one of its competitively ranked teams. OSCS also offers classes that combine beginner gymnastics with beginner dance for both boys and girls. If your kids truly love to bounce, you can also check out Total Trampoline for 60 minutes of jumping and flying!
Ziggy's Gymnastics Academy – Middletown
Ziggy's boasts 17,000 square feet of space for kids to run, jump and roll, as well as multiple in-ground trampolines and foam pits. It also has a dedicated preschool zone and hosts a variety of parent/child and child-only classes. Classes for children with special needs are also available, including private instruction.
Vega Gymnastics – Carmel
Vega offers classes for all ages and boasts of a sibling discount if you enroll more than one child. Girls and boys attend classes together until age 5. Summer camps and birthday party packages are also available.
Rockland Gymnastics Academy – Nanuet
Classes are available six days a week here, all year round—with Saturday options available for each group! Parent and toddler classes start at 18 months. Cheer tumbling starts at age 6 and eventual Olympic hopefuls may be able to join one of Rockland's more elite teams.
Galaxy Gymnastics – Orangeburg
Galaxy offers both recreational and competitive classes, as well as Mommy and Me for the tiniest tumblers. In addition to classes for children with special needs, it also holds summer camps and birthday parties. Tip: Children are allowed to take a trial class prior to signing up to ensure it will be a good fit.
Dutchess County Gymnastics Center – Fishkill
From toddlers to high schoolers, Dutchess offers gymnastics and tumbling for nearly all ages and skill levels. It also has an open gym for two hours on Friday evenings for a flat fee.
Photo credit: Flickr, Moetaz Attalla