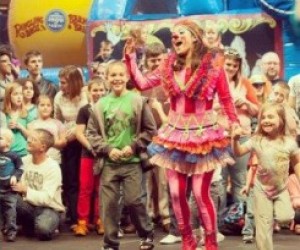 Fun & Free Things to Do with LA Kids this Weekend: Circus, Dino Days, and Jam at the Zoo July 12 - 13
Summer, summer, summer, so much to to do! Not only does this weekend offer the OC Fair, Ringling Brothers Circus, fútbol, and dinosaurs; we have an outrageous assortment of movies and concerts under the stars, free Shakespeare and theater for kids, drumming, and dance and the chance for your kid to become a star (or at least get tattooed like one). I know I say this every week, but we can only fit so many events in our newsletter, so be sure to check out our events calendar to make sure you don't miss anything because there is just so much going on and...

Hello? Are you listening to me? Oh, really? Then what did I just say? Mm hmm, that's what I thought! You should.... (I'm not going to say it for you)... check out our... (you're on your own here, buddy!)... it's that thing with dates on it... (so close!) Events calendar! Check out the events calendar! (That's it!) And what will your reward be for clicking through? Insight into kids clubs, and art projects, and kids clubs with art projects. The scoop on train rides, and fishing classes, (but no train rides that are fishing classes, though that sounds pretty cool).
And oh yeah, there are those freebies coming up that might, say, give you a sugar-fueled brain freeze, or leave you looking like a million bucks. Those are the kinds of gems our calendar is filled with. If you like that sort of thing. (And I bet you do!)
Keep reading for some of our favorite picks for this weekend ....
ALL WEEKEND

Orange County Fair - Costa Mesa
The OC Fair opens this week with everything from concerts and carnival rides to Chinese Lion Dancers and Alaskan Racing Pigs. If it's not at the OC Fair - who are we kidding; you name it, it's there!

Ringling Bros. and Barnum & Bailey Presents Legends! - Staples Center - Downtown
The latest edition of the classic circus is going to be legen … wait for it … ds. Legends, it's the name of the show, because this is the stuff of legends.

Old Pasadena Film Festival - Pasadena
Among the films screening this weekend – for free mind you! - are The House of Usher, Them! and Gravity.

Dino Days at Kidspace - Pasadena
Roar! Stomp! Learn! Kids can dig for fossils and build dinosaurs at Kidspace's annual celebration.

Old Fort MacArthur Days - San Pedro
From the days of the Roman Legions to the Vietnam War, more than 600 participants set up camps and demonstrate what life was like during their represented time period.

Free FIFA World Cup Live Screenings on the Big Screen - Beverly Hills
Are you a fútbol fanatic? The Paley Center invites fans of all ages to watch the final matches of the World Cup on its big screen.

Family Amphitheater Performances - West LA
The Skirball keeps bringing on the fun! This weekend: On Ensemble (Japanese Taiko Drumming) on Saturday and Jung Im Lee Korean Dance Company on Sunday.

Griffith Park Free Shakespeare Festival 2014 - Griffith Park
How about some free dance before your free Shakespeare? Invertigo Dance offers free performances before this weekend's Twelfth Night at Griffith Park.

Charlotte's Web - Santa Monica
The latest production at the Morgan-Wixson celebrates the friendship between a spider and "some pig."

The Quibbling Siblings - Culver City
This summer, Culver City Public Theatre's annual free children's production in the park is based on a Brothers Grimm tale.

Romeo and Juliet - Westwood
The Japanese Garden at the VA provides a stunning backdrop to this limited engagement run of Romeo & Juliet.

Opening Weekend: Pageant of the Masters - Laguna Beach
Laguna Beach's annual Festival of the Arts kicks off with the opening weekend of Pageant of the Masters. Prepare to be amazed as hundreds of participants bring great works of art to life right in front of you.
SATURDAY JULY 12
Big!World!Fun! Hollywood
Shin Dance Company introduces audiences to the beauty and elegance of Chinese dance (and kids get in free!)

Target Free Family Saturday: Print-astic - Downtown
The fun free family day at the Japanese American National Museum is all about printing and tattoos – hope you don't mind if your kid comes home with some fresh ink. (All temporary, of course!)

Open Call: Disney Channel Disney XD - Hollywood
The Disney Channel and Disney XD hold an open call for actors ages 10 -17.

Chris Botti & Chris Isaak - Hollywood
I'm not saying you should leave the kids home or anything, but how romantic does an evening of Chris Isaak and trumpeter Chris Botti sound?

Lowes Build and Grow - Multiple Locations
Kids can hammer away to make a Turbo with pullback motor.

Drum Downtown - Downtown
The rhythms are Afro-Brazilian at this month's free drum circle in Grand Park.

StoryTime With A TwiSt with Abby Schachner - West LA
It's storytime with a twist: the downward dog, peaceful warrior kind. Children's Book World offers a yoga-based storytime inspired by the text and pictures from new and classic picture books.

The Urban Ocean: World Port and Sealife Cruise - Long Beach
Explore our coastline from the wet side, aboard a double-deck yacht. (Keep an eye out for whales and sea lions.)

Chinatown Summer Nights - Chinatown
Part food event, part summer party, Chinatown Summer Nights gives families a chance to sample culinary delights, watch demonstrations and participate in cultural activities.

Eat See Hear - Santa Monica
It's Christmas in July! Eat See Hear presents National Lampoon's Christmas Vacation.
Cinespia - Hollywood
"Bond, James Bond." Goldfinger screens at Hollywood Forever Cemetery

Redondo Beach Summer Music Festival - Redondo Beach
Redondo Pier offers up the reggae sounds of West Swell.

Family Jam at the Zoo - Griffith Park
The after-hours fun at the Zoo is themed "An Evening in Brazil" in honor of the DVD release of Rio 2.

Check out these free outdoor movie screenings:

Studio City Movies in the Park - Studio City
Love those little yellow guys! Moviegoers can meet a minion before the free screening of Despicable Me 2 at Studio City Recreation Center

Movie on the Lawn - Irvine
Golden ticket time: Orange County Great Park screens Willy Wonka & the Chocolate Factory.

Movies on the Green - Woodland Hills
Warner Center Park scares up the fun with a free screening of Monsters University.

Moonlight Movies on the Beach - Movies at Mom's - Long Beach
A spoonful of sugar helps the medicine go down. So does a free screening of Mary Poppins at Mothers Beach.

Free Summer Movie Series - Malibu
Malibu Country Mart sweetens the free screening of Back to the Future with free candy and popcorn.

SUNDAY JULY 13

Grunion Run - San Pedro
Run, grunions! Run to the Cabrillo Marine Aquarium!

Children's Garden Workshops - Irvine
It Came from Planted Earth! This free workshop at Orange County Great Park teaches kids the role plants play in many of the products, tools, and equipment we depend on every day.

Free Day at OCMA - Newport Beach
Abracadabra! The free day at Orange County Museum of Art is absolutely magical!

Kids Koncert: Baila Baila Band - Topanga
The Baila Baila Band performs Spanish songs full of energy, dancing, and fun at Theatricum Botanicum

Summer Family Fun Series - Fairfax
Kids can create a musical shaker and enjoy a performance by Einstein Brown's Musical Calypso Kid Show at the Farmers Market.

Kids Run the Bases - Dodgers Home Game - Echo Park
The Dodgers play the Padres, kids run the bases, and the first 40,000 fans go home with portable speakers, at Dodger Stadium.

Interactive Concert For Individuals With Autism And Their Families - Sherman Oaks
People with autism and their families can enjoy a free concert with the Mostly Disney Ensemble. The performance is, not surprisingly, mostly Disney classics.

Second Sunday Concert Series - Mid-Wilshire
The Beat Buds rock the Zimmer Children's Museum.

LevittLA Summer Concert Series - Children's Concerts in MacArthur Park - Downtown
Rhythm Child brings children's interactive soul to the free concert series at MacArthur Park.

Grease Sing-A-Long (PG-13) - Hollywood
Better shape up! It's a Grease sing-along at the Hollywood Bowl, hosted by none other than the Beauty School dropout herself, Didi Conn.

Sunday Movie Nights - Beverly Hills
The delightful Oscar-nominated animated feature Ernest and Celestine screens under the stars at Beverly Canons Garden.
And for your free outdoor concert enjoyment:

Sunday Concerts in the Park - Agoura Hills
The Peter Straus Ranch provides the backdrop for a free concert featuring Vernum Rush (hard rock) and Cartucho de Villa (Spanish Rock).

Manhattan Beach Summer Concerts in the Park - Manhattan Beach
Polliwog Park Amphitheater is rockin' and rollin' with Tomasina.

Playa Vista Concert in the Park - Playa Vista
The Surf City All Stars play the greatest hits of the Beach Boys and Jan & Dean performed by singers and musicians from the legendary bands.

South Pasadena Summer Concerts - South Pasadena
Garfield Park swings to Wiseguys.

2014 Music in the Park - Laguna Beach
Bluebird Park in Laguna Beach offers up Cubensis, (Grateful Dead Music Tribute).

Concerts on the Green - Woodland Hills
Warner Center Park glows with Ring of Fire, a tribute to Johnny Cash.

Sierra Madre Concerts in the Park - Sierra Madre
Woody and the Longboards perform Beach Boys hits at Memorial Park Bandshell.

And yes, there are many more activities listed on our daily events calendar. Just a crazy notion, but why not check it out! Whatever you choose to do this weekend, we hope you have marvelous time.
.