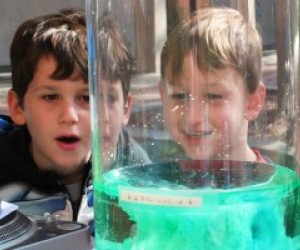 Fun & Free Things to Do This Weekend with LA Kids: Discovery Cube LA, S.T.E.A.M, and Doo Dah,Nov 15 - 16
Science science science! We are going to fill you with the smarts this weekend, as LA becomes the most sciency town this side of that comet that ESA just landed on. (And that's 300 million miles away, so not so good for weekend plans.) We have a S.T.E.A.M. Festival on Santa Monica Pier to thrill and inspire your kids. The science-heads at UCLA share their enthusiasm for our universe and all things in it at the annual Exploring Your Universe event. (Do you think anyone told them about the comet?)

But perhaps the biggest science news we've got is the opening of the new Discovery Cube LA. That's right, Orange County, you don't own discovering any more. (Don't worry, we still love you, never change.) We got a sneak peek at the new Discovery Cube over the weekend, and let me tell you, it is kid heaven. Just the right mix of techno-gadgety interfaces, attractions that keep kids actively engaged, and the sheer exhilaration of natural and engineered wonders. This is no gimmick: true science is taking center stage here.
Some science is best left to the parents, though. Specifically, coffee, and the mystical timey-wimey alchemy that turns caffeine into pure happiness. Starbucks Holiday BOGO is back. Keep your paws of my chestnut praline latte and no one gets hurt.
Keep reading for our favorite picks for the weekend.
ALL WEEKEND

Opening Weekend Discovery Cube Los Angeles - Sylmar
The Valley gets its first major museum with the Discovery Cube Los Angeles. It's all science-y, and your kids will love it.

Big Hero 6 (PG) in 3D with Laser Light Show - Hollywood
From Walt Disney Animation Studios, the team behind Frozen and Wreck-It Ralph, comes an action-packed comedy-adventure about a boy and his inflatable robot. See it at El Capitan if you like lasers.

Day Out with Thomas - Perris
Now entertaining the station: Thomas the Tank Engine with Sir Topham Hat. All Aboard!

Pasadena Model Railroad Club Fall Open House - Pasadena
Model railroaders wait months for the chance to view this club's fantastically lively and detailed display of trains.

Starbucks Holiday BOGOs - Multiple Locations
Get yourself a caramel brulée latte; I'll try the new chestnut praline latte.

SATURDAY NOVEMBER 15

Doo Dah Parade - Pasadena
It's time for that big parade in Pasadena! No, not that one. The other one. The one that's… different.

S.T.E.A.M. Machines: A Contest of Curious Contraptions - Santa Monica
3-D printing, bicycle-powered ice cream, piloting a mini submarine, and a Rube Goldberg contest: there's some serious S.T.E.A.M. action on the Santa Monica Pier.

NOAA and Our Planet Day - Long Beach
Aquarium of the Pacific celebrates the National Oceanic and Atmospheric Administration and all it does for our oceans.

Santa's Arrival & Breakfast - Redondo Beach
Ho ho ho! Santa's having breakfast at South Bay Galleria.

Breakfast with Santa - West LA
Ho ho… seconds? Santa shows up for breakfast at the Westside Pavilion.

Opening Day of Oak Woodland - La Canada Flintridge
Descanso Gardens opens this 5-acre space for public view. So exciting even the Mars Rover is coming to explore!

Mom Expo Los Angeles - Calabasas
The two day Mom Expo is designed to bring SoCal moms together, to motivate, inspire, nurture, and reward women with young families.

Odd Squad Sneak Peek with PBS SoCaL - Hollywood
Get a sneak peek of the new PBS Kids series Odd Squad at the Cinefamily Silent Movie Theatre (it's free, and there's snacks!).

Dead Garden Run - Palos Verdes Peninsula
It's a beautiful day for a run through South Coast Botanic Garden, except for the zombies who jump out at you and try to steal your life force.

Say No To Drugs Race Holiday Classic - Universal City
Kids can participate in a Kiddie Fun Run at this event on the Universal Studios Backlot.

Nothin' But Sand Beach Cleanup - Venice
I don't care whether you made that mess or not, the beach in Venice needs cleaning. Now get yer bucket and go to!

Saturday Morning Concerts - Santa Monica
Madam Chocolat's storytelling captivates young audiences at Books and Cookies.

Saturday Morning Stories and More - West LA
Southern California kids can learn what it's like when a snowstorm comes to town, as John Rocco leads storytime and crafts relating to his new book Blizzard at Children's Book World.

Story Pirates: The Flagship Show - Westwood
The Story Pirates take stories submitted by kids and turn them into rollicking stage productions.

Story time in Spanish - Burbank
No habla espanol? No problemo. Señora Jackie leads a monthly storytime in Spanish that kids can enjoy whether or not they speak the language.

Norton Simon Family Day - Pasadena
There's a sculptor in you; help it find expression in the Norton Simon Museum's garden.

What is a Western? Film Series: Little Big Man (PG-13) - Griffith Park
The Autry looks at depictions of Native Americans on screen. In this 1970 film, Dustin Hoffman plays 121-year-old Jack, who tells the astonishing stories of his life, including having been raised by Cheyenne Indians and befriending gunslinger James "Wild Bill" Hickok.

Pottery Barn Kids: Very Fairy Tea Party - Multiple Locations
Does your fairy take one lump or two? Pottery Barn Kids hosts a tea party to find out.

Fashion Island Tree Lighting Ceremony - Newport Beach
Two big celebrities help Fashion Island kick off the holiday season: Mickey Mouse and Santa Claus!

Family Night - Downey
November's family night at the Columbia Memorial Space Center is all about flight: catch a free screening of Disney's Planes, and try your hand at kite-building.

SUNDAY NOVEMBER 16

Exploring Your Universe 2014 - Westwood
Come to the UCLA campus for planetarium shows, solar telescope viewing, bottle rockets, earthquakes, comet making, weather tours, fossils, and physics demos. Because Science.

California Native Cultures Day - Pasadena
Kidspace celebrates California's native cultures through a day of music, food, storytelling, weaving, and more.

Skirball Playdate: Mildred's Purse - West LA
Kids play private detective, assembling a detective kit, interviewing suspects, and unraveling the mystery to discover what happened to Mildred's purse.

Lisa Loeb - Santa Monica
Indie singer-songwriter (and voice of Mary Jane in the animated Spiderman series) Lisa Loeb performs at McCabe's.

Faery Hunt Family Series - Redondo Beach
The Faery Hunt folk tell the story of the King of the Faeries at the Sunset Theatre Company.

Family Flicks: Little Fugitive - Westwood
In this free screening at the Hammer Museum, young Joey runs away to Coney Island when he is tricked into believing he has done something terrible.

Free Day at MOLAA - Long Beach
At this free day at the Museum of Latin American Art, visitors can go on an Artventuras, looking at MOLAA from an artist's point of view.

Family Day LA - Studio City
Help raise funds for pediatric cancer while enjoying food, carnival games, bouncy houses, a petting zoo, and live musical performances by Lucy Hale, R5, and Sabrina Carpenter.

Family Jam: City Sounds' Beat Boxing - Westwood
Kids can learn about the beat boxing art form and make music using their mouths and a handmade microphone at the Fowler Museum.

Zimmer Sunday Family Programs - Mid-Wilshire
Buttons up! It's National Button Day! Kids can sort, stack, and style up with buttons!

Wake Me Up Before You Glo Go Dance Party - Silver Lake
This annual party features dancing, Glo face painting & Glo toys and glow crafts (plus a chill out room for when all the glowing gets to be too much).

A Hollywood Christmas Celebration & Tree Lighting at The Grove - Fairfax
The Grove launches its holiday season with an all-star event. Earth, Wind, and Fire, Aloe Blacc, and Pentatonix perform.
As always, there are many more activities listed on our daily events calendar (and if you didn't receive this post as an email, you really should subscribe to our weekly newsletter). Whatever you choose to do, have a wonderful weekend!