Four Up-close Animal Encounters in New England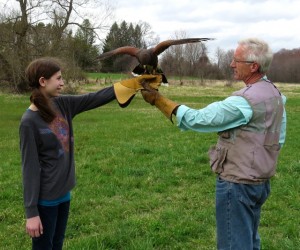 Local mom and "Outdoors with Kids Boston" guidebook author, Kim Foley MacKinnon, shares her best family outing tips and picks with you as part of our guest blog series with the Appalachian Mountain Club's Kids Outdoors Boston free online community.
There are plenty of zoos and nature centers in New England where families can get acquainted with a variety of animals, from farm animals to native species, but often there's a "look, but don't touch" policy in place (for obvious reasons). Here are four spots we've found where that isn't the policy at all. Kids will be delighted with these hands-on experiences.
At Island Alpaca on Martha's Vineyard in Massachusetts, families can sign up for the Alpaca Discovery program, which runs most mornings. You'll learn the basics of alpaca care, as well as where alpaca come from and why they are important. Participants will also meet the herd, and kids can get involved in hands-on activities such as barn chores, feeding, halter training, and maybe even witness the birth of a new herd member. (The alpacas give birth between May to September.)
New England Falconry, in Hadley, MA is a one-man operation run by founder and owner Chris Davis, who is the first master falconer in the country to offer hands-on lessons. During a 45-minute introductory falconry session, guests walk with Davis on a 13-acre field as he talks about the raptors he breeds and trains. He's very patient with kids as he helps them to position their arms just right and offer the treat that results in a very up-close visit from a hawk. To make a day of it, stop by the Trustees of Reservations' Dinosaur Footprints property in Holyoke, MA and enjoy the more than 130 tracks preserved in sandstone slabs.
Magic Wings in South Deerfield, MA is aptly named. This is a place to go for any fairy-loving kids (or adults for that matter), as visiting the 8,000-square-foot glass conservatory is like stepping into a magical world. More than 4,000 butterflies flit around, landing on arms and heads, eliciting oohs and aahs of delight. Staff members also bring out animals, such as turtles and birds, to visit with guests throughout the day. If you're up for a hike afterwards, Mass Audubon's High Ledges Wildlife Sanctuary is less than a half-hour away. The Dutch and Mary Barnard Trail boasts an amazing number of wildflowers in spring and summer, so keep an eye out for wild butterflies!
Whales Up Close
This 40-minute Mystic Aquarium program in Connecticut is a fantastic introduction to beluga whales where visitors (ages 6 and up with a parent) can watch a beluga feeding and learn more about the animals' behavior. Participants meet with a trainer then head to the exhibit, where they come face-to-face with a whale and see how the trainers work with them. There's the possibility of touching the whale, though it's not guaranteed. Once kids are over 5 feet tall bring them back for the Beluga Encounter, when they (with you) can wade into the water with the whales and trainers.
---
Kim Foley MacKinnon is a Boston-based editor, journalist, travel writer—and mom. She writes the Kids Outdoors Boston blog for the Appalachian Mountain Club and contributes to the Boston Globe, AAA Horizons, Boston Parents Paper, and many other publications.