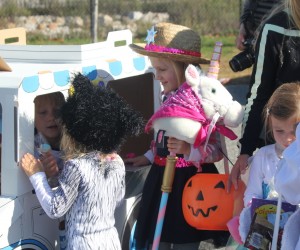 Fall Fun for LI Families in the Hamptons & North Fork
On the East End of Long Island, the fun never really does end. Vacationers and those new to the area might be surprised to hear that family time does indeed continue here after the calendar turns past Labor Day. The North Fork, in particular, comes alive as farm stands and wineries celebrate the autumn harvest, and fall festivities continue almost uninterrupted until Thanksgiving weekend. After that, it's time for holiday cheer and the hunt for the perfect Christmas tree.
So take a moment to reflect on another well-spent summer, but consider also what memorable moments await in the autumn. Our Hamptons and North Fork Family Guide includes information you can use all year-round and our Long Island Classes Guide will help you plan a visit around the school year.
September 12-13
Hallockville Museum Farm Fall Festival and Crafts Show
6038 Sound Avenue, Riverhead
631-298-5292
Now in its 35th year, this North Fork tradition kicks off the fall season with railroad exhibits, music, children's activities, museum tours, artisan and food vendors and -- what else? -- a tractor pull.
Harbes Family Farm Apple Picking Festival
5698 Sound Ave., Riverhead
631-369-1111
Celebrate the start of the East End's apple season with corn mazes, pony and hayrides, music, food, vendors, and for mom or dad, wine tasting from Harbes Family Vineyard. Apples are within reach of the smallest hands, so even the youngest of kids can join the party.
September 19-20
Long Island Garlic Festival
Garden of Eve Organic Farm
4558 Sound Ave., Riverhead
631-722-8777
This festival has an aroma all its own. In fact, this two-day celebration of the much-beloved cooking plant features a variety of garlic-inspired foods, crafts, workshops and more. If your little ones don't share your love of the seasoning, maybe the music stage will amuse them.There is continuous entertainment from 10am to 6pm.
September 25-27
Greenport Maritime Festival
Downtown Greenport
631-477-2100
This three-day celebration of the village's nautical history includes a cocktail party, parade, pirate shows, kayak races, carousel rides, food, arts and crafts and, of course, the children's snapper fishing derby. It is one of your last chances to catch these juvenile bluefish before they begin their winter migration. Admission to the festival is free, but fees may apply to some activities. And be advised, parking in the downtown area is challenging.
October 11
Children's Museum of the East End 10th Birthday Celebration
376 Bridgehampton-Sag Harbor Turnpike, Bridgehampton
631-537-8250
It's hard to believe, but the East End's only kids-first museum is a decade old. To celebrate, the staff has planned a day filled with rockets, lava lamps, mini-golf, drip painting, songs, food and more. The party is free to kids of all ages, but space is limited; call or register online.
October 31
Southampton Youth Services Trunk or Treat
1370a Majors Path, Southampton
631-287-1511
Families can celebrate Halloween with a different spin on trick or treating. Dress in costume and drive your car to the Youth Services facility. Decorate your vehicle and then go car to car for treats. Prizes are awarded for the best costume and trunk decoration, and kids can enjoy arts, crafts, caramel apples and more. Admission to the haunted path is free.
November 28
Lighting the Lighthouse
Montauk Point Lighthouse
2000 Montauk Highway, Montauk
631-668-2544
Families can join the Montauk community as it ushers in the holiday season with the traditional lighting up of the esteemed lighthouse. Parking and admission are free and Santa has been known to make an appearance. The lighthouse remains lit through New Year's Day. Rain date is December 5.
Photo: Southampton Youth Services; Trunk or Treat