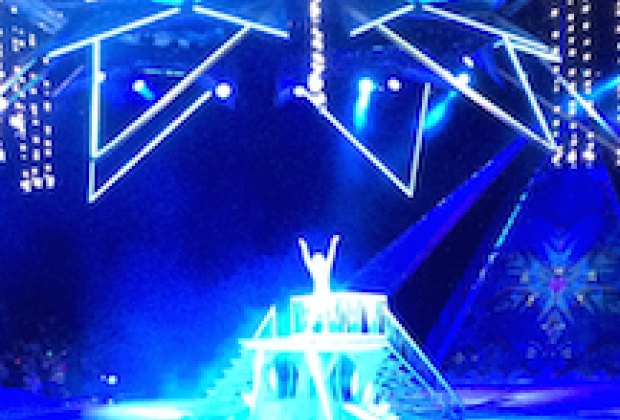 Disney On Ice presents Frozen: A Parent Review
When we heard that Disney on Ice presents Frozen was coming to Boston, you can imagine the excitement level in our house. (Sometimes I wonder if the Elsa craze contributed to the "freezing" of Boston these last couple of weeks. There has to be some sort of correlation, right!?)
We went on Valentine's Day afternoon, under the threat of a blizzard, and we had a really fun time. Even our one-year-old was dancing to the music and screamed, "Wow!" when (spoiler alert) Kristoff and Anna kissed at the end. Below is my candid parent review, followed by five insider tips at the end.
The Disney on Ice version of Frozen definitely takes some liberties with the story line, so prepare your kids for variations from the movie. The first half starts off a bit slow while setting up the story, but the pace quickens after about 15 minutes. Typically, Disney On Ice shows move quickly, overlapping one story into another; this is more like watching a Broadway play (plus lots of fun special effects.) The skating talent is superb, per usual, and the voice-overs are of the original characters, which I thought really contributed to the overall effect.
There are two parts to the show that could scare young children. Be prepared to cover eyes (or in my daughter's case, ears) when the wolves that attack Kristoff's sled come out with their creepy glowing eyes and when the larger-than-life Marshmallow Ice Monster yells, "NEVER COME BAAAAACK!" Even I jumped.
Olaf was a huge hit with the audience, but he doesn't make an appearance until the second half. I have no shame in admitting that Elsa's "Let it Go" gave me arm shivers just like it did the first time I heard it. The snow that fell throughout the show was really beautiful, albeit a little to close to home these days.
TIPS
1. We parked across the street from the back side of the Garden instead of the main parking garage. This saved us over an hour of sitting and waiting in the traffic circle that originates from the Storrow Drive side. We also didn't have to wait in the gargantuan line for the elevators inside the base level of the Garden.
2. We brought our own sandwiches and snacks to avoid spending a mortgage payment on food.
3. Make sure to look up during the show. They have a really cool graphics display for each scene that can be easily missed if you don't look up from time to time.
4. Do not get up and go to the bathroom during Kristoff's solo to "Reindeer Are Better Than People." The tricks are fantastic!
5. We enjoyed sitting in the section that faced the front of the rink. It seemed like most of the acts played to this view.
Psst - the Garden sells booze, but stops after intermission. Saturday afternoon, Valentines Day and an indoor snowstorm? Adult drinks necessary!
---
Disney On Ice Presents Frozen is playing at the TD Garden now through Feb. 22nd.