CSAs for Westchester Families: How to Buy Locally Direct from the Farm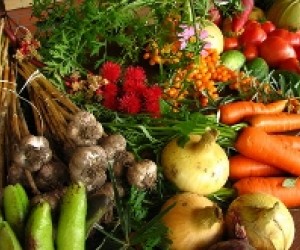 Hard as it might be to believe, deep in the middle of winter is the time to start thinking about next summer's vegetables, especially if you prefer locally grown produce. Whether you'd like to pick-your-own at one of our local farms, pick up onsite or have fresh veggies delivered right to your door, there is a CSA here in Westchester to suit your family's style.
If you're not familiar with the term, CSA stands for Community Supported Agriculture, and it is a thriving program throughout the Hudson Valley. Now, in the deepest days of winter, farmers all across New York State are planning their crops for next year and CSAs are making it possible for them to plant, tend, harvest and sell small-scale crops directly to the people who want locally raised food.
Read on for more info on CSAs, including details on how to join and participating farms throughout Lower Hudson Valley.
Most CSA sign-ups start in December and early January for returning members, and late January/early February for new members. When you sign up for a CSA share, you are throwing your lot in with the farm and the farmer. Members of a CSA pay upfront (or in installments) for a share of the farm's bounty, then receive weekly deliveries throughout spring, summer and fall of whatever is currently growing on the farm. There is no picking or choosing--members eat what the farmers grow. Most regular shares provide veggies for a family of 4.
Our family has been part of a CSA for nearly 10 years and we can't imagine the summer without our steady influx of new veggies to try. Our daughter went with us for her first CSA pick-up when she was just 2 weeks old; by her second year of picking up the vegetables she was an old pro.
Many farms will also offer open-house visits and work days for participating families, and it is a real treat to go up to the farm and work alongside the farmers who plant, tend, pick and deliver your vegetables to you each week. Most of the farms listed below also offer half shares (there can be A LOT of produce each during peak season). You can also split a share privately with a friend or take turns picking up every other week. The price may seem steep at first, but if you divide it by the number of weeks, it is actually quite reasonable. Away for a week? No worries. Any unclaimed vegetables are donated to a local shelter, food kitchen or other charity.
Where to join in Westchester and Lower Hudson Valley...
Hilltop Hanover Farm - Yorktown Heights
Hilltop Hanover Farm and Environmental Center is located right here in Westchester County. This farm offers a 20-week CSA membership with onsite pick-up at the Yorktown Heights farm. Participants will choose their own already-harvested vegetable each week and also have an opportunity to visit the farm where they were grown. Hilltop Hanover uses sustainable farming practices without synthetic fertilizers or pesticides.
Harvest Moon Farm - North Salem
Like Hilltop Hanover, Harvest Moon Farm is a local Westchester County Farm with CSA pick-up at the farm where the vegetables are grown. Harvest Moon offers a variety of choices with full shares and half shares and shares that end in both September and October. Families can choose a full share that runs through October or a half share that ends in September, depending on their needs. Harvest Moon also offers a milk share option. Harvest Moon Farm uses organic pesticides and fertilizers whenever possible and all fruits and vegetables are planted and harvested by hand.
Roxbury Farm - Kinderhook
Roxbury Farm is located in Kinderhook, NY and makes deliveries to 5 locations in Westchester County (Pleasantville, Mount Kisco, Katonah, Armonk and White Plains). The regular CSA runs for 23 weeks, with the option to add on fruits, meats and winter boxes. The typical weekly share is 10 to 17lbs of fresh vegetables (and sometimes much more--I speak from experience!). Roxbury farm uses organic, biodynamic farming processes; they do not use synthetic or artificial fertilizers or pesticides.
Stoneledge Farm - Greene County
Stoneledge Farm is located in Greene County, NY and makes deliveries to 3 locations in Westchester County (White Plains, Hastings-on-Hudson and Montrose). The regular CSA is delivered weekly from early June to mid-November. Additional fruit, mushroom and coffee shares are available, as well as specialty add-on items each week. Stoneledge Farms is certified organic and delivers 8-10 different vegetables each week.
J&A Farm - Goshen
Located in Goshen, NY, J&A farm delivers its weekly CSA shares to Pleasantville throughout the growing season. They offer 3 different size shares (small, medium and large). Vegetables at J&A are grown according to organic farming principles.
Norwich Meadows Farm - Norwich
If home delivery is what you want, Norwhich Meadows Farm--also known as MyFarmShare.com--might be what you are looking for. Delivering to most Southern Westchester towns (and a few towns in middle Westchester), Norwich Meadows offers 22 deliveries of organic vegetables during the summer season and winter shares of 5 or 9 deliveries. Optional egg shares and fruit shares can be added on as well.