Sip a Coffee and Save a Kitten at LI Cat Cafes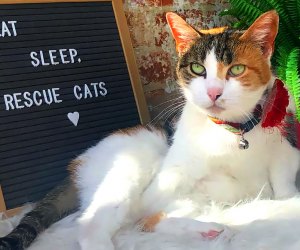 If your family is in the market for a new kitty or just looking for the purr-fect way to spend an afternoon, you are in for a furry good time. The Shabby Tabby, Long Island's first cat cafe, is waiting for you to frolic and munch with some new feline friends.
Make an hourlong reservation at the cafe in Sayville and enjoy some cuddly time with your favorite fur-balls while enjoying a complimentary beverage and tasty pastries. All of the cats are spayed/neutered, vaccinated, microchipped, and ready for adoption.
What's more, a second cat cafe, A Kitten Kaboodle, plans to open in Selden in June, offering more fun for animal-lovin' tots. In the meantime, check out our list of the best animal farms and petting zoos on Long Island and our roundup of animal encounter birthday party destinations for Long Island kids.
The Shabby Tabby's owner, registered nurse and Long Island native Ryan Shea, opened a cat cafe after she lost her beloved cat. Shea began volunteering at the Golden Paw Society in Huntington Station, where she saw first-hand how many homeless kitties live on Long Island. Shea had visited cat cafes in Colorado and New York City, but noticed a need for one in her community.
"The idea is to get cats adopted," Shea told Mommy Poppins. "You can see their personalities better than those who are in cages in a shelter. We can tell people what each cat likes to do, and if they get along with other cats."
Shea began a Kickstarter program to raise money for her cause, which helps unite loving families with homeless cats through the help of the Golden Paw Society. Since opening, there has been no shortage of customers, she said.
"We recommend that you make reservations," she said. "It gets really busy here, especially on weekends. We can have no more than 20 people at a time, because it scares the cats if there are more. There are usually 20 to 30 cats here."
The Shabby Tabby is part of a growing national trend. Cat cafes have popped up in cities across the country; a second Suffolk County destination, A Kitten Kadoodle Coffee Cafe, says it plans to open in Selden in June 2019. A Kitten Kadoodle's menu lists a number of tempting salads, pasta, smoothies, and more. A Kitten Kadoodle also plans programs for toddlers, teens, and adults. Its website says parties will be offered.
Owner Jennifer Rose Sinz is a former teacher who is excited about the possibilities for the central Suffolk facility. A huge window-wall will allow parents to munch on healthy treats while watching their kids frolic with adoptable kittens. Just as at The Shabby Tabby, cats here will be prepared for potential adoption before they enter the cafe.
"We actually plan to do a lot of children's programs," she said."At the end of July, we will be having a teacher do a craft-and-reading night for kids and a pillow craft night for teens. We will also be focused on reaching out to seniors and individuals with special needs."
Meanwhile, Shea says The Shabby Tabby has adopted out more than 140 cats since it opened September. Shea hopes of opening a location in Nassau County sometime soon.
RELATED: Nature Centers Sure to Delight Long Island Kids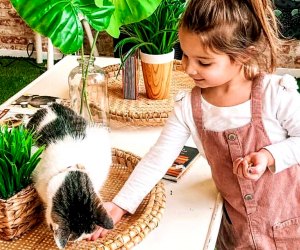 Enjoy a tender moment with an adoptable feline at The Shabby Tabby.
The Shabby Tabby is open from 11am to 7pm every day but Monday. Children younger than 12 must be accompanied by at least one adult for every 2-3 children. Reservations can be made online or over the phone. The cost is $15 per person for an hour, and it includes a beverage. You can also save money by purchasing 10 hours ahead of time for $100.
If you and your little ones fall in love with a feline, you can adopt right on the spot. There is a quick 24-48-hour turnaround time, and a $100 adoption fee.
The cafe also hosts special events for grown-ups such as Wine Glass Paint Nights With Cats, Yoga with Cats, and a Murder Mystery Night. Reservations can be made ahead of time online.
To get to The Shabby Tabby from the west, take the Southern State/Heckscher State Parkway to Exit 44E, Route 27, Sunrise Highway East. Follow the Sunrise Highway east to Exit 46A, Montauk Highway-Oakdale, Great River. Take Montauk Highway approximately 4 miles until you see The Shabby Tabby Cafe on the left, just across from the St. Lawrence the Martyr Catholic Church. From the east, take the Sunrise Highway to Exit 51, Nicolls Road. Follow the Sunrise service road west to Broadway Avenue. Turn left and follow Broadway Avenue south to Montauk Highway. Turn right and follow Montauk Highway west 2 miles to the cafe.
If you prefer mass transit, take the Long Island Rail Road's Montauk branch to the Sayville station. The Shabby Tabby is a 20-minute walk, or 5-minute cab ride from the station.
Photos courtesy of The Shabby Tabby