Best Places for Kids' Cooking and Baking Parties in Westchester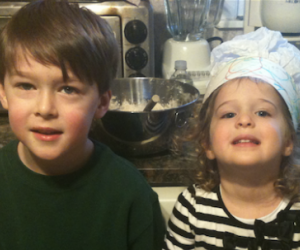 Could your kid be the next Food Network star? If only they had proper instruction! Throwing your little one a cooking- or baking-themed birthday party is a great way to introduce him or her (and guests) to kitchen basics. Best yet, you don't have to deal with the messy aftermath of pots and pans. From decorating cupcakes to crafting quesadillas, here are the best places in Westchester that can give them the skills to be Top Chefs for their birthdays.
Don't forget to consult our Kids' Party Planner Guide for additional party ideas, and sign up for our FREE newsletter!
Sugar Mama by Kim Bake Shop - Larchmont
1985 Palmer Avenue
Your birthday boy or girl can be a baker in training for the day at Sugar Mama by Kim. Parties run for 90 minutes for the standard Sweet Birthday Bash (two-hour parties are available for an additional price). Kids decorate a freshly baked themed sugar cookie to take home to eat, and cupcakes are provided for each guest as well. Pizza, snacks, beverages, games, balloons and paper goods are also included.
Simply Sweetz Boutique – Pelham
130 Fifth Avenue
Located in downtown Pelham, this quaint shop can be the site for a child's birthday party as well as the place to buy party favors, candy and the goodie bags. Kids can make buttercream frosting in the kitchen, or learn how to roll and craft with fondant. At the end of the party, partygoers get the chance to make their own goodie bags from the shop's 15-foot candy wall. In-store events are limited to 10, but if you can provide a bigger space, they will bring the party to you. Pizza is included, and vegan and gluten-free products are available upon request
ABC Cakes - Mamaroneck
414 Mamaroneck Avenue
ABC Cakes specializes in children's parties for all ages. Younger partygoers decorate cupcakes and bring them home while older kids work with full-sized cakes. The tween/teen set can even participate in team competitions. Each team is given a basic recipe and then four secret ingredients to mix and bake their own specialty cupcakes. Pizza and drinks are included in all packages.
Chocolations – Mamaroneck
607 East Boston Post Road
Kids ages 5 and older can get their chocolate fix at this 1,600-square-foot store. In addition to creating their own chocolate bar, little chefs make cupcake "projects" during a 75-minute party; there is also the option to have them create a pizza for lunch at an additional cost.
California Pizza Kitchen – Scarsdale
365 Central Park Avenue
If sugar-fueled gatherings aren't your thing, host a pizza-making bash for kids as young as 2 years old at California Pizza Kitchen. Guests are presented with pre-baked pizza pies, which they get to smother in sauce and decorate with a variety of toppings. While the pizzas finish baking, kids are given a tour of the kitchen, which is followed up by a session of sundae making for dessert. One thing to note is that CPK only does parties at 10:30 a.m., before the restaurant opens.
Sur La Table – Yonkers
1 Ridge Hill Boulevard & 125 Westchester Avenue
There are two Sur La Table locations in Westchester that accommodate birthday parties: one in White Plains at The Westchester, and one in Yonkers at Ridge Hill. Think of these gatherings as dinner parties for the younger set. Budding foodies create a customized menu (anything from pasta to quesadillas) with the resident chef ahead of time, and the retailer will provide the ingredients and beverages for the day of. Baking lovers can even create their own cake for the event during the two-hour party.
Kids r' Cookin' - Several Locations
This cooking school specializes in parties for all ages. Rent out one of three locations (Ardsley Community Center, Scarsdale Friends Nursery School or Tuckahoe Community Center) and the instructors will teach little ones how to cook everything from homemade pizza and mac n' cheese to salsa or dirty pudding. As guests arrive, each one receives a fabric apron and hat to decorate and bring home afterward.
The Organic Teaching Kitchen – Croton-on-Hudson
18 Old Post Road South
Gather up a group of 10 kids to get them in the habit of eating healthy at The Organic Teaching Kitchen. The recipes are kept simple—think organic mini muffins, granola and smoothies—but the events provide a hands-on experience for all ages. Just don't expect a usual lunch of pizza and ice cream. The owner told us she prefers to feed the kids things like yogurt parfaits because kids should learn that "good food tastes good." Can't argue with that.
Chocolate Works – Scarsdale
450 Central Park Avenue
Your kids and their guests will be transformed into "chocolatiers" for the day at Chocolate Works. They will mold and decorate a delicious chocolate creation on the 25-foot conveyer belt machine to take home, plus decorate a chocolate-covered Oreo, pretzel or marshmallow. Parties are all-inclusive and come with invitations, pizza, beverages and paper goods.