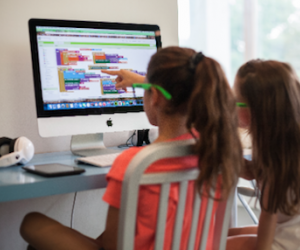 After School Computer Coding Classes in Fairfield County
No question, art or music enrichment classes are worth the money spent, whether you're looking at the short or long-term benefits. But, what about giving your little girl or guy an edge -- or, as it may turn out -- the minimum, with some computer programming classes?
Schools certainly try to keep up, but they can't track with tiny businesses in Fairfield County eyeing the market trends, and vying for the chance to teach your kids the latest in coding and robotics. With any luck, your child will come out inspired, inventive and maybe even BFFs with math. Check out our After School Enrichment Classes Guide for more options and ideas.
Brain Boost (at Sportsplex Fairfield)
Parents with extensive experience in computer science launched this enrichment boutique. They keep the curriculums current (Scratch, Javascript, Lego, Mindstorm, etc), and offer weekend 'Funtime' experiences.
85 Mill Plain Road, Fairfield, CT, 203-955-1024

CompuChild of Fairfield County
This is a franchise version of technology learning centers, geared toward children ages 5-13. They offer all the coding and robotics classes you're seeking, and prepare to compete at First Lego League (robotics competition) and Junior FLL.
719 Post Rd. E., Westport, CT, 203-921-7905
Zaniac, Greenwich & Westport
This relatively new entry to the STEM-franchise concept is what you might think education nerds dream for classrooms to be. Zaniac aspires to an 'active, inspiring place that is filled with friends and friends to be, where real math and technology learning is fun.' They offer all the programming and robotics courses the kids are talking about, and then some.
644 West Putnam Ave, Ste. 201, Greenwich, CT 06830, 203-918-9264
1391 Post Road East 2nd Fl., Westport, CT 06880, 475-999-8689

Westport Library
In addition to the occasional coding classes, last year this power town's library went where no North American library has gone before, in obtaining two humanoid robots. Their sole purpose is to teach programming in a practical way -- to anyone interested. Look for leveled courses starting up again in September. Children under 8 must be accompanied by an adult with a laptop. Best part, they're FREE -- first come, first serve.
20 Jesup Road, Westport, CT 06880, 203-291-4800

Ridgefield Library
Over the last ten years, this library has laser-focused efforts at teaching STEM to young girls and minorities. That being said, anyone is welcome at their coding workshops!
472 Main Street, Ridgefield, Connecticut 06877, 203-438-2282

iD Tech Computer Camps
If all this is a bit much to tackle during the school year, wait 'til summer to open your youngster's mind at a tech camp. This outfit holds day and overnight versions at Western CT State University (and Yale) for kids & teens, ages 6-18. Programming, Game Design, Minecraft, App Dev, and Robotics are all on the docket.

One final thought -- Trumbull Continuing Ed. offers coding camps in the summer, too. Check in your town for availability, as this is one affordable way for your child to get the gears turning, without having to travel.

ScratchEd
Scratch is a programming language that makes it easy to create interactive art, stories, simulations, and games – and share those creations online. All of the aforementioned teach it. But perhaps you think you can tackle it yourself ... and pass your smarts onto your progeny. Off you go!
Code.org
Here, you can learn to code (with Anna and Elsa, no less), and bring it to every child at your local school through their international 'Hour of Code' events. The likes of Bill Gates and Mark Zuckerberg, and several demographically diverse power-programmers pop up to cheer you on in code.org tutorials.