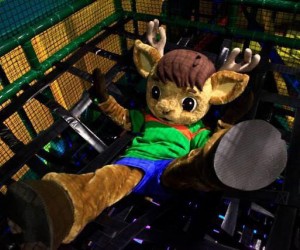 12 Drop-In Kid Spots in the Lower Hudson Valley
Whether you're in need of a date night, or your kids just want some evening fun, there are many places in the Lower Hudson Valley that host Kid or Teen Nights. Great for some solo adult time, these places offer either drop-in (no parents or pre-registration required) or drop-off play (parents not required but pre-registration may be). Some of these facilities have irregular program dates, so contact the location for the most recent schedule.
Looking for places that offer drop-in and drop-off play in Westchester? We have you covered. Be sure to sign up for our FREE newsletters to keep up to date with all of the best places to play in the area.
Orange County
Primo Sports – Florida
Primo holds recurring Rec Nights for kids, tweens and teens. Pre-registration is required. There are also teen and tween nights with sports and dancing.
Drive Sports – Goshen
This facility, located in the Goshen Sports Complex, offers drop-in basketball from 3-5pm on school days. There are also pick-up games on weekends for high schoolers and on Friday evenings for third- through eighth-graders.
The Rock Sports Park – Chester
Kids can get dropped off for dodgeball on Saturday nights at the Rock. Pizza and drinks are included. Registration just needs to be completed 15 minutes before start time.
The Elk's Place – Harriman
Parents can drop-and-shop at this indoor place center, which offers two-hour sessions from 11am – 6pm. All ages are welcome (must be potty trained), and there's a discount for purchasing 10 visits in advance. Reservations are preferred.
The Yard – Warwick
Kids can drop-in for this Friday night soccer program, held from 7:30-9pm. Online registration is available.
YMCA – Monroe
The Y has Kids Night Out for children as young as 5. The events, which are held the first two Fridays of each month from 6:30-9:30pm, include pizza and drinks. You do need to be a member.
Rockland County
Billy Beez – West Nyack
This indoor play place, located in the Palisades Mall, has supervised drop-off times from 6-8:30pm every Friday and Saturday night. Reservations are required.
Vision Sports Club – Pearl River
Ages 8-14 can participate in Fun Fit Night on the second and fourth Fridays of the month from 6:30-9pm. Activities include games, sports, color wars and music. Members are FREE.
Dutchess County
All Sports Health & Fitness – Fishkill
This sport club holds a Kids Night Out about once a month from 6:30-9:30pm with swimming, movies, crafts and games. Both members and non-members may attend (there's a discount if you're a member).
Fishkill Recreation Center – Fishkill
The Teen Center at Fishkill Rec is a spot for fifth- through eight-graders to hang out on Friday nights. Teens and tweens can play sports and video games, listen to music and purchase snacks from the snack bar from 6:30-9:15pm. Kids need to bring proof of age (photo school ID) and be signed in and out by an adult.
Ulster County
MAC Park – Kingston
This 20,000-square-foot indoor gym has a drop-off Kids Night every third Friday of the month. Ages 5-12 can bounce on giant inflatables, watch movies and play games; the fee includes pizza and drinks. Pre-registration is requested.
Sullivan County
YMCA – Rock Hill
The Sullivan County Y also has Kids Night Out, but it's only held once a month. This one is open to kids ages 5-12 and admissions is FREE for members.
Image credit: The Elk's Place