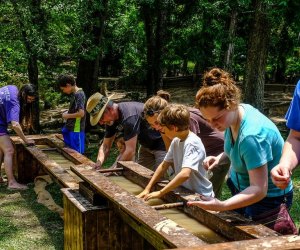 Weekend Fun for Houston Kids: General Sam Houston Folk Festival, Houston Greek Fest, May 18-19
Get ready to dive into the weekend, because there are no shortage of underwater-focused adventures happening around Houston this Saturday and Sunday! Here's a taste of what to expect:
And just in case the weather takes a turn, we have 35 rainy day activities for the kids so that you aren't stuck inside your house all weekend with nothing to do. You might even stumble upon a hidden gem in Houston you didn't know about when you start tackling the places and things to do on this list!
Don't forget to also take advantage of everything highlighted on our May GoList and Free Things to Do with Houston Kids in May list, and check out our Spring Fun Guide and event calendar.
No matter what you choose to do, one thing is for sure: this weekend is going to be a great one!