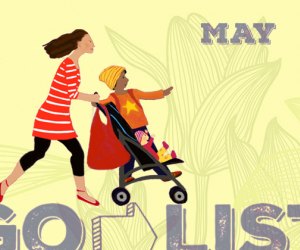 May GoList: Best Things to Do With Houston Kids This Month
May is a great month for Houston kids because school is basically over and summer is basically here. It's also great because one of Texas' best seasons officially beings: Water park season. And there are plenty of options in and near the city, from the new Hurricane Harbor (formerly SplashTown) to Schlitterbahn.
This month you can party with the family for Cinco de Mayo (and grab a margarita or three afterward), head to Galveston and swim at one of our favorite beaches. t's also a great time of the year to visit your local farmers' market for some fresh produce and handmade goods.
If you haven't had time to make summer camp plans for your kids yet, let us help you out. Our guide has ideas for outdoor camps, science-themed camps, art camps, overnight camps, and even free camps. Read on for more family fun this month.
Annual Star Wars Art Festival - Downtown
May 3-5, 2019
Dress up in your favorite new or old Star Wars character for this family-friendly festival. There is art on display inspired by the Star Wars saga, and it is out of this world. (We'll see ourselves out now.) And on a positive note, it's FREE for kids ages 12 and under.
The Houston Polish Festival - West Houston
May 3-5, 2019
Celebrate Houston's diversity at the fantastic Polish Festival. The annual bash features live music, children's events, delicious food and much more.
Comicpalooza - Downtown
May 10-12, 2019
If you're brave enough to bring the kids to this ultimate geek fest, you'll find a sea of cosplayers, a live art auction, gaming competition, and pop-culture centric sessions. The good news is there is a kids zone for ages 5 and up, and you're likely to not run out of things to do or see.
Mother's Day at the Park: Tea & Targets - Southwest Houston
May 11, 2019
Celebrate Mother's Day with a unique Victorian luncheon at George Ranch Historical Park. Donning large, floppy hats reminiscent of the era is absolutely encouraged. For another opportunity to celebrate on the farm, head to the Oil Ranch.
AsiaFest 2019 - Museum District
May 11, 2019
Explore Asian cultures, traditions and foods at the annual AsiaFest! As a part of Asian Pacific American Heritage Month, this festival has an international bazaar, children's activities, live entertainment, food trucks, and more.
Apollo 50th Anniversary at Space Center Houston - Southeast Houston
May 11, 2019
An exhibit honoring and memorializing the Apollo 11 lunar landing opens May 11 and runs through November. See authentic artifacts, Apollo 11-themed pop-up labs for budding scientists, and even take a tour of a model of the historic mission control.
Houston Greek Fest - Energy Corridor
May 16-19, 2019
Join 15,000 guests of all ages at Houston Greek Fest, one of the premier festival events in the city! Enjoy Greek food, tour the Greek Orthodox Church, do a little shopping, watch live dancing, and let the kids take part in the numerous children's activities.
Pasadena Strawberry Festival - Pasadena
May 17-19, 2019
The greater Houston area's infamous Strawberry Festival returns featuring the world's largest strawberry shortcake, games and activities for the kids, live entertainment from artists Wade Bowen and Kevin Fowler, pageants, and more carnival fun.
Taste of Louisiana Festival - Sugar Land
May 25, 2019
Celebrate all things Cajun and Louisianian at this lively festival. Don't worry, there is plenty of crawfish along with live music, shopping, children's play zone, and more delicious food.
Memorial Day Festival - The Woodlands
May 26, 2019
Party at The Woodlands' huge Town Green Park, right across from Market Street. There are children's activities, lots of food, and an out-of-this-world fireworks display to end the night's festivities.
And for things to do every day of the week, check out our event calendar, and if you haven't already signed up for our free newsletter (where you'll receive our recent posts and things to do each weekend), subscribe now!