Pasadena Strawberry Festival: 9 Kid-Friendly Activities Not to Miss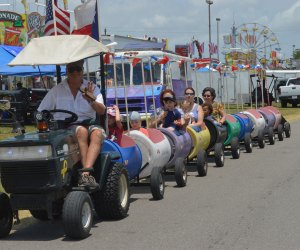 I can hardly remember a month of May from my childhood without a trip to the Pasadena Strawberry Festival. Growing up in southeast Houston, one of the sure signs that summer was near was the yearly festival featuring tons of carnival rides, games, and live music. The festival features every strawberry-themed food and drink imaginable, including the world's largest strawberry shortcake! As an adult, I've found that it's just as fun as it was as a kid to kick off summer with a trip to one of the area's most revered family festivals.
Because the entry fee is FREE for kids under age 5, the festival is a great opportunity to celebrate the start of summer as a family. Community volunteers work to make the festival bigger and better each and every year, and have added even more fun activities for the entire family to enjoy in 2018. Take a look at some of the festival's kid-friendly activities not to miss at this year's celebration.
1. Kids Zone: The most obvious spot for kid-friendly fun at the Strawberry Festival is the indoor kids zone. Here, families will find inflatable games to play, life-size cartoon characters to meet and greet, strawberry eating contests, arts and crafts, face painting, live puppet shows, story times, and more. Exploring the kids zone is a great way to beat the heat while kids enjoy all of the fun strawberry-themed activities. The theme for this year's kids zone is Intergalactic Strawberries, Strawberries in Space.

The Kids Zone has the most kid-friendly activities packed into one area.
2. Balloon Artists and Yo-yo Experts: Stationed around the festival, kids can watch balloon artists twist and turn balloons to create fun shapes for their enjoyment. Yo-yo experts will also be on hand to show off their amazing skill set full of tricks with Yo-yos that will keep both kids and adults mesmerized.
3. Petting Zoo: What kid doesn't love getting up-close-and-personal with adorable farm animals? At the festival, kids can enjoy petting a variety of animals including goats and pigs.
4. Pony Rides: Just a notch above petting animals is actually getting to ride on them. Kids can enjoy pretending to being a cowboy or cowgirl for a few minutes when they take a ride on real ponies at the festival.
5. Pig Races: This unique race is a must-see. Swifty Swine Racing Pigs race around a track while crowds cheer on their favorites. Each pig sports a "jersey" with a logo, often of a college or sports team, making it easy for kids to pick out and track their favorites.

Watch the Swifty Swine Racing Pigs daily located inside the festival at Entertainment Row.
6. Baby Parade: Kids ages three months to four years can participate in the festival's baby parade on Saturday, May 19 at 11 a.m. Each participant should arrive to the parade in a decorated stroller, wagon, or cart. Awards for Best Theme, Most Creative, Most Beautiful, Best Texas Theme, and Best Use of Strawberries will be given. Participants who pre-register online will receive two FREE passes to the festival for Saturday, May 19.
7. Rides: Traditional carnival rides like a large Ferris wheel, tilt-a-whirl, and carousel can be found on the Strawberry Festival's fairgrounds. Some of the larger rides do have height requirements, but there are several smaller rides made just for smaller children. In addition to the usual selection of carnival rides, the festival also offers rides on their very own "train" made from barrels that treks around the grounds at a slow speed perfect for passengers of all ages.
8. Live Music: One of the main attractions at the Strawberry Festival is the array of live music acts that take place on several stages throughout the weekend. While most of the headlining acts have evening performances that may be too late for younger kiddos, local bands will take to the stages on Saturday and Sunday starting as early as 12:30 p.m. These daytime shows are great for families who love enjoying great musical performances together.
9. World's Largest Strawberry Shortcake: No trip to the Strawberry Festival would be complete without snagging a slice of the world's largest strawberry shortcake. The record-setting cake was first made in 2014 and has been reproduced every year since. The cake will be cut during the opening ceremonies on Friday, May 18 at 5 p.m. and slices will be available for purchase throughout the weekend while supplies last.

Kids participating in a strawberry eating contest inside the Kids Zone.
Here are a few things to keep in mind to help make the most of visiting the Pasadena Strawberry Festival with kids:
Check the Strawberry Festival's daily event schedule to see when different events will occur each day. Most events take place daily, but times may differ from day to day.
In case of rain, be sure to bring an umbrella or poncho. The festival will take place rain or shine, but there are plenty of indoor activities to explore in the event of inclement weather.
The fairgrounds are quite large, and a lot of walking is required to get around. Strollers may come in handy for small children who can get tired after all of the walking and playing.
Purchase tickets in advance to avoid long lines at the entrances. Consider buying a weekend pass to save money if you plan to attend multiple days of the festival. Family passes (set of 5) are available at a discounted rate for Sunday only.
All photos courtesy Pasadena Strawberry Festival