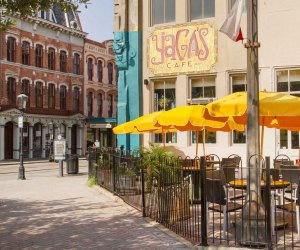 Best Picks for Doing Galveston Restaurant Week With Kids
If you've ever wanted to try some of the fabulous seaside fare at Galveston's top restaurants, there's no better time to do it than during Galveston Restaurant Week. Galveston may be a bit of a drive for some Houstonians, but with so many things to do around the island and reduced menu prices at many of the island's restaurants from Jan. 6- 21, 2018, it's worth the trip! We've made planning your day just a bit easier and rounded up our top 10 picks for kid-friendly restaurants to visit during Galveston Restaurant Week.
Each participating restaurant will feature a special restaurant week menu, but full menus (including options for kids) will still be available as well. A portion of the proceeds from each meal will benefit Access Care of Coastal Texas, helping to provide nutritious meals for people suffering from HIV/AIDS. Two-course breakfasts, brunches, and lunches are priced at $10- $20 per person, while two and three-course dinners cost $20- $35, depending on the establishment.
RELATED: Top Things to Do in Galveston With Kids
Rainforest Cafe
Rainforest Cafe is a go-to family-friendly eatery throughout the country, but the Galveston location takes fun to the next level. Their huge gift shop features a Build-A-Bear Workshop inside and there's an indoor rainforest water ride as well. For Galveston Restaurant Week, enjoy a three-course dinner with entree choices like Caribbean coconut shrimp and Bolivian Tilapia and shrimp, and end your meal with a piece of Rainforest Cafe's signature Tribal Cheesecake.
Bubba Gump Shrimp Co.
Located on Galveston's Historic Pleasure Pier, Bubba Gump Shrimp Co. offers a chance to enjoy fresh gulf seafood right on the waterfront. The Restaurant Week menu is full of favorites like shrimp po boy and fish and chips. After your meal, you're just steps away from tons of fun rides and carnival-style games.
The Spot
This ever-popular burger joint is a Galveston legend. Patrons flock to The Spot for their unique gourmet burger creations. Try their famous fried pickles, January burger of the month, and a fabulous hand spun milkshake made with local Hey Mickey's ice cream as part of their Restaurant Week deal.
Quick Tip: You seat yourself at The Spot. The best gulf views are on the top patio, but narrow paths between tables make it hard to carry a high chair up stairs. It may be best to stick to the lower level with smaller kids.
Tortuga Mexican Kitchen
Enjoy authentic Tex-Mex with a beach view at Tortuga. The patio is large and shaded with plenty of room for kids to stretch their legs. Guacamole is made table side, which is always entertaining, not to mention delicious!
RELATED: Riding the Rails at the Galveston Railroad Museum
Nick's Kitchen and Beach Bar
The laid-back atmosphere at Nick's is great for families. Everything at Nick's is made fresh in-house, so the quality is outstanding. Their Restaurant Week menu features items such as blackened salmon salad for lunch and tequila lime Tilapia for dinner.
Russo's New York Pizzeria
What kid doesn't love a good slice of pizza? Russo's offers a wide variety of pizza for the kids, as well as a great selection of authentic Italian faire for adults as part of Galveston Restaurant Week. Choose from classics like chicken piccata, baked ziti, and lasagna for lunch or dinner.
Willie G's
If you're looking for something a bit more upscale, but still kid-friendly, look no further than Willie G's. Lunch and dinner options for Restaurant Week include selections such as blackened catfish etouffee and redfish louisianne. Located next to the Port of Galveston Cruise Terminal, you can walk right out of the restaurant and onto a boat to take a dolphin tour on Galveston Bay.
Joe's Crab Shack
This fun eatery is always a great choice for families. The staff is friendly and the atmosphere is upbeat. Kids will love checking out the eclectic seaside decor hung on the walls and ceiling. As part of their Restaurant Week menu, Joe's is offering a discount on their popular shrimp trio entree, as well as a top sirloin option for steak lovers.
RELATED: Dolphin Sightseeing in Galveston Bay
EATcetera
Eat like a local at this Galveston gem. EATcetera offers a large selection of fresh salads, soups, and sandwiches that are spot-on delicious. While they don't have an "official" kids menu, many of their regular menu items are kid-friendly. Try a hickory smoked turkey or Cuban style panini as part of the Restaurant Week menu. Bonus: EATcetera has several vegan menu options.
Yaga's Cafe
Located on Galveston's historic strand, Yaga's is a great spot to stop and have a bite with the kids. It's just a short walk from the Galveston Railroad Museum, and is right across the street from LaKing's Confectionary where you can grab milkshakes and handmade taffy after lunch. Try a different featured entree every day at Yaga's during Restaurant Week, including baked rosemary chicken and pork tacos.
For a complete list of participating restaurants and their menus, visit the Galveston Restaurant Week website.
Top photo courtesy Yaga's Cafe