Online Robotics Camp
Young Gates - Kids Online Personalized Classes

Artificial Intelligence with Scratch Online Camp
Young Gates - Kids Online Personalized Classes

Spark Math: Free Trial Class
Virtual
Sign up for our free newsletters.
9 Delicious Popsicle Shops in Houston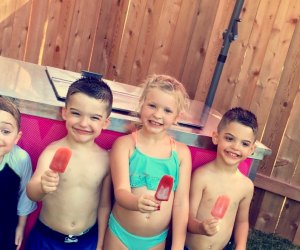 5/26/17
- By
Kate M
Popsicles are great for many reasons; what other food comes such a diverse array of flavors? From Jalepeno, Mango con Chile, Chai Latte, Blackberry Ginger, Milk and Cookies, Horchata, Champagne Pear, Fruity Pebbles, Watermelon Mojito, King Cake, and Avocado, Houston's popsicle shops and trucks have it all. Enjoying a popsicle is one of the sweetest ways to cool down in the summer in Houston, and local options range from trendy artisanal pops made with organic ingredients to more traditional favorites. With flavors ranging from fruity and icy to creamy and rich to savory and surprising, there is bound to be something for every taste preference. Why not try them all?
Steel City Pops - Houston Heights
Steel City offers a huge range of fruity and creamy popsicles with rotating and seasonal flavors, as well as cookie pops. All popsicles are gluten-free and vegetarian, with no preservatives or artificial flavors. Add dips, dredges, drizzles, and/or dust to your popsicle to create a unique and satisfying treat. They also sell coffee, t-shirts, and reusable popsicle holders for kids to prevent spillage and offer free popsicle flavor exchanges if you don't like your first flavor. All this in a hip, comfortable space with a ping-pong table makes for a fun family outing, or pick up a four-pack to go.
Cloud10 Creamery - West University
Known for its chef-driven menu and unique, made from scratch ice cream, banana splits, and ice cream sandwiches, Cloud10 also offers seasonal creamy popsicles and push pops. A Heights location will be opening in summer 2017.
KICpops - Food Truck at various locations
This local food truck that serves small batch gourmet popsicles with "wicked flavor infusions" made using natural fresh ingredients and produce from local farms. They are available for private and community events. Check them out on Facebook to find their future locations.
La Brisa Ice Cream Factory - East End
The folks at La Brisa have more than 30 years of experience under their belts of making ice cream and paletas, which are fresh fruit Mexican popsicles that have made this spot a Houston gem. There are lots of flavors available for $1 a pop.
Pop Fancy Pops - Multiple Locations
Locations at the Houston Galleria, Memorial City Mall, First Colony Mall, and their Popmobile roaming the Greater Houston Area serving handcrafted popsicles using fresh ingredients and organic sweeteners with a menu of fun flavors that change frequently.
Frios Gourmet Pops - Katy & Sugar Land
Fruity and creamy popsicles created with wholesome, simple ingredients. All of the pops are either milk or fruit based and are sweetened with organic cane sugar.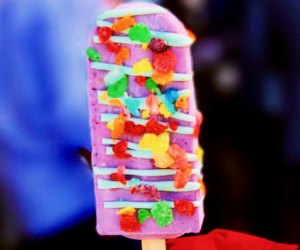 Mangolandia - Jersey Village
Delicious Mexican popsicles, known as paletas, are sold in a variety of traditional and fun flavors, in addition to other Mexican frozen treats and goodies.
Dolce Neve- Houston Heights
Dolce Neve specializes in Italian gelato and gelato-flavored popsicles! This popular spot in Austin just opened their brand new shop in Houston and it already has lines out the door.
Popcart Ice Pops - Cart at various locations
A "mom and pop" popsicle cart that offers all-natural, small-batch ice pops in on a stick using the freshest ingredients. From simple to decadent flavors, there are no artificial colors, flavors, additives, or preservatives. Follow them on Facebook to keep tabs on their latest location.
Photos courtesy of KICpops