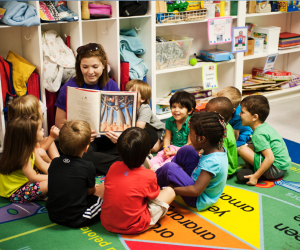 Gyms and Yoga Classes with Childcare in Houston
The beginning of a new year is always a popular time to make healthy lifestyle changes and start a new fitness plan, but getting fit as a parent can bring many challenges. It can be hard to make yourself a priority, and it is often difficult to figure our how to keep your children occupied while you work out. Fortunately, there are quite a few options for gyms and yoga classes with childcare in and around Houston. For some workouts you can do with your children check out Houston's rock-climbing gyms and baby yoga classes.
YMCA Houston - Multiple Locations
The YMCA has over 10 locations in and around Houston and most of them have child watch hours! Your membership includes two free hours of child care a day, which makes the Y a great, affordable option and you can choose whether to join a specific location or get a citywide membership. The YMCA's offer a huge variety of classes, from yoga to strength training, have cardio and weightlifting areas, and many have pools. The Tellespson Family Downtown YMCA even has saunas and steam rooms, an indoor pool, a cafe, a special woman's workout area, and even a computer lab, so you can send some emails before picking up your little one. The Harriet and Joe Foster YMCA and the Trotter Family YMCA are also popular locations with outdoor pools and other amenities. Child watch accepts children as young as 6 weeks and will attempt to soothe a crying child for up to 15 minutes before seeking you out. Child watch hours vary by location and keep in mind that not all locations change diapers.
Studio Fitness Heights - The Heights
This locally owned gym offers a huge range of classes, as well as personal training, and traditional gym equipment and also provides childcare for a fee. Studio Fitness has multiple options for memberships and packages for both the gym and childcare, see the website for details and to sign up for a free trial.
The Downtown Club at the Met - Downtown Houston
The Kids Club at the Met offers childcare for a fee for children ages six months and up for up to three hours. They provide arts and crafts, imaginary play, and age appropriate toys and activities. You must be a member of the Downtown Club to use the facilities.
Memorial Athletic Club and Aquatic Center and Memorial Athletic Club for Women - Energy Corridor
The Memorial Athletic Club offers several membership options which include access for kids of all ages to the Kids Zone. MAC has a wide variety of programs and classes, including yoga, spinning, and barre, as well as an outdoor and indoor pool.
The Houstonian - Memorial
The Houstonian serves Houston's upscale fitness crowd and offers elite service to those who become members. The facility houses racquetball and tennis courts, outdoor pools, indoor and outdoor running tracks, indoor basketball court, an outdoor children's play area, saunas, steam rooms and workout equipment along with over 250 fitness programs and classes. The membership also provides additional services and social activities. The Bungalow provides childcare in numerous play areas with age-appropriate toys for children ages 6-weeks to 5-years-old. Kids ages 6-12 can attend the Kids Gym there, which offers a wide variety of play opportunities on a three-level indoor climbing structure as well as games, arts and crafts, and movies.
Life Time Fitness - Multiple Locations including City Centre, Sugar Land, and Cinco Ranch
These gyms feature large workout areas, classes including pilates, yoga, and kickboxing, and indoor and outdoor pools with slides at some locations. Childcare options include an infant room with baby toys and play mats and a child center where little ones can play in a fun environment that encourages learning. Most locations also offer an arts and crafts studio where kids can use their imaginations and get messy, media rooms for kids to explore technology, outdoor play areas, and indoor play mazes. Life Time gyms also have swimming lessons and sports classes for kids and rock walls with classes and open climb times for climbers of all ages.
Equinox - River Oaks
Equinox is a luxury gym with many amenities. The Equinox Kids' Club is open to children ages three months and older. It houses a colorful play are with obstacle courses, art activities, and other activities to keep little ones busy while you get in a barre or spin class or work out on the machines.
Body Evolution - Pearland
This family-owned gym is open 24/7 and features boot camps, personal training, aerobics and spinning classes, and child care. Visit the website for a free five-day pass.
Blast Fitness - Garden Oaks/ Oak Forest and Bellaire/ Sharpstown Locations
Blast Fitness is a low-cost fitness chain with cardio equipment, free weights and machines, group exercise classes, women's only workout areas, tanning, and free babysitting with a platinum membership.
24 Hour Fitness - Multiple Locations
These gyms offer all the traditional gym amenities, including many different class options and some have indoor lap pools. The Kids Club is available for an additional fee for children up to age 12 and features large, colorful play areas. The attendants provide activities, games, and crafts to keep kids playing and active while you work out. Visit the website to find your nearest location with a Kids' Club and to sign up for a free three-day trial.
LA Fitness - Multiple Locations
Many of these gyms, with all the typical gym amenities and classes, also offer Kids' Club hours. Visit the website to find a location near you with a Kids' Club and get a free five-day guest pass.
Big Power Yoga - Montrose and Memorial locations
Kids ages 2-12 can attend their own yoga class while you get your yoga on in a grown-up class. Big Kids Yoga is a fun class that will help children develop mindfulness, self-confidence, strength, and creativity. The classes are structured but allow for play and spontaneity while teaching yoga principles through games, intentional exercises, and arts and crafts projects. See the schedule for class times.
Awakened Yoga Studio - Sugar Land
Enjoy a yoga class on Tuesday, Thursday, and Friday mornings knowing your little one is being cared for by a responsible babysitter at the studio for only $4 per child, one child free for committed core members. No reservation is necessary, but arrive 10-15 minutes prior to the class to register your child. Toys, books, games, and crafts are provided to keep the kiddos occupied and they will change diapers. See the website for babysitting rules and class pricing and schedules.
YogaOne has options for Kids Yoga and babysitting at many of their studios. Kids Yoga is a fun class where kids ages four and up can practice yoga poses, deep breathing, and finding focus. Kids Yoga teachers are professionally trained and certified to teach kids yoga and the classes are scheduled to coincide with a yoga class for adults. The Pearland Studio also has a babysitter available for select classes for $5.
Photo Courtesy of the YMCA of Greater Houston