Halloween Weekend Things to Do in DC with Kids: Trick-or-Treat, Air & Scare, Pumpkin Patch Train Ride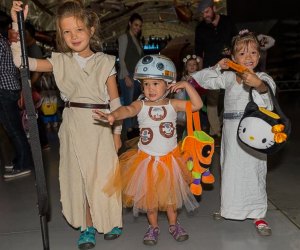 Looking for the best things to do in DC this Halloween weekend? Here are some family-friendly events and activities to add to your list for this weekend.
Halloween is finally here! It's time to put those masks and costumes to good use at some kid-friendly Halloween events and activities in DC and its surrounding areas. And, trust us—there are plenty of spots for princes, princesses, and superheroes to show off their outfits all weekend long, as you can see from our packed events calendar.
Start with a ghostly tour of the Capitol area or a walk through Alexandria's graveyards. The more timid ghosts and ghouls might appreciate a sweet (or should we say sweets?) Halloween-night scavenger hunt, a Halloween festival in Bethesda, or a ride on the Pumpkin Patch Express in Baltimore.
If you're planning to trick-or-treat on October 31, we suggest one of these 10 great neighborhoods. You can also try trick-or-treating in the pool or on ice, or from the comfort of your vehicle at a drive-thru trunk-or-treat!