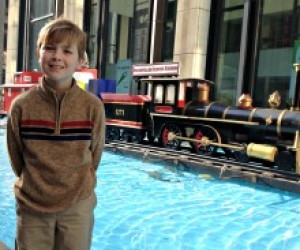 Weekend Fun for NYC Kids: Kwanzaa, Last-Chance Holiday Fun, Pirate School!, Seal Watch December 28-29
Sign up for our FREE Mommy Poppins newsletters and get our weekend picks delivered to your inbox every Thursday morning.
All Weekend
ReMake the Holidays – Corona
Head to the New York Hall of Science for a variety of hands-on holiday projects. On Saturday, kids can craft paper snowflakes, build gingerbread houses and make a cityscape out of recycled materials with Skraptacular. On Sunday, visitors can create animated gifs and old-school flip books, and catch classic cartoons. There will also be ice-sculpting demos, displays and workshops throughout the weekend. Most activities are free with admission: $11 for adults, $8 for children 2-17

Wildlife Ice Carving Week – the Bronx
Hit the Bronx Zoo to watch renowned carvers transform blocks of ice into animal statues. Kids can also romp in an arctic play land, complete with a 25-foot polar bear-themed ice slide and a giant bowhead whale made out of ice, and enjoy crafts and Christmas caroling. Free with general admission: $16.95 for adults, $12.95 for children ages 3-12

Exit, Stage Left! – Corona
Giggle at the silly antics of comedic dance/theater troupe Parallel Exit at the Queens Theater. Reminiscent of Buster Keaton, Charlie Chaplin and the Three Stooges, the guys stage a performance in which everything goes wrong. If your kids love slapstick, they'll love their shtick. $25, family four-pack for $80

An Animated World: Celebrating Five Years of GKids Classics – Greenwich Village
Curated by the folks behind the beloved New York International Children's Film Festival, this fest continues at the IFC Center with screenings of Hayao Miyazaki's new classic My Neighbor Totoro, the Oscar-nominated The Secret of Kells and other animated films from around the globe. Check our event listing for the full schedule. $13.50 for adults, $9.50 for children

Holiday Circus – Brighton Beach
It's your last chance to catch this seasonal circus spectacle. Santa himself hosts the show, which features acrobats, jugglers, animal acts and, new this year, Grandma the Clown, formerly of the Big Apple Circus. $35-$65 but you can save money on tickets through our affiliate Goldstar.

The Three Bears Holiday Bash – Upper West Side
It's also the final weekend of the Swedish Cottage Marionette Theatre's holiday variety show starring the three bears and all of their fairy-tale friends. This spirited puppet performance celebrates Christmas, Kwanzaa and Hanukkah. $10 for adults, $7 for children under 12.

OUR LATEST VIDEOS
Saturday, December 28
Kwanzaa 2013: 35th Anniversary Celebration – Upper West Side
Celebrate the seven guiding principles of Kwanzaa at this vibrant annual festival at the American Museum of Natural History. Buy traditional gifts and foods at the international marketplace, and enjoy amazing music, dance and storytelling under the museum's big blue whale. Free with suggested admission: $22 for adults, $12.50 for children ages 2-12

Kwanzaa Celebrations – Crown Heights
More Kwanzaa fun: Hit the Brooklyn Children's Museum for crafts, a lesson about the seven principles of the holiday and an African dance performance. Free with admission: $9

Pirate School! – Upper West Side
Head to Symphony Space for Dave Engel's hilarious one-man show. Silly and not-at-all scary Pirate Professor Billy Bones teaches kids how to walk, talk and swagger like pirates. $20 for adults, $15 for children

Family Festival at the Cloisters: Glorious Glass – Washington Heights
Learn how stained glass was made in Medieval times and hear about the stories behind the colorful windows at the Met's uptown outpost. Free with suggested admission: $25 for adults, free for children under 12

Holiday Open House – Douglaston
Tour NYC's only working historic farm, the Queen's County Farm Museum to see its decked out farm house, make seasonal crafts and enjoy mulled cider. FREE

See all Saturday events.

Sunday, December 29
The Itty Biddies – Upper West Side
Head to the Children's Museum of Manhattan to groove to the funky all-girl trio the Itty Biddies, who make music with a melodica, a stand-up bass and two ukuleles. Free with admission: $11

Teddy Bear Tea – Upper East Side
Tots can bring their favorite doll or bear to the Mount Vernon Hotel Museum & Garden to play with 19th-ccentury toys, tackle old-fashioned chores and enjoy fruit tea with cookies. Preregistration required. $10 for adults, $5 for children under 12

Seal Watch – Pelham
Join Urban Park Rangers at Orchard Beach to try to spot harbor seals as they pass through NYC's waters during their annual migration. FREE

See all Sunday events.


Don't forget: We have even more fun in our Event Calendar and our Holiday Guide. Before heading out on your adventures, be sure to download our FREE Mommy Poppins Kids on the Go app so you can find the best family destinations wherever you happen to be in NYC.