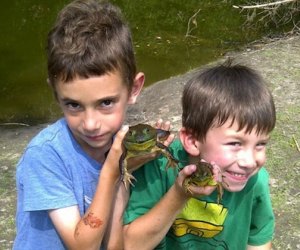 Summer Camps in Litchfield County, CT
Here's a list of some of our favorite summer camps in the Litchfield County area. Performing arts, fine art, equestrian, woodland survival, nature, and just every day fun camps are included. These are camps that our children or their friends have done so we can vouch for their quality. For more options check out our Summer Camp Guide.
Fox Crossing Equestrian
This program is a great way to expose your child to the wonderful world of horses. Each day campers will have the chance to: Enjoy an English riding lesson daily on our trustworthy school horses; Learn aspects of horse husbandry, including grooming, tacking and parts of the horse. Play learning games and enjoy arts and crafts and make new friends in a safe, friendly environment! Riders participating in contiguous sessions will receive instruction at progressive levels.
210 South Street, Morris, CT 06763 (860) 567-1788

​Camp Awosting
Around for 117 years, Camp Awosting is set on beautiful Bantam Lake in the Litchfield Hills. No more than 170 boys stay in one of 16 cabins on the premises with at least two counselors per cabin. At this informal and friendly camp, every camper is introduced to all of the activities during the morning instructional program. In the afternoon elective periods, the boys choose the activities they enjoy most or want to try. On the 20 acre campus, boys will enjoy swimming, canoeing, sailing, waterskiing, wakeboarding, and riding go-karts. They also have a climbing tower and zip line, martial arts, fencing, photography, video production, ceramics, drama and a woodshop where you can make just about anything. Sports include basketball, baseball, soccer volleyball, football, lacrosse, rugby, cricket and track & field.

296 West Street Morris, CT 860.567-4924
OUR LATEST VIDEOS
Camp Chinqueka
Camp Chinqueka is the sister camp to Camp Awosting. Founded in 1955, it's located on Mt. Tom Pond in Litchfield County. Campers stay in cabins with girls their own age. Two counselors live in each cabin with the campers. Over thirty activity areas are spread out on the Chinqueka campus and campers are encouraged to try everything. This includes swimming, canoeing, sailing, dance and go-karts. They also have a climbing tower and zip line, martial arts, fencing, photography, video production, ceramics, music and drama. Sports include basketball, softball, soccer, volleyball, and gymnastics.

296 West Street, Morris, CT 860.567-4924
ASAP Summer Camps
ASAP's full-day summer camp for ages 4.5 to 17 years offers a comprehensive arts camp experience. Campers have the chance to take part in visual arts, creative writing, dance, drama, music, photography, textile arts, circus arts, magic arts, costume making, and special projects such as building a geodesic dome and fantasy structures. Participants attend performances by creative professionals, and then put on a performance of their own. ASAP's annual summer camp is held at the Washington Montessori School in New Preston, CT, for the first two weeks in August. There is a counselor-in-training camp for 14-17 year olds as well as 3 separate theatre camps. Check out their website for more details.
Washington Montessori School
, Route 202, New Preston, CT 860-868-0740
Rumsey Hall School

Rumsey Summer! Recreation Program
2 camps - One for 3-5 year olds and another for 6-10 year olds. They do provide 1 week sessions from late June through the first week of August. Children participate in group games, arts and crafts. An extended program is available on Mondays, Wednesdays and Fridays until 4:00 p.m. Cookouts, swimming lessons and field trips are all part of the fun. Older children participate in games, team sports, arts and crafts, and activities. Cookouts, swimming, fishing and field trips are all part of the fun. Rumsey's facilities include 3 indoor and 3 outdoor tennis courts, large playing fields, 2 gymnasiums, and nature trails. Rumsey Summer! swims at Mt. Tom and Shepaug High School's pool. Nutritional snacks and lunches are provided daily in the Dining Hall.
201 Romford Road, Washington Depot, CT 
 (860) 868-0535
Institute for American Indian Studies

Their summer programs teach campers about various American Indian cultures through activities, crafts and stories. They make full use of their land with hikes, tracking excursions, water play and outdoor games. The Counselors are capable and caring individuals with a broad range of knowledge: art; woodland survival skills; music; herbology; drama; the list goes on! Indian Summer Camp, Woodland Survival and Woodland Adventure are their popular offerings for ages 7-13.
38 Curtis Road, Washington, CT, 860-868-0518
The Pratt Nature Center Summer Day Camp
Each camp day is filled with a wide variety of activities: hikes, outdoor exploration, games, crafts, songs and special events. There are special guest presenters, theme days and all-camp events, blending great camp traditions with exciting new offerings. Each week offers a new mix of activities providing variety for those youngsters wishing to attend for the entire summer. Students btwn ages of 4 and 14.
163 Paper Mill Road
, New Milford
, CT 860-355-3137
Washington Montessori School in New Preston also offers a wide variety of summer camps for children of varying ages.
White Memorial Nature Center in Litchfield always has children's workshops and other nature based experiences scheduled. Check their website for details. Best for K - grade 5.
80 Whitehall Road, Litchfield, CT 860-567-0857
Sharon Playhouse Summer Programs
Blending instructional and performance opportunities, these workshops will help your child to develop life long skills. The Sharon Playhouse is theatre by and for everyone. It is a "teaching theatre" (like a "teaching hospital") designed to further the growth of artists, both onstage and offstage.

49 Amenia Road, Sharon, CT 860-364-7469
Originally published 3/6/2012.
Photo courtesy of Pratt Nature Center.