Two New Toy Stores Open in Park Slope: Norman & Jules and Little Things Toy Store Too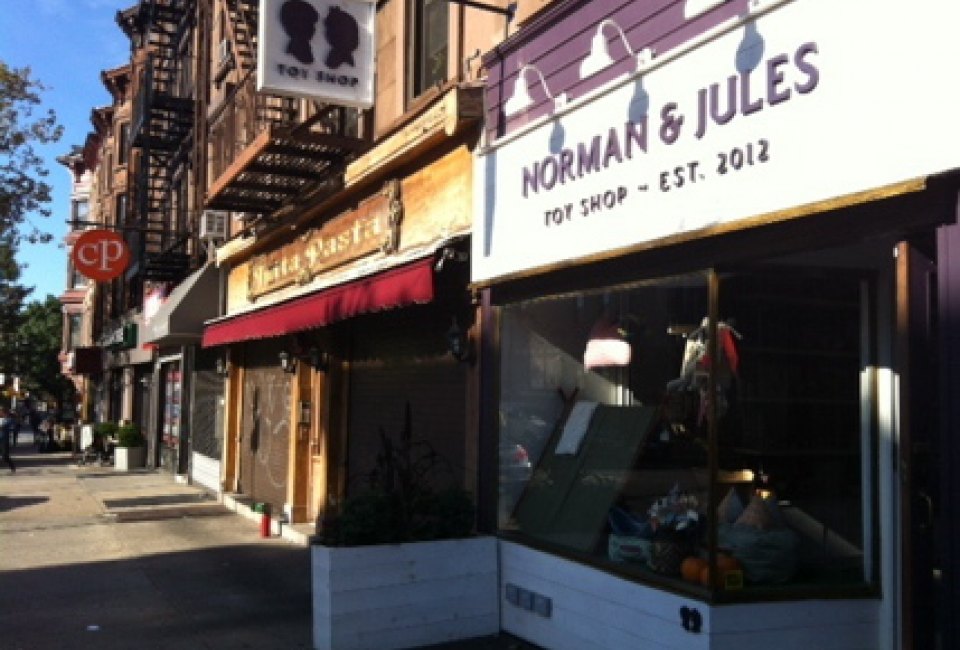 9/30/12
- By
Sarah G
When we published our Park Slope Kids Guide earlier this year, we included a post about all of the fabulous toy stores in the neighborhood. Now we've got two more to add, and they're both on the same block!

Opened by a local family, the brand-new Norman & Jules is an eco-friendly toy boutique featuring handcrafted toys. Meanwhile, Little Things Toy Store Too, an offshoot of neighborhood mainstay Little Things Toy Store, focuses on seasonal items and playthings for older kids. My son and I visited both stores to check out their wares... or more accurately play with them.
Sleek and eco-friendly to the max, Norman & Jules was opened by local parents Courtney Ebner and Avi Kravitz this September. Full of sunlight and packed with gorgeous wares, the store (which is named after the owners' grandfathers), focuses on handcrafted toys made of sustainable materials by artisans and Fair Trade Federation companies. In other words, you don't have to feel guilty when you shop here.

Although the colorful toys lining the shelves look like they belong in a design museum, playing with them is definitely encouraged, There are lots of open models on the floor to try, and kids can even romp in the front window display or in the rear lounge area, which is filled with dress-up costumes, books and yes, more toys. Big bonus: Unlike most non-chain toy stores, Norman & Jules has a nice clean bathroom with a changing table.

As the parent of a kindergartener, I paid special attention to possible birthday gifts for his friends and found that, along with the big-ticket items, the shop stocks a nice selection of $10 to $20 toys, including science kits, cars, building kits and musical instruments. Even though Park Slope has no shortage of toy stores, I think Norman & Jules is a really lovely addition to the neighborhood. More importantly, my son thinks so, too.

Norman & Jules is located at 158 Seventh Avenue near Garfield Place.

In other Park Slope toy store news, the popular Little Things Toy Store—which is cramped and practically bursting at the seams—recently opened a second branch a few doors down on Seventh Avenue. Called Little Things Toy Store Too, the shop is much more open than the original and is geared toward school-age children. During our visit we spied craft, science and construction kits, a huge Lego section and seasonal items like school supplies. Due to its expanded digs, the original store plans to increase its selection of baby and toddler toys (if you can imagine that).

Little Things Toy Store Too is located at 139 Seventh Avenue between Garfield Place and Carroll Street.


Read all of our posts about Park Slope.
Places featured in this article:
---
Norman & Jules
---
Little Things Toy Store Too

Sign up for our free
newsletters.
Mommy Poppins is a family activity website that helps people find things to do with kids.
©
2023
MommyPoppins. All Rights Reserved.
mp-prod4-v4.32.99
Enter to Win!