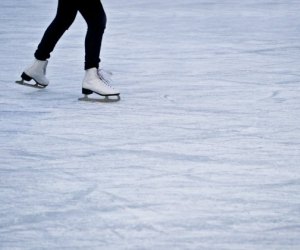 Ice Skating Rinks in the Hartford Area
Childhood memories of the holiday season for me include hot cocoa, making snow angels, and going ice skating. I remember traveling to the city as a young girl with my family to see the gigantic Rockefeller Christmas tree and, afterward, skating around the beautifully lit rink. That is when it officially felt like Christmas to me. But you don't have to travel that far to have this magical experience. Hartford County has many great choices for both indoor and outdoor ice skating rinks so that you, too, can begin making family traditions and forming memories that will last a lifetime. For more fun check out our Winter Fun Guide.
Veterans Memorial Ice Skating Rink
This indoor recreational venue is located in West Hartford. During the holiday season when schools are closed, the rink opens for additional public skating times. They have a rink side café offering a range of food and beverages, a climate controlled lounge area with free wireless internet access, and cable television. Rentals are available, as well as skating lessons.
56 Buena Vista Road West Hartford, CT 06107
Simsbury Farms
Bundle up in your winter gear and head over to Simsbury Farms and enjoy their large, covered outdoor skating rink. The rink was rebuilt in 1999 and is open to the public from early November thru mid-March. Simsbury Farms is equipped with artificial ice making machinery so you can skate whether the temperature is freezing or not. They offer public skating as well as a learn-to-skate instructional program and, of course, rentals. Season passes are available for residents and non-residents.
100 Old Farms Rd. Simsbury, CT 06070
Winterfest
November 25 marked the start of Hartford's Winterfest. The festival, which runs through early January, features free skating in Bushnell Park 7 days a week on the east side by the Pump House. If you don't have your own ice skates, there are rentals available at no cost. On Saturdays and Sundays from 6-7 pm you can even enjoy a free ice show.
Bushnell Park Hartford, CT 06103
Enfield Twin Rinks
For over 30 years, this rink has offered up public skating for the Enfield area. Public skating is held on Saturdays and Sundays, but during the holiday week, there are lots of extended weekday hours. There are rentals available and admission prices are very reasonable.
1 Prior Rd. Enfield, CT 06082
South Windsor Arena
This family owned business sports a full service ice arena that has been open since 1971. Enjoy a day of indoor ice skating with your family in this great rink with friendly staff. When you have skated up an appetite, check out the full-service restaurant on site. Check the website for full schedule of public skate times.
585 John Fitch Blvd. South Windsor, CT 06074
Newington Arena
They call themselves "the COOLEST place in Connecticut" and, with a packed schedule of public skating times including their Friday Night Ice Jam--a lights-out skate with lasers, they just might be right. The arena also hosts a homeschoolers skating program twice a month through April 5 as well as a full schedule of lessons and hockey. Check the website for prices and hours.
300 Alumni Road, Newington, CT 06111
Champions Skating Center
This impressive complex has two arenas, one NHL size and one Olympic size. They offer a public skate schedule, rentals at per hour rates, and skating lessons.
6 Progress Drive, Cromwell, CT 06416
International Skating Center of Simsbury
As with most skating rinks, ISC in Simsbury offers public skating times throughout the week as well as skate rentals. There are separate admissions prices for residents and non-residents, check the website for details and times.
1375 Hopmeadow Street, Simsbury, CT 06070
Bolton Ice Palace
Everyone is a star at Bolton Ice Palace. Your aspiring figure skaters and hockey players and whirl, twirl, and (pretend) body check their way across the ice during one of the public skating times. Check website for details.
145 Hop River Road, Bolton, CT 06043
Originally published 12/26/2012.