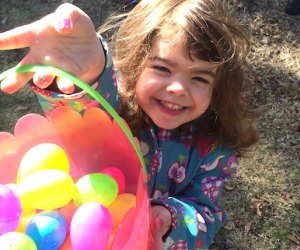 Easter Egg Hunts and Events in Fairfield County, CT
We're not a religious family, but that doesn't stop us from getting out and enjoying traditions associated with Easter, and fortunately, there are plenty of events to choose from all over Fairfield County. Many families enjoy a Easter Bunny brunch, while others like to get outside and enjoy Springtime's arrival. Most of these events are geared towards preschoolers and younger elementary age children so, if you have older kids, be sure to check the descriptions carefully. Also note that some events require pre-registration and/or prepayment. Have a hopping good time!
Pysanky Egg Workshop—West Redding
Saturday, March 17, 2018
Middle and high school students can join artist Chanel Dupare at New Pond Farm to learn this traditional Ukranian craft that uses a wax resist dyeing method. Pre-registration required.
New Pond Farm, 101 Marchant Road, 203-938-2111
Stew Leonard's Easter Egg Hunt Eggs-Travaganza—Norwalk
Monday, March 19, 2018
Children 9 and under are invited to join in a store-wide hunt. Participants will receive a map that will lead them through the store where they can collect eggs from the store's costumed characters Wow the Cow and Daphne Duck. The Easter Bunny will be there to pose for photos with your kiddos.
Stew Leonard's, 100 Westport Avenue, 203-203-7214
Annual Egg Hunt—Fairfield
Saturday, March 24, 2018
Come to Fairfield on Saturday, March 24 at 1pm sharp for the town's annual Easter Egg Hunt. Kids from pre-school through third grade are invited to bring their own Easter baskets and come early to meet the Easter Bunny. A $1 donation is requested for each participant and the proceeds go to a local scholarship fund.
South Pine Creek soccer field, Old Dam Road
Young Women's League Annual Easter Egg Hunt—New Canaan
Saturday, March 24, 2018
At 9:30 am you can join the fun at Waveny Park. Kids can hunt for eggs, meet Mr. and Mrs. Bunny, enjoy bounce houses, bunny ears, face painting, cupcakes and the Dixie Land Band. The hunt, sponsored by the Young Women's League of New Canaan, is free to all, and proceeds from the sales of baked goods and other items go the Young Women's League Giving Fund. In case of inclement weather, the Easter Egg hunt will take place the same day at New Canaan High School.
Waveny Park, South Avenue, Rte 124
Annual Heckscher Farm Egg Hunt—Stamford
Saturday, March 24, 2018
On Saturday, April 8, from 10am to noon kids aged 6 and under are invited to join this annual egg hunt. At the conclusion of the hunt, eggs may be turned in for a goody bag. After the egg hunt, be sure to stop by the Overbrook Nature Center building to do some crafts and learn why eggs come in different shapes and colors.
Stamford Museum and Nature Center, 39 Scofieldtown Road, 203-322-1646
Easter Bunny Train—Danbury
Saturdays and Sundays, March 24 - 31, 2018
Young train enthusiasts will have the opportunity to meet the Easter Bunny on a special train car. Each child will receive a small gift and there will be other activities including coloring, a train table, and temporary tattoos. Reservations suggested.
Danbury Railway Museum, 120 White Street, 203-778-8337
Easter Egg Hunt at the Darien Community Association—Darien
Friday, March 30, 2018
This annual event is part of the Mom's Morning In program (no membership required). The Easter Egg Hunt starts at 10:00 am sharp and takes only a few minutes and is followed by an opportunity to take pictures with the Easter Bunny (don't forget your camera!).
Darien Community Association, 274 Middlesex Road, 203-655-9050
CT Audubon Society—Fairfield
Saturday, March 31, 2018
The CT Audubon Society's annual egg hunt on April 15th includes crafts, snacks, and a visit from a special rabbit. There are two sessions: one in the morning and one in the afternoon. Preregistration required.
Connecticut Audubon Society, 2325 Burr Street, 203-359-6305
Easter Egg Hunt at EverWonder Museum—Newtown
Saturday, March 31, 2018
Kids can practice their sleuthing skills at EverWonder where they will find eggs hidden by the Easter Bunny throughout the museum. Participants will be entered to win an EverWonder t-shirt.
EverWonder Museum, 31 Pecks Lane, 203-364-4009
Eggs-traordinary Eggs-travaganza at Stepping Stones—Norwalk
Saturday, March 31, 2018
Join Benedict the Egg, host of all things egg-citing at Stepping Stones on April 15th! He will be facilitating and participating in loads of egg-cellent activities.
Stepping Stones 303 West Avenue, 203-899-0606
RCA Easter Egg Hunt—Rowayton
Saturday, March 31, 2018
Head to Rowayton with kids of all ages for RCA's annual Egg Hunt on Saturday April 15. This event takes place rain or shine and kids can meet the Easter Bunny while hunting for hidden, treasure-filled eggs. Parents are asked to drop off 6 plastic eggs filled with candy, snacks or coins for each participating child the day before or the morning of the hunt (drop-off information can be found here).
Rowayton Community Center, 33 Highland Ave, 203-831-0870
Pequot Library Egg Roll—Southport
Saturday, March 31, 2018
On Saturday, April 15th, the Pequot Library follows a longstanding White House tradition with a classic egg roll race with long-handled spoons on its Great Lawn. Bring your own long-handled wooden spoon and hard-boiled eggs for decorating first.
Pequot Library, 720 Pequot Ave, 203-259-0346
Originally published 3/17/15.
Photo Credit: Ally Noel