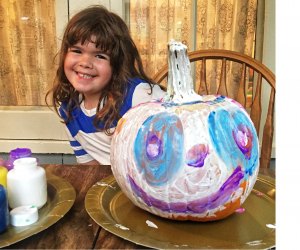 Things To Do in Connecticut This Weekend and Beyond: Haunted Zoo, Pumpkin Painting, Pizza
Pumpkin spice is in the air, and with it all the spooky and spine tingling sensations from the opening of haunts and hidden hollows across the state. Whether your kids' taste runs toward "haunted" petting zoos, pumpkin painting, or just some really great pizza (on a farm!), there's something for everyone to enjoy this week in Connecticut.
Looking for even more seasonal fun? It's high time to go pumpkin picking, get lost in a corn maze, or enjoy one of our favorite Halloween activities. Just remember to bring your face coverings—how about one of these Halloween-themed masks?—and practice social distancing. As always, keep tabs on our Connecticut events calendar for daily updates on local activities as well as virtual opportunities for family fun.