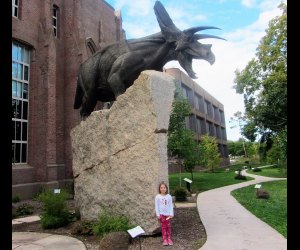 A Day Trip to the Yale Peabody Museum in New Haven
The Yale Peabody Museum in New Haven houses one of the oldest natural history collections in the world and is one of the best family-friendly museums in Connecticut. Featuring three floors of exhibits, it makes for a wonderful and memorable day trip with children. In the colder months, you can spend plenty of hours indoors, learning about birds, gemstones, dinosaurs, and everything in between. On warmer days, walking around the city becomes a pleasure, as does taking a detour through Lighthouse Point Park, relaxing on the boardwalk or exploring the playground. Don't leave head home before sampling the delicious cuisine at one of the many restaurants in the neighborhood, and if time allows, check out It Adventure Indoor Ropes Course. There is no doubt that the New Haven area packs many opportunities for adventure, including free family activities, and below are reasons why the Peabody Museum should definitely be on your "Must See" list.
The Hall of Native American Cultures
This hall features 360 objects from the Peabody's Native American collections. There is a section for all the tribal areas; the Plains, the Southwest, and the Northwest, to name a few. You will see pottery, tools that sustained daily life, and headdress and clothing. The colorful Hopi Kachina Dolls are a hit with many children.
The Great Hall of Dinosaurs
Overlooking this hall is the 60-foot mural called "The Age of Reptiles". Painted by famed artist Rudolph F. Zallinger, it illustrates prehistoric plants and animals. It's truly something not to be missed. Children will enjoy seeing skeletons and fossils that are world-renowned.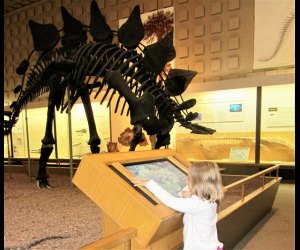 The Yale Peabody Museum's interactive exhibits allow children to learn about dinosaurs at their own pace.
Hall of Minerals, Earth and Space
This area is organized into five sections: the Earth and the Solar System; Geology and Earth Forces; Atmospheres, Oceans and Climates; Connecticut—A Natural Geological Laboratory; and The World of Minerals. Children are often seen admiring the sparkly gemstones and jewelry, and the meteorites are especially popular with boys. A highlight of this area is the 4-foot globe that uses satellite images to show the most active volcanoes, the highest mountains, and other natural wonders around the world.
Discovery Room
"Please Touch!" That is the most important rule in this room that children love to spend time in. Here, you will find a colony of tropical leaf-cutter ants from Trinidad; you can watch them transport and store their leaves. There's a bearded dragon from Australia, harmless snakes from the New England area, and giant hissing cockroaches from Madagascar. The endangered poison dart frogs from South America are incredibly cute.
Daily Life in Ancient Egypt
Future archeologists will be begging to stop here first. Some of the objects on display include the granite Head of Osiris and the black diorite Bust of a Ptolemaic King. Young archeologists can "unearth" a real mummy on display lying in her tomb. Tangible history; what more can a parent ask for in a day out?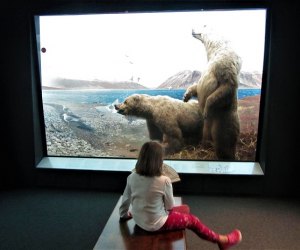 The dioramas at the Yale Peabody Museum offer a window into the natural world around us.
Birds of Connecticut
This informational exhibit more than 700 species of birds, about 400 of which are found in Connecticut. Children will enjoy getting up close to colorful birds, big and small, and learning about their diets, nesting habits, and hunting abilities.
The Peabody is open Monday through Saturday 10:00 a.m. to 5:00 p.m., and Sunday, Noon to 5:00 p.m. Admission is $13 for adults, $9 for senior citizens 65 years and over, and $6 for children ages 3 through 18 (and college students with an ID). However, Thursdays from 2:00 p.m. to 5:00 p.m., admission is free between September and June.
"Highlights" tours of the museum are free of charge Saturday and Sunday at 12:30 p.m. and 1:30 p.m., and last approximately 45 minutes. This may be hard for those with small children who like to rush ahead to the next exhibit, but older children may really enjoy the experience.
The museum has a small gift shop, but does not have a cafeteria. When the weather permits, visitors are welcome to picnic on the lawn and there are certainly plenty of tasty options to explore in the Elm City.
Town Pizza is located at 25 Whitney Avenue, just a short walk from the museum. The menu features far more than just pizza; many salad options, burgers, and wraps are available. A few doors down, at 74 Whitney Avenue, you can indulge your sweet tooth at Katalina's. Depending on the day of the week, specials include chocolate raspberry, chocolate Nutella, cappuccino, and many other scrumptious flavors.
Frank Pepe Pizzaria Napoletana was established in 1925 and is the oldest and best known pizzeria in the country. Plenty of options will accommodate even picky eaters. Pepe is located at 157 Wooster Street, and the pizza is definitely worth its reputation.
Blue State Coffee has three locations in New Haven, but the closest to the Peabody is at 84 Wall Street. Here you will find more than just coffee; the menu includes scones, muffins, and sandwiches.
At 288 York Street is Yorkside Pizza and Restaurant. Opening at 11 a .m. every day, this restaurant has a VAST menu. Get pizza by the slice, or an entire pie, or savor some Greek favorites. The decor is "Yale," with memorabilia from the adjacent college.
Originally published 2/16/13.
Photo credits: all photos courtesy of the author