CAMP SoNo Opens for Indoor Play and Shopping for Connecticut Kids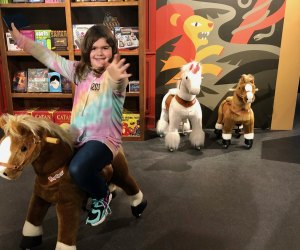 Just in time for some holiday fun: CAMP, a favorite of our NYC readers, opened its first Connecticut location in the new shopping and entertainment center, The SoNo Collection. At first glance, CAMP may seem like your regular toy shop, but there's a secret world of art and adventure behind the cheery storefront. With free interactive play areas, arts and crafts programs, and even a canteen to satisfy kids' cravings, CAMP is a place where kids can have a blast while you sneak in some shopping.
For more ideas to keep kids busy when the weather is chilly, check out our guide to indoor play areas around Fairfield.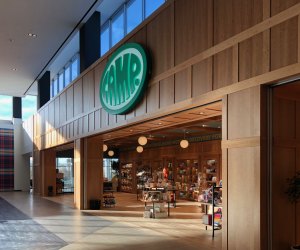 Beyond this unassuming store front, there's a "magic door" leading to a play and activities area.
Experience Highlights
We don't want to give too much away... but behind a magic door, families will embark on a journey into 10,000 square feet of pure joy. All CAMP locations feature three signature components: a yummy canteen, a theater chock-full of activities, and an interactive space filled with wonder, experiences, and toys.



Climb through the rainforests of Costa Rica.
CAMP rotates the theme of its interactive play area every season to keep us all on our toes. Make sure you grab your CAMP issued passport because currently, CAMP SoNo is taking its visitors on a journey around the world. Through the magic door, you will be whisked to London just in time for a cup of tea and a chat with the queen. Climb through the Cloud Forests of Costa Rica, take a safari in Kenya, go shopping on the streets of Paris, doodle away in a Japanese Dojo, and so much more. At each destination, kids can get a stamp in their passport.



Fill your entire passport in one day at CAMP.
What would camp be without an arts and crafts cabin? The CAMP Theater provides this experience through a packed schedule of programs and classes that will make any adult want to be a kid again. Currently on the schedule is DIY Kinetic Sand, Australian Ocean Slime, Hot Air Balloon Night Lights, and Spinning Parisian Carousels. The classes cover all ages and range in price from free to $20 per child. Reservations can be made through the CAMP website. While kids can drop in to programs, many sell out, so CAMP staffers recommend signing up in advance.
With all this fun, it is easy to forget that CAMP is a toy store. The walls are stacked with a beautifully curated unique collection of high-quality toys. There are books, classic board games, new games, musical toys, and just about every gel pen you can ask for. All this playing can work up and appetite and thankfully the CAMP Canteen is packed with yummy snacks, beverages, and an ice cream parlor featuring the very popular Ample Hills Creamery Ice Cream (yum!)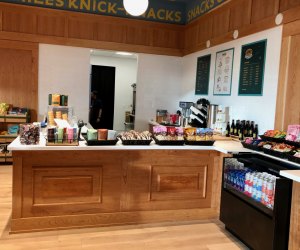 Make sure you try the CAMP signature flavor from Ample Hills Creamery.
At its heart, CAMP is all about immersing kids in a "secret" world of wonder and play. Meanwhile, time-strapped parents can cross some holiday or birthday presents off their to-do lists...an equally magical experience!
Know Before You Go to CAMP
CAMP is open every day from 10am to 9pm.

It is free to play in the interactive space.

Classes can be reserved ahead of time online (which is recommended, since many sell out).

CAMP does not offer birthday parties; however, you are welcome to buy out an entire class to accommodate your party.
All photos courtesy of the author