A Visit to Hawkwood Game Cafe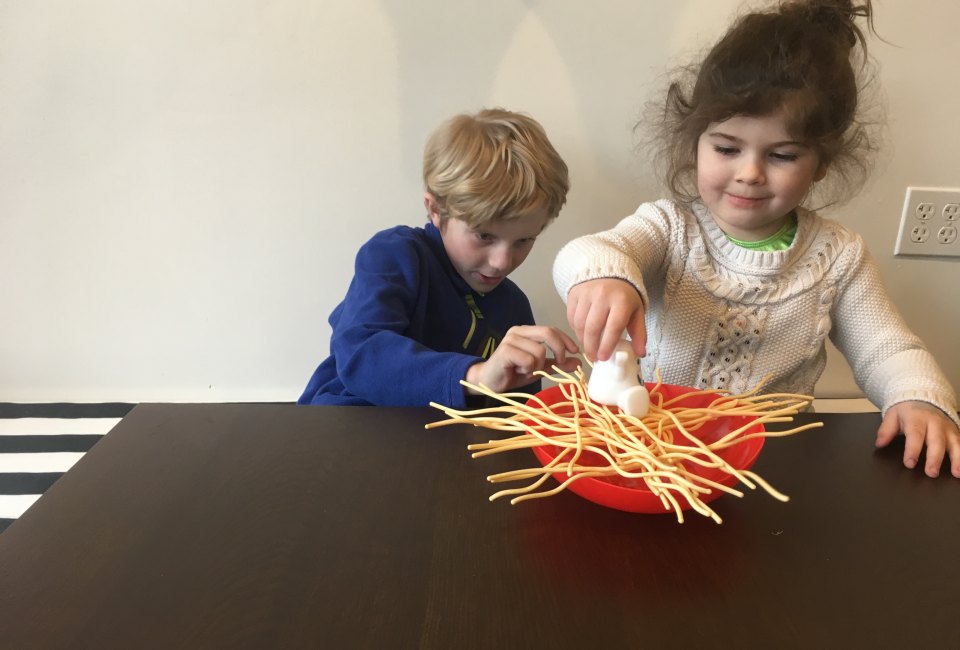 3/27/18
- By
Makayla O'Keefe
On the very first day of spring I spent my afternoon on an adventure racing my children through Peppermint Forest, Licorice Lagoon, and Lolipop Palace to the lost Candy Castle. Just as I was going to jump ahead through Frosted Palace on a double purple draw, our soft pretzel arrived in the boardroom cafe. Hawkwood Game Cafe opened its doors earlier this year in downtown Milford, tucked in a row of businesses that run alongside Colony Grill.
Inspired by cafes in Canada and Europe, Hawkwood offers about 350 games, with about 30 to 50 games dedicated to kids ages 10 and under. The cost of admission is $5 per person, and you can play for as long as you'd like.
The boardgame café concept has gained popularity in recent years in places as far away as Beijing to Brooklyn. As a mom forever on a quest to get her kids away from screens and having real interactions with real people, I was eager to checkout Hawkwood. And it turns out, the kids actually do want to sit down, open up a cardboard box, and argue over who gets to be the blue piece.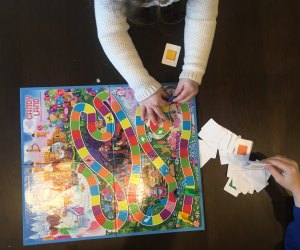 If you're planning a visit with littles in tow, like the four year old I brought with me, there's a designated space for you with a child-size table, floor pillows, and puzzles. This is also where they keep games like Guess Who, Trouble, and Yeti In My Spaghetti, perfect for children new to board games (and under the age of five.)
My seven year old was interested in the more complicated games like Life, Sorry, and Battleship, so we'll definitely be heading back for a Mommy/son date. And likely for an epic game of Monopoly where he'll undoubtedly choose the battleship and I'll be the rubber duck.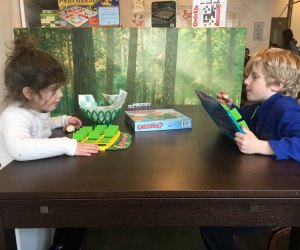 While you play, Hawkwood offers a fully stocked snack bar loaded with game-friendly goodies like warm gooey chocolate chip cookies, salted soft pretzels, and freshly popped pop corn, available in an unlimited supply. For the parents they've got coffee, available as drip, pour-over, or coldbrew on tap (even nitrogen-infused), Tazo Tea, Foxon Park soda, Dark Chocolate Hot Chocolate, and Kombucha (we were happily surprised)!
Also, Hawkwood partners with downtown's landmark deli, Park Lane to offer lunch.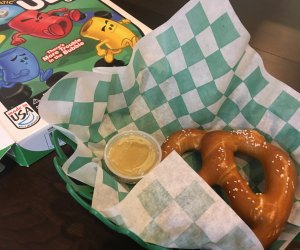 On Sundays, the café launched a Parent Happy Hour offering all parents a free cup of coffee if they visit the café before 1p.m.
Also on Sundays from 1-3p.m. is the Pokemon Trading Card Game day where a dedicated Pokemon expert is available to teach players new and old the classic card game (who knew Pokemon's been around for 22 years!) Bring your own (but it's not required,) trade, challenge, and have fun.
Boardgames. They take you to mythical lands, make you a millionaire, and give you the chance to save the world.
Places featured in this article:

Sign up for our free
newsletters.
Mommy Poppins is a family activity website that helps people find things to do with kids.
©
2023
MommyPoppins. All Rights Reserved.
mp-prod4-v4.32.99
Sign up for the Mommy Poppins Newsletter today!
i