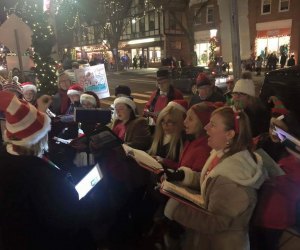 Holiday Strolls in Fairfield County
Currently updating for 2018.
For many, the end of Thanksgiving Dinner marks the official start of the Christmas season. It seems as soon as those plates are cleared the holiday shopping begins. And for others, Christmas began even before the table was set. But, lucky for us, some Fairfield County communities have managed to slow us down a bit, make us savor the season and shop, not on Cyber Monday, but at their Holiday Strolls. You know, in a shop? There is something so very special when our quaint New England downtowns are all gussied up in holiday sparkle and the night air is filled with carolers, peppermint and hot cocoa. If you ask me, these are some very good reasons to take a stroll down the slower lane. Take a holiday stroll. Here is our roundup of the holiday strolls coming up in Fairfield County this Christmas season. And, for even more holiday happenings, visit our Holiday Guide.
Holiday Stroll, Wilton
Friday, December 2
Santa Claus will be joining first selectman Lynne Vanderslice as the Wilton Chamber of Commerce kicks off the official start of the holiday shopping season with its annual Holiday Stroll. The beloved annual tradition begins at 5:30pm as Santa and Vanderslice make their way into Wilton Center on a red sleigh and light the town Christmas tree. Families are invited to stroll through downtown Wilton from 5:30-7:30pm, and enjoy the decorations and lights as they visit local businesses for treats and refreshments. Join the bonfire at Schenck's Island after the Chamber's Holiday Stroll at 6:30 pm for hot cocoa and marshmallows.
Holiday Stroll, Ridgefield
Friday, December 2-Saturday,December 3
Like a scene taken right from Charles Dickens complete with horse-carriage rides, ice sculpting and carolers , downtown Ridgefield becomes a winter wonderland at its 17th annual holiday stroll. With its twinkling lights, singing toy soldiers and magic shows, there is something for everyone at the Ridgefield holiday stroll. On Saturday join Santa for breakfast and then take selfies with Olaf and Anna near The Toy Chest. Don't forget to check out the jewelry making workshop and take a twirl around the ice skating rink before enjoying a cup of cocoa.
Holiday Stroll, New Canaan
Friday, December 2 - Saturday, December 3
For the eleventh year, downtown New Canaan is transformed into a magical storybook setting, with decorated lampposts, sparkling lights, carolers, and, of course, Santa. Friday night kicks off with the arrival of Santa Claus, a lighting of the trees and live entertainment while the downtown shops stay open late offering refreshments and holiday cheer. Saturday's festivities include a visit from Santa at his workshop, plenty of characters roaming the streets,a Gingerbread House Tour and much more.
Holiday Magic, Darien
Saturday, December 3
Darien will welcome Santa at Grove Street Plaza at its annual Holiday Magic at Grove Street Plaza on Saturday December 3 at 4-6:30p.m. Families can enjoy Rides on the Giant Animals like Lucy the Polar Bear, Moose and "Snow" Leopard, enjoy free hot cocoa from The Melting Pot and enjoy carolers from Hindley Elementary School and Darien's 'AcaBELLA" group..
Holiday Stroll Weekend, Greenwich
Saturday, December 3 - Sunday, December 4
Stroll through downtown Greenwich, from 10am to 6pm on Saturday and noon to 5 p.m. on Sunday, and you're guaranteed to spot some holiday cheer. From live reindeer at Sam Bridge Nursery to Santa, who'll be sure to take a selfie with you, to a live nativity scene that includes nine animals, the eighth annual Holiday Stroll offers festive fun for the whole family. There are also two different horse drawn carriages to ride, professional ice sculpture demos and live music. Taste some delicious Belgian chocolates, write letters to Santa and stop into the 129 participating merchants spreading joy by offering holiday promotions and refreshments.
Fairfield Holiday Shop and Stroll, Fairfield
Thursday, December 8
Fairfield Center kicks off its holiday season on Thursday December 8th with the arrival of Santa on a firetruck in Southport Village at 5 p.m. The fourth annual shop and stroll features a live 90 minute ice sculpting demonstration by world renown ice sculptor Bill Covitz of Ice Matters, food from local restaurants, traveling carolers and musical groups from local schools.
Lamplight Stroll, Milford
Friday, December 3
It might not be Fairfield County but close enough, from 5-9 p.m. on Friday, visit downtown Milford for a nostalgic old-fashioned holiday celebration on the picturesque green. Enjoy roving carolers, horse-and-carriage rides and visits from Santa while visiting more than 25 participating shops, salons and restaurants that welcome visitors with refreshments and special holiday deals on presents.
Photo courtesy of Downtown Ridgefield