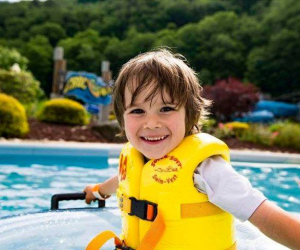 Best Water Parks for Toddlers In and Near Connecticut
We've shared some of our favorite water parks in Connecticut with you before, but now we're going to focus on our favorite water parks in the region for younger kids, including toddlers, preschoolers, and even babies. These parks have all the conveniences toddlers need: a separate play area, flexible food options, and easy changing areas. They come with wading pools and zero-entry pools, spraygrounds, and splash pads.
Crocodile Cove at Lake Compounce– Bristol
822 Lake Avenue 860-583-3300
Open Memorial Day to Labor Day
See website for complete schedule and pricing info.
Crocodile Cove is the water park portion of Lake Compounce, the oldest continuously operating amusement park in the United States. You cannot buy separate tickets just for the water park; however, children 3 and under are admitted to the park for free. Young children will enjoy Clipper Cove, a play area with smaller water slides and water buckets (although this is not an age-restricted area and can draw bigger kids as well). Anchor Bay, a small wave pool, is reserved strictly for visitors under 48", and in this pool as well as Bayou Bay, which is open to all, young children must wear life jackets (available for free in the park).
Good to know:If you buy a season pass for 2016 now, admission to the park is free for the rest of this season. You cannot bring food into the park, but there is a wide range of family friendly favorites including Johnny Rockets, Dunkin' Donuts, and Harborside Pizza. A limited number of single and double strollers are available for rent. (Click here for a review of a visit to Lake Compounce with slightly older kids.)
Splash Away Bay at Quassy Amusement Park – Middlebury
2132 Middlebury Road 203-758-2913
Open Memorial Day to Labor Day
See website for complete schedule and pricing info.
Splash Away Bay at Quassy Amusement Park is an old fashioned and very manageable park to visit with young kids. My kids love Saturation Station, a modular play unit that includes a huge tipping bucket that dumps more than 300 gallons of water onto the guests below. There are also fountains, water cannons, two very mild slides and other activities. There is also a toddlers-only Fish Pond that includes more gentle fountains and sprays. The staff is pretty attentive to the 45" height limit. There is also a small beach right next to the water park.
Good to know: There is an additional fee for parking. We have found that the hours for the food concessions can be somewhat spotty, especially towards the end of the season. Swim diapers are required for children of diaper-age. The changing areas are pleasantly roomy. If you buy season passes for 2016, admission is free for the rest of this summer.​
SplashDown Beach – Fishkill, New York
16 Old Route 9 West 845-897-9600
Open Memorial Day to Labor Day
See website for complete schedule and pricing info.
SplashDown Beach, which refers to itself as "America's Biggest Little Water Park," is my kids' favorite water park, and it truly has something for kids of all ages--and their parents. The youngest park goers (under 42 inches tall) will be happy at the Bob the Builder Splash Works, with mini water slides, soaker sprays, and this year's brand new Dizzy's Water Whirler ride.
Slightly older/more adventurous kids will enjoy the Shipwreck Lagoon which has still more slides, fountains, and fun. Park goers of all ages will enjoy the Croc Creek Wavy Lazy River and the Monster Wave Pool.
Good to know: Kids 2 and under must wear a reusable $9 swim diaper that must be purchased at the park (that diaper can be reused on future visits when admission is free). Outside food and beverages are not allowed (and bags are thoroughly checked), but food is available for purchase at various locations throughout the park. If you buy season passes for 2016, admission is free for the rest of this summer.
Great Wolf Lodge New England – Fitchburg, Massachusetts
150 Great Wolf Drive 978-343-9653
Open year round
Visit their website for pricing info.

We visited this indoor park with my elementary schoolers this past winter, and we all loved the wave pool and lazy river, but they were disappointed to be over the 52" maximum height for the Whopping Hollow slides where the toddlers seemed to be having a lot of fun. Younger children will love the Fort Mackenzie play area, an interactive treehouse will all kinds of water effects, and the zero-depth entry Tadpole Pond (which is outdoors).
Good to know: Admission is only available to guests staying in the hotel. Be sure to join their mailing lists for last minute specials and deals. All the rooms have mini fridges and microwaves, which makes it easy to bring along food for young kids. The lines for concessions can get quite long.
Photo: Quassy Amusement Park
Originally published 8/15/15.
Cover photo courtesy of Lake Compounce