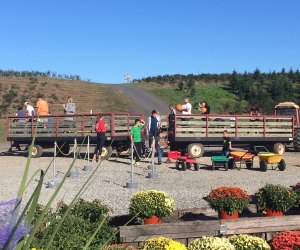 Fall Fun at Rose's Berry Farm in Glastonbury
If you are looking for a fun fall activity to experience with the family, consider a trip to Rose's Berry Farm in Glastonbury. This farm boasts a large pumpkin patch, an apple orchard, and on Sundays, a delicious breakfast with a view. The quaint New England farm has a lot to offer in a beautiful autumn setting.
Your journey begins with a scenic drive through historic South Glastonbury. Ancient stone walls and colonial houses line the way for a quintessential New England feel. The foliage on Hopewell Road is stunning and sets the scene for a day in the crisp fall outdoors. As the entrance approaches, a sunflower field comes into view. It's a great place for a photo.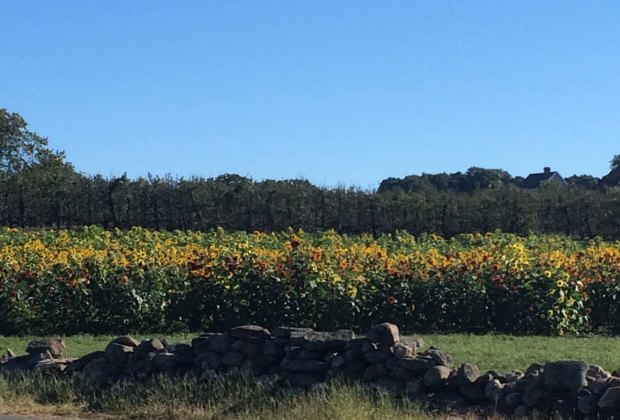 On Sundays, up until the third week of October, the farm offers an assortment of breakfast options with a view of the surrounding orchards and farmland. Indulge in Belgian waffles, pancakes, French toast, a breakfast burrito, quiche, or yogurt parfait. The farm also offers a few gluten-free options. There are options for breakfast meats, pastries, and beverages to make a complete breakfast for the family. Bask in the view of fall foliage during the meal.
Apple picking is a popular activity at Rose's Berry Farm. The orchard is directly across from the breakfast area. It features seven varieties of apples suitable for eating or baking. The trees are not difficult to reach, and many apples fall to the ground throughout the day, so even small children can participate with an adult's help. Pricing is done by the pound.
If you are more interested in pumpkin picking, the hay ride into the pumpkin patch might be more your style. The hay ride is several minutes long and takes riders on a journey throughout Rose's Berry Farm. It makes several stops including one to a corn maze, in which riders can hop off to participate and be picked up again later. The next stop is the pumpkin patch, where several minutes are provided to seek the perfect pumpkin. It also provides some great opportunities for photos. Once everyone has the pumpkin of their choice, the ride continues the tour through the farm, ending where it began. Pricing is done by the pound.
On Sundays, enjoy live music from noon to 4:00 p.m. and face painting from 11:00 a.m. to 4:00 p.m. In addition, Rose's Berry Farm has a variety of farm fresh produce and baked goods at the farm stand by the entrance. It also has a few play areas available for younger children. With a little something for everyone, it's a great place to spend some time with the entire family.
Rose's Berry Farm
295 Matson Hill Drive
South Glastonbury, CT 06073