Best Art Classes for Kids in Connecticut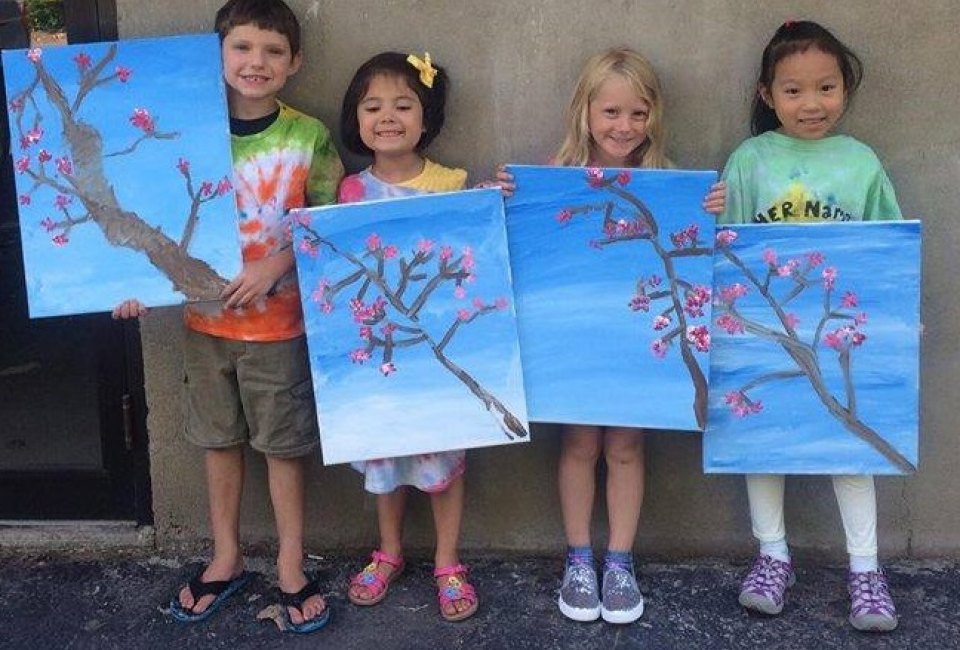 8/21/21
- By
Jennifer Coe
The arts are essential in stimulating creativity and confidence and developing innovative thinkers. Whether it's through sculpting, drawing, painting, or crafting, children crave the opportunity to express themselves through art. Take advantage of some of the great classes for kids available all over Connecticut and avoid those messy "glitter-tastrophes" on your kitchen table.
For more kids programs, toddler classes, and after school activities, explore our updated Guide to Kids' Classes in Connecticut.
Art Classes in Hartford
FVAC is a well established community of artists and teachers offering art classes in many genres that will interest children. Choose from drawing and painting classes, to mixed media, art, and fashion illustration. Children ages 6-17 are invited to participate in classes offered by studio artists with many years of experience. The calendar for fall is packed with options. Masks required for unvaccinated students.
Creative opportunities abound at this museum, which offers a variety of programming for children of all ages. There's play dates with art for ages 0-24 months, toddler classes called Art Start, and a variety of hands-on art classes for ages 6-18. Pre-registration is required for some classes. The museum's online event calendar lists the latest programming.
This after-school art education program is a perfect spot for kids to use their imagination, express ideas, and think for themselves in an independent learning atmosphere. Classes for kids ranging from 4.5-18 years old and are held weekly in both the afternoon and evenings. The 2021/2022 class schedule lists a roster of art classes aimed at enhancing art skills by age. New this year are virtual classes taught from the comfort of your own home. Masks are required for in-person classes.
This regional arts organization offers year-round classes, monthly exhibitions, and events that make art accessible for children 5-16 years old. Classes are available in everything from pottery, cartooning, pastels, stone carving, and much more. The West Hartford Art League offers need-based scholarships for youth that will cover the entire class cost, as well as materials. For more information on kids classes and on how to apply for an art class scholarship, review the online catalog of kids art classes. Masks are required.
The Youth Arts Institute here provides free classes for inner-city children ages 6-18. Registration is required and space is very limited. It is a great place for kids to become involved in the arts in a variety of different programs like learning instruments, ballet, hip hop dance, and more. Please call 860-310-2580 for class descriptions and the current schedule, which begins October 5.
Starting in the fall, the GAG will be offering an in-person Pet Portraits class for pre-teens and teens. More experienced students may select from the adult classes such as drawing basics, watercolor, and pastels for beginners. Students must be vaccinated and follow CDC masking protocols to attend.
Located in the center of the state, the Middletown Art Academy brings teens and kids together to explore their creativity and expand their artistic skills. Students ages 5-18 may participate in basic drawing and fundamentals, drawing and design, drawing and painting, and digital photography. The academy's programs for kids are intended to provide a strong foundation in art creation. Instruction is available in Spanish, Russian, or English. Scholarships are also available.
Imagine, explore, and experiment in one of the many art classes offered at Splat. Children can choose from Picasso (grades 1-4) or Kahlo (grades 5-8). Classes fill up quickly because of limited class size.
Art Classes in Fairfield County

Photo courtesy of Green Moon Studio.
Fall classes are now enrolling. Green Moon is a little different, as the toddler and baby classes offered are not traditional art classes. Little artists age 2-5 will love Picasso's Lunch Bunch where they will do a multimedia art project and eat a meal together. The morning art and music drop-off gives parents a chance to run errands, or grab a coffee while the littlest artists aged 18 months to 5 years will spend 2 hours with art, music, and reading.
After school art classes offered at the Little Red School of Art and Music are 1.5 hours of pure creative fun using multiple mediums. Cost includes all materials used in class. Children aged 6 and up are welcome.
This little place is packed with tables and art supplies and a lot of sunshine. The fall calendar offers a variety of classes for children aged 2-18. Classes run daily, and topics include acrylics, pet-themed art, cartooning, watercolors, crafts, clay, and more.
A child's creativity will expand in this artistic space. Classes begin at age 3 and include puppetry, drawing, mixed media, and ceramics. The fall calendar starts September 13.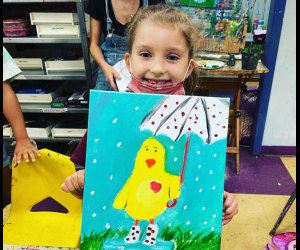 Photo courtesy of the Giggling Pig.
There are so many options for art class at the Giggling Pig. Mommy and Me classes for little piglets run every week and offer a fun art project as well as a lot of space to explore art supplies. Preschoolers to teenagers can take advantage of classes that utilize many different art tools, and provide a safe, enjoyable, and compassionate atmosphere to stretch their wings (or in this case, piggy tails). New classes are constantly added to the calendar, registration is ongoing. Dress for a mess!
This is a welcoming place and fun destination where kids are allowed and encouraged to get messy. From Mommy and Me Adventures to pre-school enrichment (and cooking classes, too), TLGT allows kids to get hands-on with creative materials. How about doing a painting with your feet? Or squirting paint out like ketchup? See fall offerings on their Facebook Page.
The Museum of Contemporary Art is offering after school homework help with art exploration, as well as the Mini MoCA Learning Lab & Art Adventures for Pre-K and kindergarten kids.
Art Classes for Kids in Eastern Connecticut

Photo courtesy of Barn for Artistic Youth.
Children starting in first grade can dive into art classes beginning September 13. They can draw, paint, and sculpt, and older students can develop their art portfolios. Medium could include leather, paper, cardboard, aluminum, and papier-mache.
Julie is a creative artist from Eastern Connecticut and offers painting classes for local teenagers aged 13-19. Give your teen the opportunity to expand their horizons and sharpen their skills with classes that give them experience with drawing and acrylics.
Updated 8-18-21