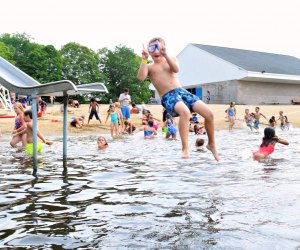 25 Free and Affordable Summer Camps in Connecticut
Once school ends here in Connecticut, parents suddenly face a whole lot of unstructured time for the kids. But don't stress: This is where summer camps come into the picture—and it doesn't have to break the bank. We've made it easy for Connecticut parents to find some less expensive camps throughout the state to keep kids busy and happy this summer. Check out our picks for cheap (and even free) Connecticut summer camps. Remember to inquire with your town's parks and rec department; these camps tend to be very affordable options, too.
Find more recommendations in our Connecticut Summer Camp Guide or search through the full Directory of Camp Listings by interest, age, or area.

Soccer is just one athletic offering at the US Sports Institute. Photo courtesy of the camp
Fairfield
1. US Sports Institute - multiple locations
US Sports Institute offers sports camps throughout the Southern Connecticut region. Children ages 2 to 19 can choose from a multi-sports camp or a camp that focuses on a specific sport such as tennis, basketball, or soccer. The camp also offers parents the opportunity to pay less if they offer to become a "community parent."
Price:
2. Stratford Parks and Recreation Camp - Stratford
Parks and Recreation offer summer sports camps for children in grades 1 through 8. Kids can choose from basketball, baseball, soccer, tennis and more. A Theater Workshop is also offered. Camps are weekly from 9am to 5pm.
Price: Between $45 and $55
3. Westport Parks and Recreation Day Camp - Westport
Camps offered for children ages 3 to 5, Kindergarten through fourth grade, and fifth grade through eighth grade. Seven different sessions are available and run in different locations throughout town. Full camp day runs from 9am to 3pm.
Price: $235 and up
4. Camp Looper - Wilton
Camp Looper is for children in kindergarten through eighth grade. All camps are held at the Comstock Community Center. Children will spend time in nature, swim, create arts and crafts, and play games. Choose from eight different sessions running from late June to mid-August.
Price: $275
5. Seaside Park Summer Day Camp - Bridgeport
Join Seaside for their extremely affordable five-week summer camp program. The program begins in early July and runs through early August from 8:30 am to 2:45 pm daily. It's available for Bridgeport residents only.
Price: $125
6. Shehan Center Camp Summer Day Camp - Bridgeport
At this fun summer program for kids ages 5 to 13, children will enjoy traditional activities such as swimming, arts and crafts, and sports as well as cultural and educational activities for an affordable price.
Price: $25 a week
7. Camp Sunrise - Norwalk
Held at Silvermine Elementary School, Sunrise is for children in kindergarten through ninth grade. The camp day runs Monday through Friday from 8am to 3pm in late July through mid-August, with an additional after-hours opportunity available. Children will love Zumba, Yoga, arts and crafts, swimming, and field trips.
Price: $220

RELATED: Top Sleepaway Summer Camps in Connecticut

Kids develop friendships and confidence as part of the "Leadership Experience." Photo courtesy of Camp Courant
Hartford
8. Camp Courant - Farmington
At this free summer camp for Hartford residents ages 5 to 12, kids will enjoy swimming, arts and crafts, sports, leadership training, time in the computer lab and more. Applications are available in April. There's a bus available for campers.
Price: FREE
9. Summer Fun Camp - Windsor
This camp is for children ages 5 to 10. There are 7 different sessions to choose from. Campers will enjoy arts and crafts, STEM, swimming, games and sports. Camp runs from 9am to 4pm with an extended day option and is located at Windsor High School.
Price: $135
10. Camp Foxfire - Windsor
What is not to love about a good, ol' fashioned nature camp? NWP offers Camp Foxfire, a full day (with extended hours available) of hiking, shelter building, outdoor games, field trips to state parks, and pond exploration. There are eight themed weeks to choose from.
Price: $125 and up
11. Boys and Girls Club of Bristol Camp - Bristol
Kids in grades one to eight will enjoy a full day of programming during the summer. Age-appropriate activities including swimming, gym, arts and crafts, STEM and weekly field trips.
Price: $185 and up
12. Skyhawks Sport Camp- Rocky Hill
An affordable summer sports camp for children ages 5 to 12. Your child will be able to perfect their skills in tennis, basketball and...capture the flag! Camp is available late June through mid-July.
Price: $125
13. Southington Playground Program - Southington
Registration begins March 2. There are three sessions available beginning in late June until early August for children in grades 1 through 6. The program is held rain or shine, from 9am to 2pm. Kids will enjoy a field trip and a pizza party as well as plenty of outdoor playtime.
Price: $130
14. Camp RECreate - Newington
RECreate is a Parks and Recreation Department-sponsored traditional day camp program for children completing grades 1 to six.
Price: $175
15. Glastonbury Theme Camps - Glastonbury
Glastonbury offers several different themed camps, the most affordable of which include Coding with Robots, Bringing Books to Life Through Play, Exploring Art Through Technology, and Tomahawk Training Camp.
Price: $110 and up
16. Specialty Camps - South Windsor
Each of these camps is based on a specific theme, including American Doll, Become a Published Author, Jumping Clay, Mad Science, and more. Each camp is priced differently and run for different age groups ranging from kindergarten to 13 years old.
Price: $160 and up
17. Summer Escape Camp - Enfield
Enfield offers a seven-week camp for kids in grades 1 to 6. Day camp starts early July and runs through mid-August, and takes place at Eli Whitney School. Weekly themes include: Where in the World is Dave?, Olympic Sports, Pursue the Clue, and Summer Escape Carnival. Each week they will participate in a variety of activities including sports, theater, crafts, and cooking.
Price: $80 to $190
RELATED: Summer Camps for Preschool-age Hartford Kids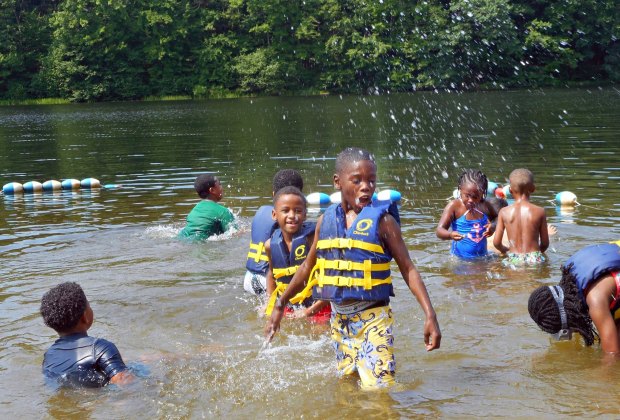 Kids can cool off in between sports and crafts at Waterbury PAL. Photo courtesy of Waterbury Youth Services
​New Haven
18. West Haven Summer Camp- West Haven
Children ages 3 to 12 are placed in three age-based sections. These are two-week sessions and range in prices. Activities include field trips, swimming, games, stories for the littles and arts and crafts.
Price: $90 and up
19. City of New Haven Summer Camp -New Haven
Super affordable, especially if you are a New Haven resident, this camp offers three sessions from June to early August. Choose from City Camp, Tiny Tots, Easy Breezy, Eco Adventure, Sports Camp, Theater Camp, and Music Camp.
Price:
20. Woodbridge Camps - Woodbridge
For children ages 3.5 to 8th grade. Extended day options available. Camp session runs from June 24 to August 2 and is held at Beecher South School. Activities include swimming, athletics, game room, water slide, and drama.
Price: $120/week resident cost and up
21. Waterbury PAL Summer Camp - Waterbury
Run in conjunction with the Kiwanis of Waterbury and Waterbury Youth Services, camp runs Monday through Thursday and is for children ages four to 13. They will enjoy sports, arts and crafts, and nature activities in a natural setting. "Camperships" are available.
Price: Varies by application
Litchfield
22. Sharon Parks and Recreations - Sharon
There are a variety of sports camps to choose from in Sharon, include soccer, baseball, lacrosse, and more.
Price: Varies by camp, $111 and up
23. Camp Kent - Kent
Park and Recreation offers an eight-week summer camp for kids in grades one to eight called Camp Kent. The program meets at Emery Park daily where campers sports, games, arts and crafts, swimming, field trips, and Thursday lunch in the park. Limited scholarships are available.
Price: $45 and up
24. Camp BCG - Meriden
For children ages 6 to 13, BCG Camp offers both recreational and education experiences for campers. Frequent field trips and a full day of programming.
Price: $110/wk
25. Robotics and Beyond Summer Camp - New Milford
Kids will meet at the New Milford High School library daily to take classes on STEM and robotics, graphic design, mechanical design, and videography.
Price: $200 and up
A version of this article first published in March 2013