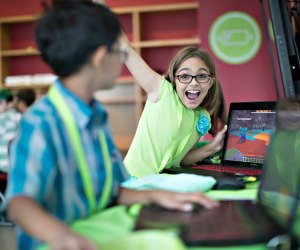 STEM Summer Camps in Connecticut: Science, Math, and Computer Fun for CT Kids
Got a STEM-loving Connecticut kiddo? At these math, computer, and science summer camps across Connecticut, kids ranging in age from preschoolers to teens will have a chance to learn STEM principles, including modeling a coral reef, designing and printing 3-D objects, to powering a circuit using solar energy, and more. They keep problem-solving skills sharp over the summer, but for kids, these hands-on science camps are just plain fun.
Check out these STEM summer camps across the state, or take a look at our extensive Summer Camp Guide and Summer Camp Directory for tons of options fit for all interests, including affordable Connecticut camps and sleepway camps.
Note that summer camp information for the 2020 season is changing daily. Please click the links to the individual camps below to see which ones are offering programs this year.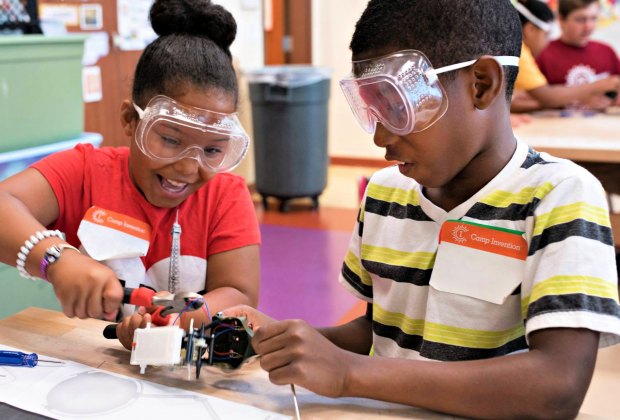 Kids in grades 1 through 6 practice collaborative, creative problem solving at Camp Invention. Photo courtesy of Camp Invention
Science and STEM Camps across Connecticut
Camp Invention - Multiple locations
Hosted by dozens of schools and organizations and taught by local educators, Camp Invention inspires children in grades 1-6 to explore their world and STEM concepts with hands-on, creative problem-solving activities. In CrickoBot, children power a circuit using solar energy employing physics and motion to produce small inventions. In Epic Park, they design tree houses integrating simple machines and build prototypes and models. Children also explore demolitions, coding, slime, and sound-activated lights. There are dozens of locations across the state.
iD Tech - Multiple locations
Choose from co-ed programs for kids ages 7 to 17, all-girls option for ages 10 to 15, or iD Tech Academies for ages 13 to 18. At these high-energy summer camps, students will master many new tech skills by learning video game design, coding, programming in Java and C++, 3D modeling, Minecraft modding, robotics, graphic arts, web design, digital video editing, and more.
Connecticut Audubon Centers - Multiple locations
Do you kids love nature? The Audubon has camps for children to explore nature, animals, and the ecosystem. Programs in Fairfield, Pomfret, Glastonbury, and Milford Point.
Play-Well Teknologies - Multiple locations
Choose from over 20 Connecticut locations for this project-based, engineering, and LEGO camp. Classes include LEGO Basic and Advanced, Super Heroes, Minecraft, Star Wars, and more. It's suitable for ages 5 and up.
The Goddard School - Multiple locations
This chain of learning centers operates in 35 states, including Connecticut. Summer camp incorporates a STEAM-based curriculum and sticks to the overall belief upon which Goddard School is founded: that kids learn best when they are having fun. Summer Camp themes science, arts, technology, engineering, and mathematics.
Science and STEM Camps around Fairfield
Discovery Museum - Bridgeport
If you're not already a fan of this place, you will be after a first visit. Discovery Museum is tucked away in Bridgeport near Sacred Heart University. Next door is the Discovery Magnet School, a science-based school for kids from kindergarten to grade 8. The museum itself is small but a lot of fun, and in the summer the camps are plentiful. Sessions are based on age and this year some of the themes are dinosaurs, roller coasters, animation, and spy lab.
Emagination Tech Camps - Fairfield
Fairfield University hosts two Emagination programs for kids ages 8 to 17. Tech Camp blends 25 STEM-based workshops with fun summer camp activities to create a well-rounded summer camp experience; Programming Camp focuses on teaching one of today's most popular dynamic programming languages, while incorporating outdoor games, swimming, and supervised time to mingle with new camp friends.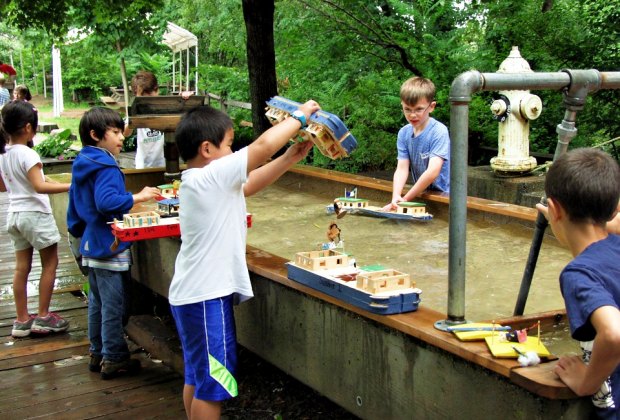 Kids get some invention inspiration at the Eli Whitney Museum summer camps. Photo courtesy of the museum
Science and STEM Camps around Hartford and New Haven
Summer Camps at Eli Whitney Museum - Hamden
Nearly 60 workshops will stimulate your child's mind and desire to learn. Programming is age based. A sampling of themes for 2020 include World of Play: India, sewing/jewelry, introduction to electronics, design labs, web design, and cryptography. Classes available for elementary through high school levels.
Talcott Mountain Science Center - Avon
STEM learning has been the basis of this mountaintop academy since before the term STEM was a thing, really. Kids from kindergarten to 8th grade explore cool science, nature and technology adventures, participate in weekly contests and enjoy planetarium and magic shows.
Connecticut Science Center - Hartford
Exploration summer camp provides children with hands-on science enrichment through fun and engaging activities. They participate in structured activities with staff scientists and camp counselors and get the opportunity to explore the Science Center galleries and exhibits. Students can choose from a number of programs throughout July and August that include building robots, becoming a super-spy, or Hogwarts Camp for Muggles.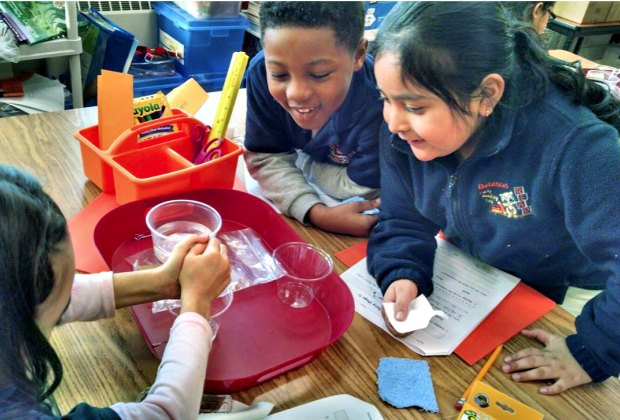 Students explore science concepts through fun, hands-on activities. Photo courtesy of Connecticut Science Center
Mountaint Mist/YMCA STEM Camp - Meriden
The Connecticut STEM Academy and the YMCA are partnering to bring children more opportunities to learn about science, engineering, technology, and math. Using Mountain Mist's Outdoor Classroom in Meriden, campers explore nature, hike, build a mini-greenhouse, and use hands-on equipment. During another session of camp, participants dive into robotics, learn to problem solve, code, and program.
STEM Academy - Wallingford
The STEM Academy is offering several summer STEM programs for kids including: Lego Robotics, STEM Explorations, Music and Sound, Chemistry Creations, and many others. Camps run in July and August.
Sizzling Summer of STEM - West Hartford
Kids ages 8 to 12 are invited to sign up for this week-long program. Campers will investigate engineering and the future of technology by designing and testing with 3D printers, LED light wands, solar ovens, and more. There is also a nature-themed STEM camp offered at Westmoor Park for those who prefer the outdoors to computers.