Online Robotics Camp
Young Gates - Kids Online Personalized Classes

Artificial Intelligence with Scratch Online Camp
Young Gates - Kids Online Personalized Classes

Spark Math: Free Trial Class
Virtual
Sign up for our free newsletters.
Allergy Aware Bakeries in Connecticut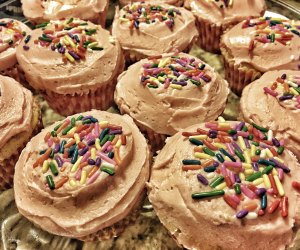 2/6/17
- By
Ally Noel
There are so many great bakeries in every corner of Connecticut. But, like many of you, my daughter's school is a nut free facility. For everyone's safety, if we want to send in treats for celebrations and birthdays, they have to be store bought and in their original sealed containers. For really special celebrations, like birthdays and holidays, I like to bring in something a little more festive than a box of Oreo Cookies. Thankfully, Connecticut has a growing list of bakeries that can provide a fresh-baked treat that everyone can enjoy.
Here is a list of nut free, gluten free, dairy free, and vegan bakeries in the Nutmeg State. Some of these bakeries are certified allergen-free, others have gluten and dairy free options for order. Use this list as your go-to guide for all your allergen-free entertaining needs. Make sure you check out their websites and menus before you visit. Feel free to add your favorite allergy free bakery in the comment section.
Fairfield County
Norwalk
​Izzy B's
203-810-4378
Izzi B's Allergen-Free Bakery is a wholesale bakery in Norwalk, CT. Although we do not have a retail storefront we do fill individual pre-orders with pick-up, by appointment daily.
Ridgefield
Swoon
Nut Free/Gluten Free
109 Danbury Road
Wilton
The Painted Cookie
Nut Free
196 Danbury Road
Greenwich
St Moritz
Gluten Free Options
383 Greenwich Ave.
Trumbull
The Cookie Workshop
Nut Free
100 Corporate Drive
Hartford County
Windsor
​Moneta Moments
Nut Free
1077 Palisado Avenue
Get Baked
Gluten Free, Vegan
25 Central Street
Granby
Sweet Beet
Non GMO, Gluten Free, Vegan, Dairy Free, Egg Free, Soy Free and Peanut Free!
498 Salmon Brook Street
Glastonbury
Dee's One Smart Cookie
Gluten, Soy, Peanut and Tree Nut Free
398 Hebron Ave
Canton
Cake Gypsy
Gluten Free, Dairy Free, Nut Free and Vegan
220 Albany Turnpike
Can it Be … Gluten Free
Nut, Gluten, Dairy, Egg
The bakery does not have a store front so each order is customized based on an individuals specific needs.
Litchfield County
New Milford
The Sweet Spot
Special order vegan or gluten-free
60 Railroad St
New Haven
Wallingford
Mr. D's
Gluten free options - call ahead
50 North Main Street
East
Stonington
Zest Fresh Pastry
Vegan, Gluten Free
22 Bayview Avenue, 1A
Taftville
Poppy and Rye
Gluten aware- not a gluten free facility
137 Norwich Ave (Rt 12)