12 Outstanding Outdoor Dining Spots for You and the Kids in Fairfield County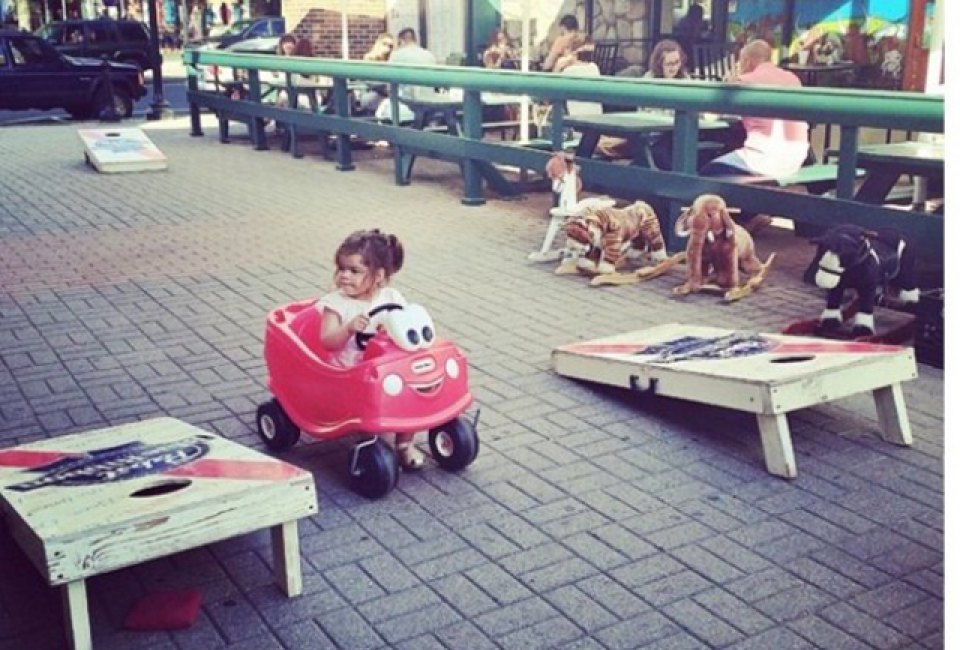 7/27/16
- By
Ally Noel
There are two things that every child needs to thrive: fresh air and food. Sure, they also need unconditional love, education, support, etc, etc, etc, but lucky for us, fresh air and food are pretty easy to come by in Fairfield County.
Some of our first family dining experiences were at outdoor restaurants - the atmosphere just seemed a little bit more relaxed than being stuck inside with a screaming infant. Take advantage of the extra hours of light this summer by enjoying these outdoor dining experiences. From the traditional lobster roll, to the not-so-traditional walking nachos, to lakefront, to beachfront, Fairfield County has a little bit of everything. Make sure you check out the Facebook and Instagram accounts of these restaurants to take advantage of special events and menus. And read our post on fun restaurants across the state where kids can play while you eat and relax.
Bar Taco - Westport
A stylish beach resort setting nestled into the waterfront in downtown Westport. They have a pretty affordable children's' menu, not to mention an awesomely delicious drink menu for both parents and kids. Make sure to download the Nowait App and get in line from the convenience of your own home.
20 Wilton Rd, Westport, CT 06880
Pizza Surf Club at Fortina - Stamford
This rooftop in Harbor Point has been converted into a super fun tiki bar that serves an eclectic menu with water views. Families may want to plan to check out this location before the sun sets.
120 Washington Blvd, Stamford, CT 06902
Bar and Restaurant at Captains Cove - Bridgeport
There is so much going on at Captain's Cove, that you may end up spending the entire day. Aside from waterfront dining, this venue also offers boat rides, kayak rentals, shops along the boardwalk, and live entertainment. Did we mention that they also have a regularly occurring happy hour and a children's menu?
Bostwick Ave, Bridgeport, CT 06605
Burger Bar & Bistro - SoNo
Burger Bar is really fun any day of the week! They always have a fun collection of rocking animals, board games, crayons, lawn games, and kiddie cars. Not to mention - their burgers are pretty delicious.
60 North Main Street South Norwalk, CT 06854
BJ Ryans Banc House - Norwalk
Restaurants that offer crayons to kids at the table have quickly climbed to the top of my list over the years. Bonus points for having just the right amount of ambient noise so that if my child decides to - well, be a child - there is a good chance that no one else will be able to hear. Not to mention, they serve an amazing mac n' cheese for the kids and specials for the adults, Oh, and they frequently have live music on their patio.
16 River St, Norwalk, CT 06850
Capriccio - Stamford
I loved going to Capriccio when I was 21 and just moved into town. It's one of the few places that I can still bring my daughter to and we are both pretty happy. No need for the party to end when the days get a bit shorter -Capriccio's al fresco dining experience is open well into Fall thanks to some tents and outdoor heaters.
189 Bedford St, Stamford, CT 06901
Down the Hatch - Brookfield
Down the Hatch is famous for its outdoor lakeside dining area. A tented area means you can enjoy outdoor dining even if the weather is being less than cooperative. With its affordable kid's menu and relaxed atmosphere, this place is the perfect place to bring your family.
292 Candlewood Lake Rd, Brookfield, CT 06804
Overton's - Norwalk
There is nothing at all fancy about Overton's. This walk-up take out counter features family style seafood, burgers, and hotdogs. However, enjoying your meal on the large deck overlooking the water is pretty amazing.
80 Seaview Ave, Norwalk, CT 06855
Viva Zapata's - Westport
This place is an oldie, but a goodie. Viva Zapata Mexican Restaurant has been serving authentic Mexican food at the same location in Westport, Connecticut since 1969! The outdoor courtyard is perfect for sharing some chimichangas and enchiladas.
530 Riverside Ave, Westport, CT 06880
Knapp's Landing - Stratford
Knapp's Landing Restaurant has an outdoor patio with a fantastic view of the Housatonic River. They offer a seasonal menu and a standard children's menu.
520 Sniffens Ln, Stratford, CT 06615
Little Barn - Westport
This casual setting on Post Road in Westport is not to be missed! Their outdoor dining area has a couple of cornhole boards that will keep the kids occupied while waiting for their meal to come.
1050 Post Rd E, Westport, CT 06880
Bricks and Barley Tavern - Shelton
Bricks & Barley features 2 outdoor patios. There is fun for all at this downtown Shelton location - enjoy 2 dartboards, one pool table and a designated floor for Playstation and XBOX games to be played on 70" TV's.
441 Howe Ave, Shelton, CT 06484
Photo credit: Author