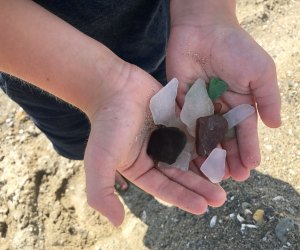 Finders Keepers: Hunting for Seaglass along the Connecticut Shoreline
If you're lucky, you might find Coke-bottle aqua or Milk-of-Magnesia Blue. Maybe once in a lifetime you'll unearth rare ruby red. Most often you'll find beer-bottle-brown and wine-bottle-green. But if you ask my kids--it's all treasure no matter what color or size. My very favorite memories of summer were made walking the beach with my kids gathering up every glittering shard of beach glass we could find like a magical treasure hunt. Ground smooth by the ocean and transformed from transparent to translucent by the sand, these tiny bits of sea glass are found scattered (scarcely) on the beaches throughout the state. Here's our roundup of the best beaches to hunt for these precious pieces of treasure washed ashore.
Sandy Point Beach and Bird Sanctuary – West Haven
Ranked as one of the best beaches in New England, Sandy Point Beach is a sanctuary in West Haven known for rare shorebirds, fishing, and trails. But as long as you stay off the nesting dunes, Sandy Point is a great place to look for sea glass. Head down to the end of the point where ever-changing tides wash up all kinds of seashore goodies.
Harvey's Beach – Old Saybrook
At low tide, a seemingly endless stretch of sand expands to water's edge offering families plenty of space to build sandcastles, comb for shells, and hunt for seaglass alongside the Long Island Sound. Plus, the crowds tend to be small at Harvey's Beach meaning less people are treasure-hunting. Your best best is to hit the beach in the morning, but be sure to head to Harvey's around low tide for maximum beach frontage.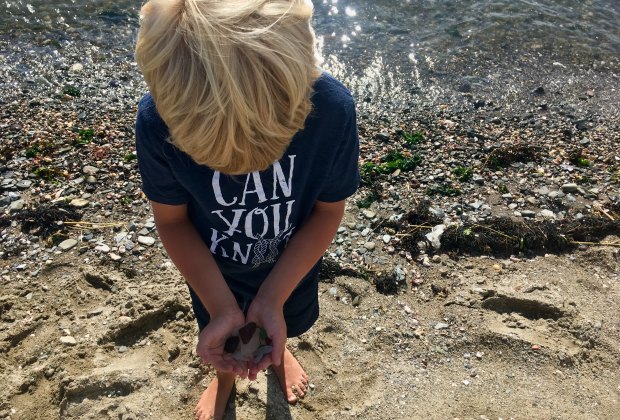 McCook Point Beach – East Lyme
Just a bit down the road from the hustle and bustle of Rocky Neck, McCook Point Beach is a local favorite of East Lyme area families. With white sand beaches sloping gently to water's edge, McCook's park consists of a beautiful bluff between two beaches. On the bluff, where the McCook summer home once stood, is a green lawn shaded by copper beeches, perfect for picnics. Below is a swimming area sheltered on the east by a stone jetty that helps to harbor treasures. This park is a popular spot during the summer but if you head there in the early mornings or off-season, you're sure to find more sea glass.
Cove Island Park – Stamford
Home to two beaches, Cove Island offers endless appeal for budding naturalists who will love exploring the small salt marsh, intertidal mudflats, and coastal havens for viewing water birds. And Cove Island is also a wonderful spot for beachcombing.
Silver Sands State Park – Milford
Nestled just south of Milford Harbor, Silver Sands' somewhat remote location makes for a much less crowded experience than other beaches in Connecticut. The sheltered, calm waters at Silver Sands make this seaside park a great spot for families, and for treasure hunters. From the shore of Silver Sands State Park, particularly at low tide, it's difficult to resist the lure of Charles Island, only a half-mile walk from shore along the tidally submerged sandbar. This particular sandbar unearths a trove of beach treasures from mermaid slippers to scallop shells and handfuls of seaglass.
duBois Beach – Stonington
Tucked in the picturesque seaside village of Stonington Borough, duBois beach offers a lovely family-oriented beach. There are plenty of rocks for climbing and your kiddos will love splashing in the shallow waters and hunting for small treasures on this quiet hidden beach on the eastern most edge of the state.
Hammonasset State Park – Madison
With a mile of pristine white sand beaches, equipped with full amenities from concessions to bathrooms, Hammonasset is a widely popular summer destination in Connecticut. While this beach is heavily trafficked, you'll have the best opportunity to find washed up sea glass off of Meig's Point at the end of the park.
Eastern Point Beach – Groton Tucked in between Stonington and Mystic, this small family friendly beach, is located at the mouth of the Thames River, just next to the UCONN Avery Point campus. The water is shallow and the amenities are plentiful, which makes it popular with families
Sherwood Island State Park – Westport
Connecticut's oldest state park is known for its fantastic nature center with some wonderful (and free!) programming. There are picnic areas, bathrooms, showers, and food concessions - making it easy to spend a day here enjoying the summer breeze. And, Sherwood Island offers the kind of rocky beach that is known for harboring tiny treasures like jingle shells and sea glass. Keep a discerning eye for small glimmering slivers of beach glass along the rocky shoreline. (And we suggest you bring some water shoes!)
Bluff Point State Park – Groton
With its towering trees and fern groves, Bluff Point is not your typical Connecticut beach. This shockingly beautiful and interesting coastline makes for a great spot to search for sea glass. The coastal preserve is surrounded by Mumford Cove to the East, Fisher's Island to the South, and Poquonnock River to the west and the only way to reach the beach is to walk the 1.5 mile trail out to the point where the Bushy Point barrier beach stretches out before you. A pebbly seashell laden beach stretches out to the right ready for you.