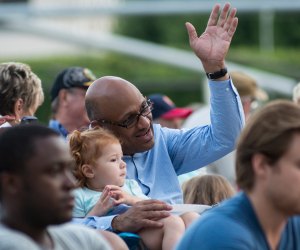 Weekend Fun for Chicago Kids: Dragon Boats, Food and Music Fests, Vintage Baseball
It's a good thing the days are longer right now, since we're not sure how else to fit in all the fun happenings for families around Chicago. This weekend, the Grant Park Music Festival continues downtown, and kid-centric festivals include the Webster Kids Corridor Block Party hosted by local playspace favorites Little Beans and Bubbles Academy, as well as the Kid Market in Bridgeport, a showcase for young entrepreneurs, crafters, and makers.
On Saturday, don't miss the colorful Dragon Boat races in Chinatown, accompanied by a day of cool cultural activities and workshops. St. Pat's church in the West Loop is also hosting the World's Largest Block Party with inflatables and giveaways for kids. And on Sunday, round up the baseball fans in your house for an afternoon of old-timey fun at the Vintage Baseball Game in Elmhurst, which offers a peek at how the game was originally played back in the nineteenth century, with old-school rules, cheers, and jeers.
For even more summer fun, see our expanding event calendar and our ever-updating list of summer fairs and festivals for Chicago families.