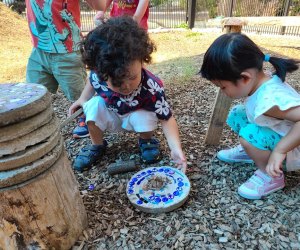 Popular Preschool Summer Camps in Chicago for Your First Time Camper
Most preschoolers have had limited opportunities to be away from parents or caretakers for the last 14 months—which, for some, is most of their lives! As Chicago tots get ready to take on preschool for the first time, they may benefit from a few weeks getting acclimated to a world with peers, grown-ups that aren't related to them, potties outside of their own house, and extended periods of mask-wearing.
Summer camps that cater to preschoolers can be the perfect way to do just that. We've rounded up several popular options throughout the city and suburbs that offer both academic enrichment and physical activities to build endurance and encourage active play. And best of all, they buy mom and dad a few child-free hours to work, run errands, or accomplish all the other deferred maintenance of adulthood.
Editor's note: Summer camp information for the 2021 season is changing daily. All of the camps listed plan to offer in-person camps this summer, but please click the links to the individual camps below to see specific details about their programs this year. Some photos in this post were taken before the pandemic.
Summer camps for all ages are filling up quickly this year, so be sure to sign up as soon as you're ready. Some camps are also offering virtual options for families that aren't ready to get back out there yet.