Online Robotics Camp
Young Gates - Kids Online Personalized Classes

Artificial Intelligence with Scratch Online Camp
Young Gates - Kids Online Personalized Classes

Spark Math: Free Trial Class
Virtual
Sign up for our free newsletters.
Kid-Friendly Spas and Kid Spa Parties in Chicago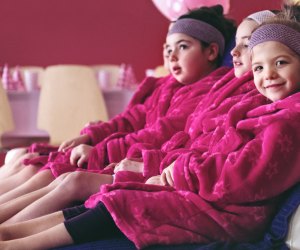 3/17/23
- By
Lauren LaRoche
Some salons and spas in Chicago offer services for kids, perfect for birthday parties, celebrating a special occasion, or as a bonding activity over manicures. Whatever the reason for treating your kid (and/or yourself!) we've rounded up some of our favorite kid-friendly spas and spa parties in Chicago. From mommy and me spa days to birthday pedicures, these are some amazing spas, nail salons, and spa party venues. Many of the kid-friendly spas below offer private kids spa parties and there's also a mobile beauty bar that can deliver a spa party at home.
For more birthday party ideas check out our favorite Indoor Kids Birthday Party Venues in Chicago and the Ultimate List of Birthday Party Entertainment and Rentals.
Kid-Friendly Spas in Chicago

These spas and salons offer services for kids. Photo courtesy of Bedazzled Salon
Bedazzled is a beautiful spa and nail salon in Chicago that's perfect for a mommy and me date. This space is fun and glamorous and you will feel pampered for the entire visit. In addition to the full-service spa menu available for adults, there is also the little miss Bedazzled menu which features a manicure, pedicure, combo, or a polish change. They also offer spa parties where little ones and their friends can have their nails done and more.
Ravenswood Nail Party offers children's manicures for as low as $10 and pedicures for $15. There are also fun nail art add-ons for $10. In addition to kids nails, Ravenswood is a full-service nail salon for adults. You can drop in for a mommy and me nail day or book a private party, which is perfect for a birthday or special occasion.
Pearl's Nails in Lincoln Park has a spa menu just for little ones under 10. This special princess nail menu features manicures, pedicures, and no-chip Dazzle manis and pedis. At Pearl's, you can also make a group reservation for parties and special occasions.
Milk + Honey recently opened in the Gold Coast neighborhood. For children five and older there are manicures, pedicures, and polish changes available. This is a fun add-on to a Gold Coast or downtown hotel stay.
OMG Spa Chicago on Michigan Avenue offers princess manicures for children ages nine and under. Princess pedicures are available for children under 10, as well as the princess polish change.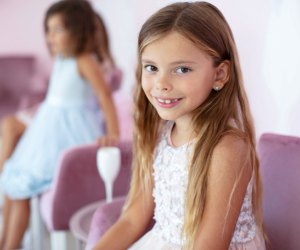 Many kid-friendly spas offer spa parties for kids. Photo by Lidarina for Canva
The Peninsula hotel has spa services and salon offerings for even the youngest guests. Enjoy a mommy and me spa day with a manicure or pedicure for an extra special Chicago staycation or celebration.
Pinky Nails on Southport in Roscoe Village offers kid's manicures, kid's pedicures, and polish changes. This Roscoe Village salon also offers a full-service nail salon menu for adults.
Spotlight on 3 in Chicago offers a unique special event space that's made for a spa party. Choose from a variety of different glamour, dance, and spa parties all featuring dress-up supplies, hair accessories, manicures, robes, and more. Each party guest will also receive a 4x6 professional photo from the day. Parties range from 4-17 with groups of up to 8 guests.
Lilies & Spikes in Oak Park is a kids and teens' salon and spa. This kids-only space is dedicated to kids' hair, nails, and spa services. In addition to a drop-in nail appointment, you can also book a private nail and spa party for your child's birthday. This adorable kid's salon has multiple spa party packages to choose from including nails, make-up, and hair.

In-home spa options photo courtesy of Chicago Bubble Bar
Chicago Bubble Bar offers a special beauty bar for kids' parties. The birthday girl and her guests will be treated to a fun spa day right in your own living room or venue of choice. Professional kid-safe make-up, nail polish, and spa supplies are all brought by the Chicago Bubble Show. Because they are a full-service party supplier, you can also add-on character appearances, bounce houses, and more.