Doodles X CAMP: Chicago's Exciting New Immersive Experience for Kids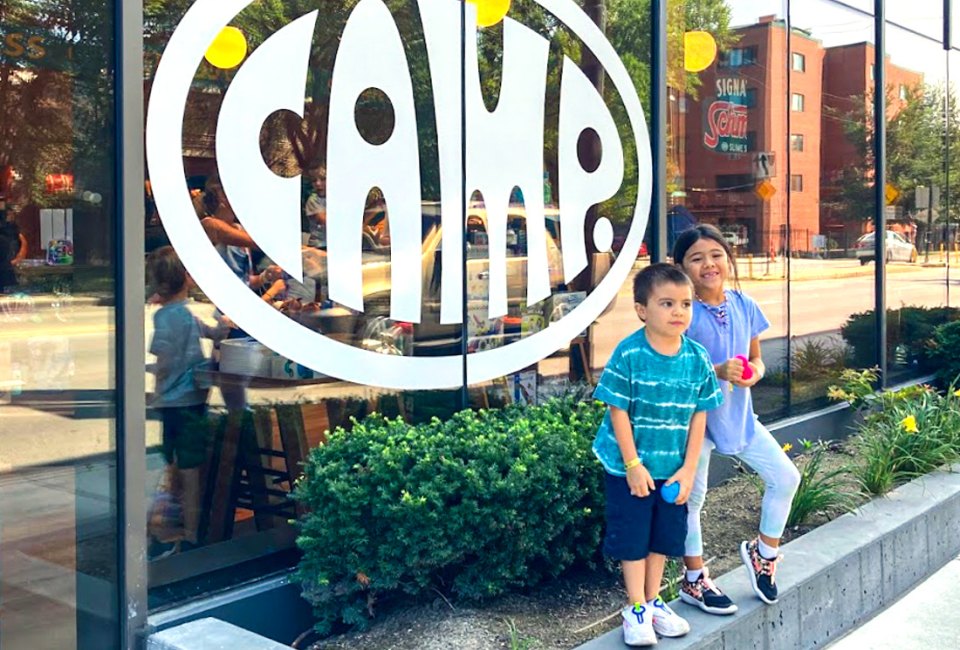 10/8/23
- By
Maureen Wilkey
When you first walk into Chicago's CAMP, it looks like a toy store filled with games, puzzles, figurines, balls, scooters and more. But I'd actually describe it as a "purveyor of fun." Much more than a store, CAMP hosts events, shows, and immersive experiences for kids. We were lucky enough to check out their Doodles X CAMP immersive experience, and it was a great time. Buy tickets for Doodles X CAMP for a chance to peek behind the magic door and see what's there.
The store part of CAMP in Chicago.
We got a chance to check out CAMP just after it opened in August this year. We didn't know quite what to expect. We got a hand stamp and a wristband with a small computer chip attachment and stood in a group near what appeared to be a wall of bookshelves holding candy and trinkets in giant glass jars. But, when we said the magic words, the shelves opened up to reveal the lab of an inventor who was looking for ways to make his doodles come to life. When inventor Happ turns into one of his own doodles and gets sucked in through the rainbow portal, his cat Mello shows kids how to create their own Doodle version of themselves by tapping and swiping on screens placed around the room. Kids then scan their wristbands, push the red buttons, and follow Happ through the rainbow tunnel into Doodle World.
Driving an old truck inside CAMP's store area.
When kids reach the end of the tunnel, there's almost an overwhelming variety of fun things to do within the immersive experience area, and each activity appeals to kids of different ages and interests. The thing that kept our 8-year-old the most engaged was finding different scan points throughout the room to add elements to her original doodle character. Scan your wristband at the top of the slide, the inside of the tunnel, or the entrance to the ball pit, then return to the center console of computers and you have a new pair of pants, hat, and shirt to add to your doodle. There were dozens of hidden and not-so-hidden scan points throughout the room, and she found every one of them.

Rainbow Valley in Doodles X CAMP. Photo courtesy of the CAMP Facebook page
Our more active 6-year-old had different priorities. When the doors opened and he found himself in the Rainbow Valley, he was immediately drawn to a wall that had projections of black and white animated doodle characters on it, and a basket of colorful hackey sacks in front of it. Throw the hackey sack at the doodles and a splash of color appears. This easily could have entertained him and a handful of other kids for the full hour. But also in the Rainbow Valley was a rainbow track that led to a wall you could attempt to run up and a bridge over a rainbow river. Little kids might also like taking a ride on the bouncy snails.
Kids can clamber through tunnels into a moonscape room. This area had plenty of scan stations where you could see what your doodle looks like with all the new add-ons you selected for it. Kids can also touch magic mushrooms to light them up in various neon colors. Continue on to the cloud zone, where you can rest on giant cloud shaped pillows big enough to fit anyone from one kid to two adults under a starlit canopy. Kids can also slide down a rainbow slide into the pillows or play pop-a-shot into the clouds. The cloud pillow area provided a nice respite after my kids had run around for about a third of the allotted hour.
After the rainbow slide, is a crashed space ship full of arcade games reminiscent of millennial parents' childhoods. Think joysticks, direction pads, and A & B buttons that help you control an astronaut up a ladder pattern or moving a unicorn over and under clouds. Make sure you look for scan stations in the crash-landed spaceship, too—there are a few located closer to the ground! My kids had high hopes for the arcade games, but they were either not all operational or harder to work than we remembered.
A ball pit inside Doodles X CAMP.
Beyond the crash-landed spaceship was a sunshine-yellow ball pit, which my son absolutely loved (especially because many COVID-era kids have little experience with ball pits). Next to that, you can take a selfie on planet Doodle with an old-timey camera and download the picture to your email with a QR code. A garden-themed area has several tables of simple crafts and toys (Surprise! They're all for sale at CAMP.) for kids to play with. Check out magnatiles printed with Doodles from the experience or make a snail or flower from pipe cleaners.
Magnatiles printed with doodles.
Remember, your time inside the experience is limited to one hour, so after the 15-minute frenzy of kids finding out what there is to do inside Doodles X CAMP, help them pick out what they like doing best and do those things first in case they run out of time. As always, we recommend going potty before you go into the room so you don't waste precious minutes of your hour in the bathroom. Once your hour is up, a guide will call out the symbol on your hand stamp and move you toward the exit, where you can take a selfie with your completed Doodle.
Doodles X CAMP in Chicago.
Once you exit the experience, you'll have time to look around in the shop or complete an in-house arts and crafts experience like the Schmutz Station Slime Bar or the splatter painting experience. These cost extra, so consider making a budget before you go and guiding your kids towards other things in the shop if those experiences aren't in reach that day. Our kids liked pretending to drive the old truck in the center of the store and playing pop-a-shot inside it back bed. We also ended up buying a few fidget toys and a super-fun puzzle with three different-sized sets of pieces and a secret centerpiece.
Doodles X CAMP in Chicago.
We also encourage planning ahead by buying tickets in advance and, if you're going to drive and park, make sure you use CAMP's designated retail parking at 633 W. North Ave, or buy a Spot Hero nearby. CAMP can also accommodate kids with autism and sensory sensitivities if you shoot them an email in advance.
The experience behind the door changes on a regular basis with different experiences traveling to different stores around the country. My kids definitely want to go back if the Chicago store gets the Encanto experience, and I'm hoping Bluey comes while we still have a kid young enough to appreciate it. We recommend going on a weekday, when the experience is $28 instead of $36, but it's worth it for a special treat any day of the week. And we really thought it was great to have an experience that appeals to kids of many different ages—I'm glad to have at least two or three more years until one of my kids is "too cool" for something like this, and also enjoyed the hands-on experience for younger kids who still just want to play.
All photos by Maureen Wilkey, unless otherwise indicated.
This post includes an affiliate link. We may earn a small commission if you click through our link and make a purchase. This revenue helps us maintain this site, so thank you for supporting us.
Places featured in this article:
Click Here to Sign Up!