Top Classes for Babies and Toddlers in Chicago: Yoga, Dance, Swim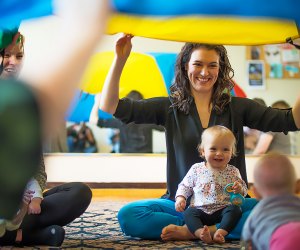 Not sure what to do with your baby or toddler in Chicago after maternity leave is over or in the middle of a long cold winter? Looking for a class or lesson to take with your preschooler so you don't have to think of activities to entertain them constantly? Chicago parents can choose from dozens of Parent & Me classes and all of these Mommy & Me classes (and Daddy & Me classes, too!) focus on activities that babies and parents can do together to bond and spend some quality one-on-one time. With swim classes, yoga classes, dance classes, and outdoor activities, there are classes for every kind of family, baby, toddler, and parent to enjoy in the Chicago area.
Check our guide to the Best Kids Classes and Activities in Chicago for more kids' activities and programs.

Get your balance going at Buddha Belly Yoga.
Best Parent and Me Yoga Classes in Chicago
Ages 18 months - 5 years
Kids of different ages enjoy learning different poses with (or without) their parents at classes hosted in various locations throughout Chicago. The focus is on relaxing fun with singing, yoga games, and stories. Some classes even take place at art studios or climbing gyms where kids can enjoy more than one activity.
Ages 4 months through "active crawlers"
Sweet Pea's Studio is a family-owned yoga center that offers prenatal classes as well as sweet and playful baby-and-me yoga classes for little ones and their caregivers (dads are welcome, too!). Infant massage basics and stress-busting stretches are part of every session.
Ages 6 weeks - 12 months
Prenatal Fit also helps moms in the fourth trimester to get back into their fitness routines while making new mom friends. In addition to Prenatal Yoga and Mommy & Me Yoga, Prenatal Fit offers Mommy & Me Baby Bootcamp and classes for moms with babies in a Baby Bjorn.
Ages 3 months - 12 months
This class uses Itsy Bitsy Yoga techniques focused on creating a bond between mom and baby. Little yogis will learn coordination, practice tummy time, and maybe make some baby friends along the way. Some Baby & Me classes are being held virtually.
Ages 6 weeks - crawling babies
Offering services for moms from pre-pregnancy to postpartum, Cocoon Care's online yoga classes help moms and babies practice self-care from the very beginning. Baby & Me Yoga classes use interactive poses that help moms bond with babies, strengthen their core, build confidence, and relax. Classes are currently online only.
Best Parent-Tot Dance Classes in Chicago
6. Fairytale Ballet — Lakeview, Bucktown, North Evanston
Ages 18 months - 3 years
At these seriously adorable dance classes for toddlers and preschoolers, caregivers help little dancers take their first ballet steps with the use of fairytale props and costumes, familiar stories, nursery rhymes, and songs.
Ages 18 months - 3 years
Start with All About Dance's AAD and Me program, which introduces kids and their caretakers to movement and music with a playlist of reimagined classics. If your little dancer loves it, they can continue to study dance at the studio with ballet, hip hop, jazz, tap, and more.
Ages 6 months -17 months
Babies can learn to dance before they can walk at these movement and music-based classes. Parents can help their babies learn dance skills through rhythm, lyrics, and colorful props while meeting new parent friends. Plus, kids as young as 18 months can start in independent dance classes.
Ages 18 months - 3 years
This dance studio's Tutu Toddlers class aims to expose children to creativity, movement, and music through ballet. Dancing can give toddlers a window into both fitness and creativity from a young age, continuing through more levels as children get older.
Ages 18 months - 3 years
Parents who love to dance with their toddlers will love this dance studio's intro to dance class. Dance with Me introduces students to fine motor coordination and gross motor skills with popular children's music to prepare them for preschool dance programs.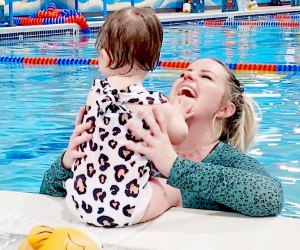 Dive into swimming lessons and plenty more fun at Goldfish Swim School.
Best Toddler and Baby Swim Classes in Chicago
Ages 6 months - 4 years
With toys, songs, games, and a gentle, child-focused approach, swim classes for babies and toddlers at Chicago Blue Dolphins are laid-back and fun with an emphasis on getting comfortable in the water with a caregiver, rather than strictly skill-building. Perfect for littles who are a little bit leery of the wet stuff.
Ages 6 months - 3 years
Caregivers and babies can splash and explore water play together in swim classes conducted in a deliciously warm pool with instructors who lead the group in songs, games, and basic water skills.
Ages 4 months - 35 months
Focused on getting kids used to the water before they can get scared, these classes in Goldfish Swim School's 90-degree pools are limited to just six kids at a time. Babies and toddlers progress through four different levels to prepare themselves for Goldfish's Junior or Glider swim classes.
Ages 3 months - 36 months
Grown-ups will learn how to get their little swimmers acclimated to the water, help them float on their backs with their ears in the water, and work them towards swimming independence in a swim ring at these weekly classes. Songs, splashing, and reducing fear of the water helps teachers allow toddlers to learn to swim safely with their caregivers.
15. Big Blue Swim School Baby Blue — North Center, Buffalo Grove, Hoffman Estates, Niles, and Wilmette
Ages 3 months - 3 years
Help your child learn to hold their breath underwater, crawl out of the pool, and push off the wall at this caregiver and child swim class. Designed for creating comfort in the water, each class is limited to six babies or toddlers per instructor.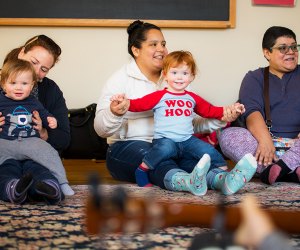 Old Town School of Folk Music welcomes tots and their families to the world of music.
Top Parent and Baby Music Classes in Chicago
16. Merry Music Makers — Lakeview, Andersonville, Edgewater
Ages newborn - 5 years
With catchy tunes that teach music-making basics like rhythm, pitch, and dynamics, these baby-friendly music classes go beyond simple singalongs. Babies love the opportunity to play with instruments like drums, triangles, and maracas, and parents can't help but get into the groove, too. Classes are also offered in Spanish and French.
Ages 0-5 months (Lullabies) and 6-12 months (Wiggleworms)
The Old Town's much-loved music classes for youngsters start kids off young with the sweet Lullabies series for babies up to 5 months. Starting at 6 months, babies can rock out to Wiggleworms classes, which are also offered in Spanish, as well as in class formats that allow siblings and grown-ups to join in the music-making.
Ages newborn - 5 years
Drop-ins are welcome at parent-child classes at the energetic Chicago Children's Theatre. Classes for little ones with their caregivers include storytimes that introduce classic tales; Bubble Jams, where music and movement exploration comes with a dazzling dose of bubble play; and even BeatBox for Kids, where toddlers to preschoolers can get started on their careers in hip hop.
Ages newborn - 5 years
This adorable, action-packed spot offers music and movement classes every day of the week, with singalongs aimed at various age groups from newborns to toddlers and beyond. Little ones get to explore playing with instruments while learning new tunes and building physical skills. Classes for babies include tummy time and sensory exploration.
Ages 4 months - Kindergarten
Start with Munchkin Maestros and move up through the ranks to Mighty Maestros by singing and playing instruments like the triangle, shaker eggs, and rhythm sticks. Toddlers may think it's just fun, but they're also learning concepts like pitch and rhythm from classically trained musicians. Classes are held outdoors at the Cantata Campus in Brookfield in 2021.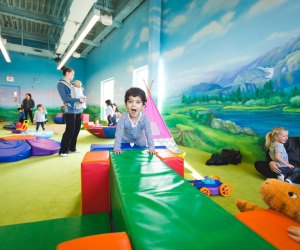 Tots can get moving with their caregiver at Bubbles Academy.
Fun Early Education Classes for Parents with Babies and Toddlers
Ages newborn - 5 years
This early education center offers classes in everything from crawling to music, art, and math, as well as classes that encourage gross motor skills and speech development. New moms looking for community and support can join the Fourth Trimester Village, a moms' group with visiting experts and the opportunity to explore introductory mom-and-baby classes.
Ages newborn - 3 years
Among the many (many) classes on offer at the much-loved local playspace, cafe, and learning center, parent-child classes here focus on building communication skills through Baby Sign Language and Toddler Talk + Play. Weekly music and movement classes for babies with caregivers are on the calendar, too. Some classes don't take place during the summer when camp is in session, check the calendar for availability.
Ages 18-35 months
Toddlers with their caregivers explore the natural world at the Morton Arboretum in weekly classes that include a nature walk, crafts, and engaging, hands-on learning. Themed adventures have included weather, forest animals, and worms & bugs, and classes meet outdoors in rain, sunshine, or snow—so dress for the weather!
Ages 18 months - 8 years
Introduce your kids to the outdoors with an expert-led active and engaging curriculum. This multi-age class helps parents learn how to set up outdoor activities and learning experiences on their own, and gets them out of the house once a week to meet other families who love the outdoors!
Ages 0-3 years
This Montessori play space and education center is currently offering open play or limited private play times. It offers a homey play-based environment with classes based on Montessori principles, allowing children to freely explore, socialize, and make decisions.
Ages 0-5 years
At weekly free learning sessions in the lush environment of the Garfield Park Conservatory, kids under 5 and their caregivers can participate in activities that let kids dig into the natural world, with digging, planting, storytimes, crafts, and other projects. (Please note that these classes are on hold as of July 30, 2021, but plan to resume soon.)
Best Toddler and Baby Fitness & Movement Classes
Ages 18 months - 3 years
If climbing, tumbling, and generally getting to run a little wild with a gym full of cool, soft, toddler-appropriate mats, blocks, and toys sounds like your toddler's idea of heaven, the parent-child tumbling classes at Edgewater Playhouse are a great bet. Little ones get a mix of independent and structured playtime in each session, with adults participating in stretches and skill-building.
Ages 4 months-3 years
Parent-child classes at the Little Gym incorporate movement, music, and social skills, while teaching numbers, colors, and letters in a friendly, action-oriented format, where kids get to tumble, climb, and explore on mats and play structures.
Ages 18 months - 4 years
To keep kids moving and away from screens, Skip & Scoot offers both indoor and outdoor Little Fitness Adventures classes for toddlers and preschoolers. Obstacle courses, dancing, songs, and games help keep kids fit and moving no matter the season—a must for Chicagoans during the cold winter months.
Ages 4 months - 3.5 years
Babies can move from aggressive crawling to running, while also learning skills like stacking blocks, kicking a ball, and riding a tricycle at these fitness-focused caregiver-and-child classes. Kids move at 18 months from the Waddlers program to the Gymsters class (from 18-30 months) and finally attend the Terrific Tots program, where grown-up involvement is reduced.
Ages 20-36 months
Toddlers and parents can experience the thrill of movement with parachutes, gymnastics apparatus, and more. This program emphasizes basic motor patterns as parents and kids work through each station as partners.
Photos courtesy of the gyms/studios