The World's Only Curious George Store, Harvard Square - A Sneak Peek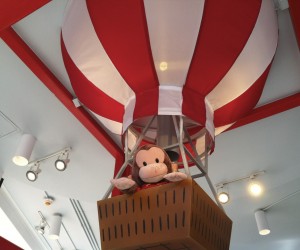 For anyone who has spent time in Harvard Square over the last few months, it has been hard to miss the activity going on at 1 JFK Street. Large, colorful pictures of Curious George lifting up a curtain and peeking out the store window should have been enough to pique any child's - or adult's - curiosity.
We were definitely curious to know what was behind the curtain, and were lucky enough to have a behind-the-scenes tour of the store. We also met with Adam Hirsch, who, with his wife, Jamie, is responsible for all the activity. Even though the grand opening was still three weeks away at the time of our tour, it was clear that the World's Only Curious George Store, Harvard Square is going to be an exciting place for children, one that both local families and out-of-towners will want to visit frequently.
Hirsch's enthusiasm and passion for creating a truly unique, wonderful place is obvious wherever you turn, from the giant murals depicting familiar Curious George scenes to the larger-than-life George in a hot air balloon (be sure to look up as you enter!) to the bright, colorful displays of the books and merchandise. The circulation has been thoughtfully planned out: moms with strollers can navigate well, parents can keep toddlers who are on the move in view at all times, and children can enjoy Curious George's home, a cozy nook for reading or playing with stuffed animals.
The location - in the heart of Harvard Square - adds another dimension to the story behind this store. It turns out that the creators of Curious George, H.A. and Margret Rey, who had fled from the Nazis in the 1930s, came to Cambridge in the early 1960s and lived out the rest of their lives just several blocks away.
Curious George carries an extensive selection of children's books - over 4,000 titles, including, of course, all the Curious George stories. This is supplemented by a unique line of merchandise - clothing, games and toys that are centered around Curious George but that can only be found at the World's Only Curious George Store and through its website.
While the grand opening is planned for April 28, word has it that the store will be (quietly) open for business some time during April vacation. So, if your vacation week plans take you through Harvard Square, be sure to stop by to check it out.
If you'd rather wait for the grand opening celebration, the store will be open from 10am-8pm on the 28th, with a ribbon-cutting ceremony at 12:30pm and family events including balloon artists, face painting, chalk drawings, music, book readings, cake and ice cream throughout the day.
The World's Only Curious George Store
1 JFK Street, Cambridge
www.thecuriousgeorgestore.com