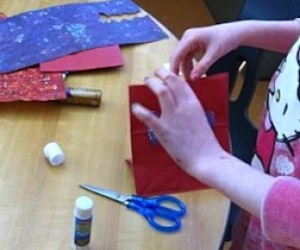 Arts and Crafts Places for Kids in Metro West Boston
Whether it's extreme heat, freezing cold, or rain that sends your family running for cover, there's no need to sit around at home. There are some great places in the Metrowest area for you and the kids to avoid the elements, create something wonderful, and maybe even make some new friends.
---
The Kid's Place
Location: 15 Highland Place, Needham, MA 02492
Contact: 781-444-2325
The Kid's Place is a drop-in art studio where children can mine for gems, paint plaster or ceramics, do mosaic projects, make a tie dye t-shirt, or create edible art. Staff members are always on hand to help with a project. When you're done crafting, stop by neighboring Treat Cupcake Bar or Swizzles Frozen Yogurt for a sweet ending to a lovely outing. The Kid's Place also offers fun birthday parties that include games, freeze dance, and a craft of your choice. If you'd rather have the party at your place, that's an option, too.
---
Kidcasso Art Studio
Location: 2 Lake Street, Arlington, MA 02474. Also in Wakefield.
Contact: Cellular phone (617) 257-3010
With class names like Junk Art, Lemon Lime Twist and Moon Game, you know that making art at Kidcasso is going to be fun. They offer courses for all ages, from a new Highchair Art class for babies to Pinot with Pablo for adults. You can send your 5-11 year-olds to Pizza Party Fridays, where they get to eat, create and dance the night away. The teachers of Kidcasso will also come to your after school program or Scouts group.
---
Before you do your shopping at Trader Joe's, take the kids across the street to Whimsy's walk-in arts and crafts studio. They can paint an actual skateboard or drum, make mosaic frames, decoupage a purse, design a t-shirt or choose something else to create from the many options offered. If you have little tikes too, they can explore the play area while your older children work on their projects – you get to sit back and relax!
At Whimsy, there is also a creative toy shop with a fabulous feature for busy parents: You can shop for a gift over the phone, and they will have it wrapped and ready for you to swing by and pick it up. Even better, if your child is having a birthday party there, guests can call and choose a gift from your registry, and it will be wrapped and waiting for your delighted child at the party. (And the parents of your party guests will be equally delighted!)
---
New Art Center
Location: 61 Washington Park, Newtonville, MA 02460
Contact: (617) 964-3424
If your child craves highly tactile experiences like working with clay, New Art Center in Newton may be the perfect place. Kids learn everything from making clay creatures to wheel throwing in the substantial offering of ceramics classes at New Art Center. For classes in cartooning, dramatics, explorations of world cultures and ancient civilizations – even geocaching – try one of the Center's weeklong summer art programs. They offer plenty of options to keep your teens off the sofa this summer, too. Take a look at the classes for teens here. Kids can also spend arty school vacation weeks at the Center; drawing, painting, working with clay, and making new friends.
---
Sadly, Dabblers has closed for business (as of December 2013)
Location: 119 Commonwealth Avenue, West Concord, MA 01742
Contact: Call 978-254-5798 or e-mail
info@DabblersConcord.com
If you're looking for something productive for the kids to do during all those Early Release Day afternoons, check out the Painting Party at Dabblers in Concord. At this hobby studio, store and café, they offer a wide variety of classes for adults and children, fill your family with tasty treats, and cultivate community. Take a look at their Calendar of Events for workshops, special events, and demonstrations featuring creative outlets like stained glass, mosaics, quilling and Warhammer. The Dabblers Event Room is also available to rent for community groups and birthday parties.