4 Homemade Mother's Day Gifts That Kids Can Make (With Some Help)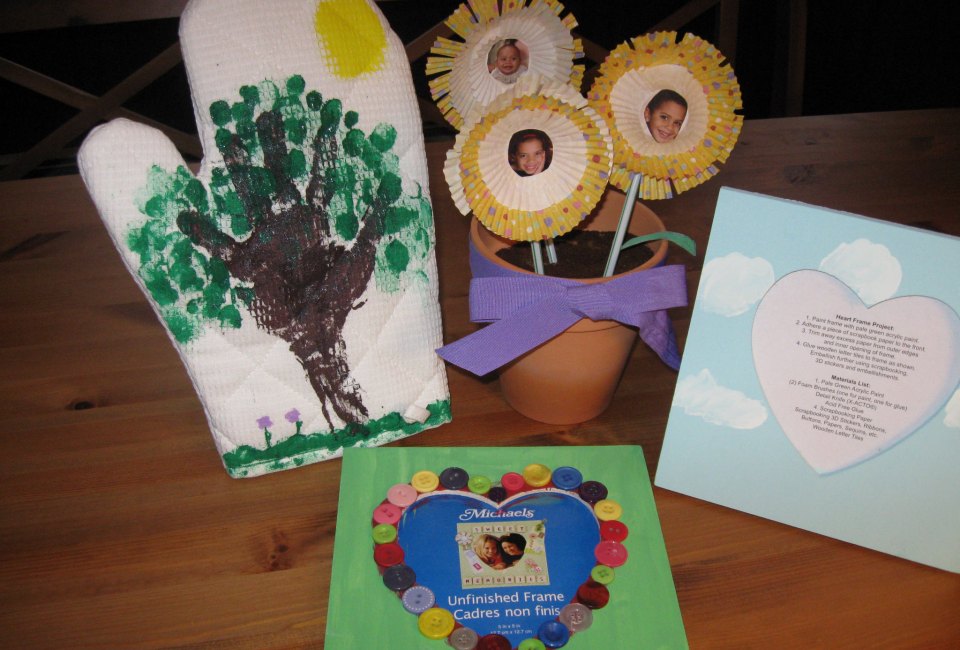 5/2/12
- By
Tara D
For most moms, there just isn't a store-bought gift that can hold a candle to a thoughtful gift handmade by their little ones. Read on for four craft project ideas to make at home that Mom or Grandma will be proud to display.
Floral Faces Flowerpot
These flowers, made from paper baking cups and featuring fond faces, won't wilt and don't require watering. We made this project entirely from things we already had at home.
Stuff you'll need:
Flowerpot or vase
Straws
Baking cups, regular size and mini
Adhesive (tape, glue, glue dots)
Scissors
Heavy card stock or cereal box
Coffee grounds (optional)
Paper for leaves
Ribbon
Hole punch
Photos of the kids (small headshots)
To make the flowers:
Choose a few baking cups of different sizes and open them up a little. Cut straight lines from the outside to the edge of the inner circle to make petals. Layer the baking cups, attaching them to each other at the center with glue. Cut photo to fit circle and adhere. Attach straw to the back of flower with tape or glue (if it is a bendy straw, the flexible part should be at the top, and can be used to angle the flower). Make leaves and attach to straws.
To make the soil:
Cut the card stock (we used a piece of cereal box) into a disc, to snugly fit inside the pot where actual soil would come up to. Punch or pierce holes for the straws to fit through. Cover one side of the disc with glue and sprinkle coffee grounds over the glue, just like you would with glitter. Let it dry.
To make the flowerpot:
Tie a piece of ribbon around the pot into a bow. You may want to glue it on. We used a wide, non-satin ribbon, which stayed on just fine without glue. Place the soil disc inside the pot, then push the straws through the holes. Voila! You have a Floral Faces Flowerpot!
---
Little Handprint Tree Paintings
Kids use their arms, hands and fingers to create a lovely nature scene on fabric for their favorite earthy mama.
Stuff you'll need:
Fabric paints
Plain white oven mitts or canvas bag
Paint brushes, tray for mixing colors, covering to protect surfaces and clothing
How to make it:
Paint your child's hand and inner arm, to just past the wrist, liberally with brown fabric paint (you can mix red and green if you don't have brown). Press your child's arm and then hand to the fabric and apply some pressure, taking care not to smudge. Slowly peel hand and arm from the fabric. You now have a tree trunk with branches. Wash paint from hand and arm.
Dab leaves around the branches with fingertips.
Use three fingertips together across the bottom of the painting to make grass. For flowers, use pinky or paintbrush to draw stems and then use pinky to make flowers. Add other elements if desired, such as a sun, clouds, etc.
If you have several children, I recommend making the scene on a large canvas bag or on a horizontal rectangular artist's canvas (using regular paints). Each child can make a tree, and if you have really little tykes, fingers and toes can be used to make grass and other parts of the scene.
---
Painted Wooden Frame
This very simple craft makes a lovely gift for Mom. Depending on your child's age and skill level, it can be jazzed up with embellishments, but I recommend keeping it simple and classy.
Stuff you'll need:
Wooden paint-your own frame (ours came from Michael's)
Acrylic paints
Paintbrushes, mixing tray, cup of water and protective covering for work surface
Buttons, ribbon, chipboard letters, or craft bling (optional)
Craft glue for embellishments (optional)
Photo
How to make it:
Paint the entire frame with a single color and let dry. Then add a pattern or scene with paint. Or glue on a few simple embellishments, such as a strip of ribbon across the bottom or buttons to frame the photo. Add a photo mom will love.
---
Gift of Gratitude
Most moms just want to know that they are appreciated. Fill a decorative container (or a decorated container) with small notes of appreciation written on strips of paper. Have the kids write all the things they love about Mom. When she's having a rough day or feeling under-appreciated, she can pull a little note from the container – no doubt it will brighten her day! To jazz it up a little, Dove chocolate hearts could be added.
Click Here to Sign Up!